The time has come! You've decided you're going to promote your product or service through social media, with the aid of influencers.  Good call! We're going to share with you the 10 signs that prove that you and your brand are ready to start launching campaigns with micro influencers.  You have clear and concise objectives ...
This content is outdated, we are currently working on updating it!
The time has come! You've decided you're going to promote your product or service through social media, with the aid of influencers.
Good call! We're going to share with you the 10 signs that prove that you and your brand are ready to start launching campaigns with micro influencers.
You

have

clear

and

concise

objectives
Before diving into the creation of influencer campaigns, you need to determine your objectives as well as your KPI's. The KPI's will allow you to measure the performance of said campaigns.
Launching influencer operations requires a good thorough research into influencers, so as to collaborate with those that better represent you and your brand. To achieve this, you'll want to watch out for the following characteristics:
The kind of influencer (all star, macro, micro, nano)
His centers of interest (beauty, fashion, travel, food, gaming…)
The characteristics of his community (age, sex, interests…)
The social media he's present on
The format in which he publishes his content
The brands with which he collaborates: are they competitors, what sector are they in…
The kind of collaborations he carries out with other brands: giveaways, promotional codes, events, etc.
These characteristics will allow you to better understand how the influencer works, to adapt and to build a unique relationship with him.
You

know

your

audience

like

you

know

yourself
Before jumping in, you need to know who your target is!
You want to know everything about them: their behavior on social media, the apps they use, the kind of content they live, the subjects that interest them, the influencers they follow, etc.
Depending on the age, sex and interests, their preferred social media will vary. Even though it's tedious to research all this data, they're a crucial step that shouldn't be snubbed.
Social media according to audience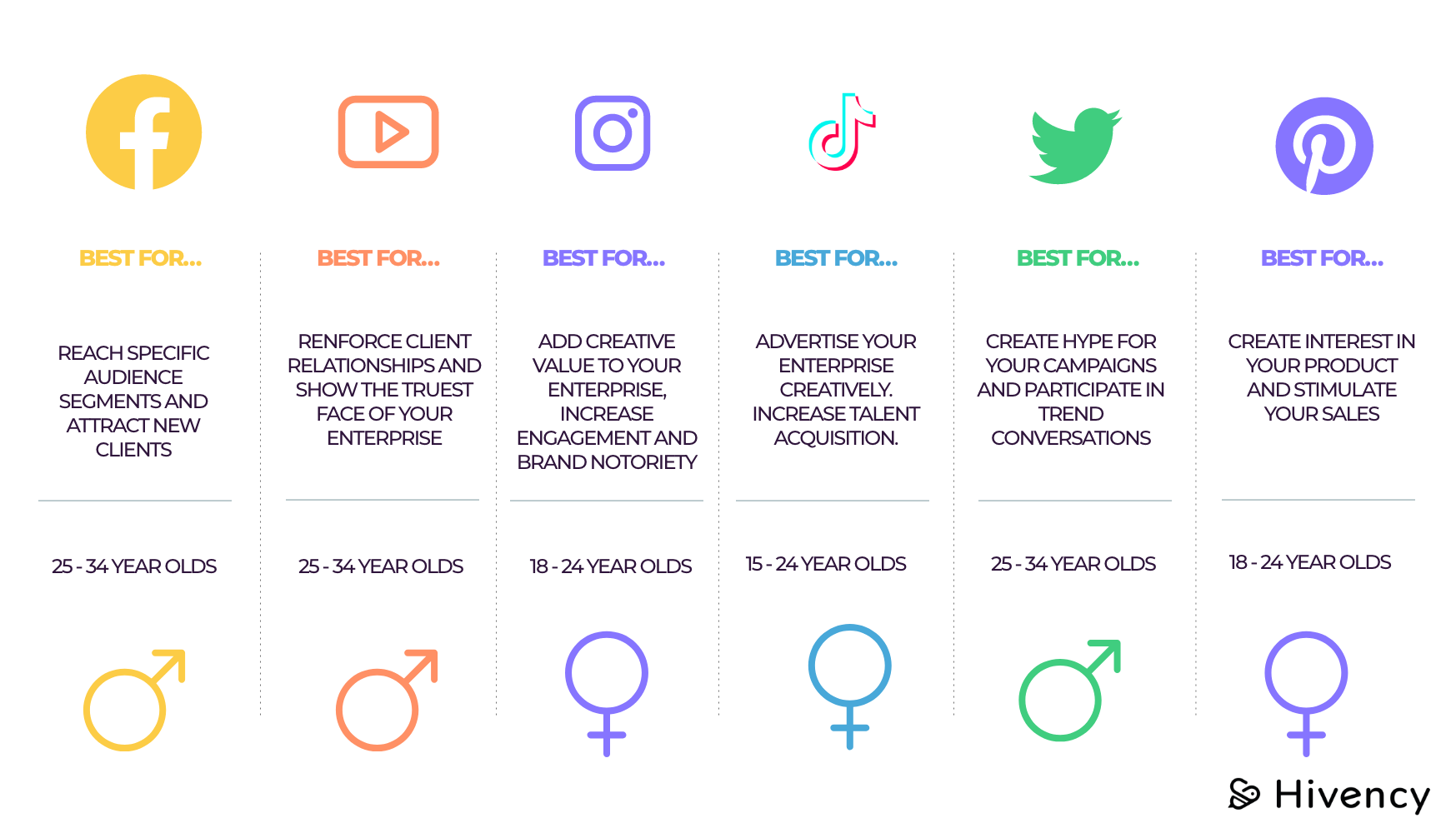 © Infographie Hivency. Tous droits réservés.
You're aware that micro influence is more than beautiful photographs and good engagement
As we've explained to you in previous articles, collaborating with micro influencers isn't simply sending them a product and waiting for them to post them.
Micro influence is so much more than that! It allows you to be closer to your consumers and touch a very broad audience within your target group.
Thanks to micro influence, you can launch communication actions that will be complementary to your influencer campaigns! But you'll also stand out from your competitors and use your creativity to achieve your objectives.
Discover the many more advantages of micro influence !
You crave authenticity
It's evident: this year, consumers and brands want authenticity more than ever!
Internet users want to see brands and influencers being transparent and presenting honestly their latest launches through social media.
This craving from the audience is the reason why creators with less followers create a 7,2% higher engagement rate than those with 100k+ followers.
Customers much more readily believe micro and nano influencers and know that they pride themselves in promoting only products they love. Working with these content creators will allow you to become closer to your consumers as well as their wants and needs.
You're looking for a tool that will accompany you throughout the long purchase process of your clients
As you may already know, every step in the purchase process needs a concrete strategy, and micro influence can be used in every single one of these steps!
It's not just a useful add-on as a last step. Indeed, thanks to the multitude of contents created by influencers, they're easily adaptable and seductive to customers!
If you're looking for the all-in-on strategy that will accompany all throughout the process, that's a clear sign you're ready to jump into influencer marketing campaigns!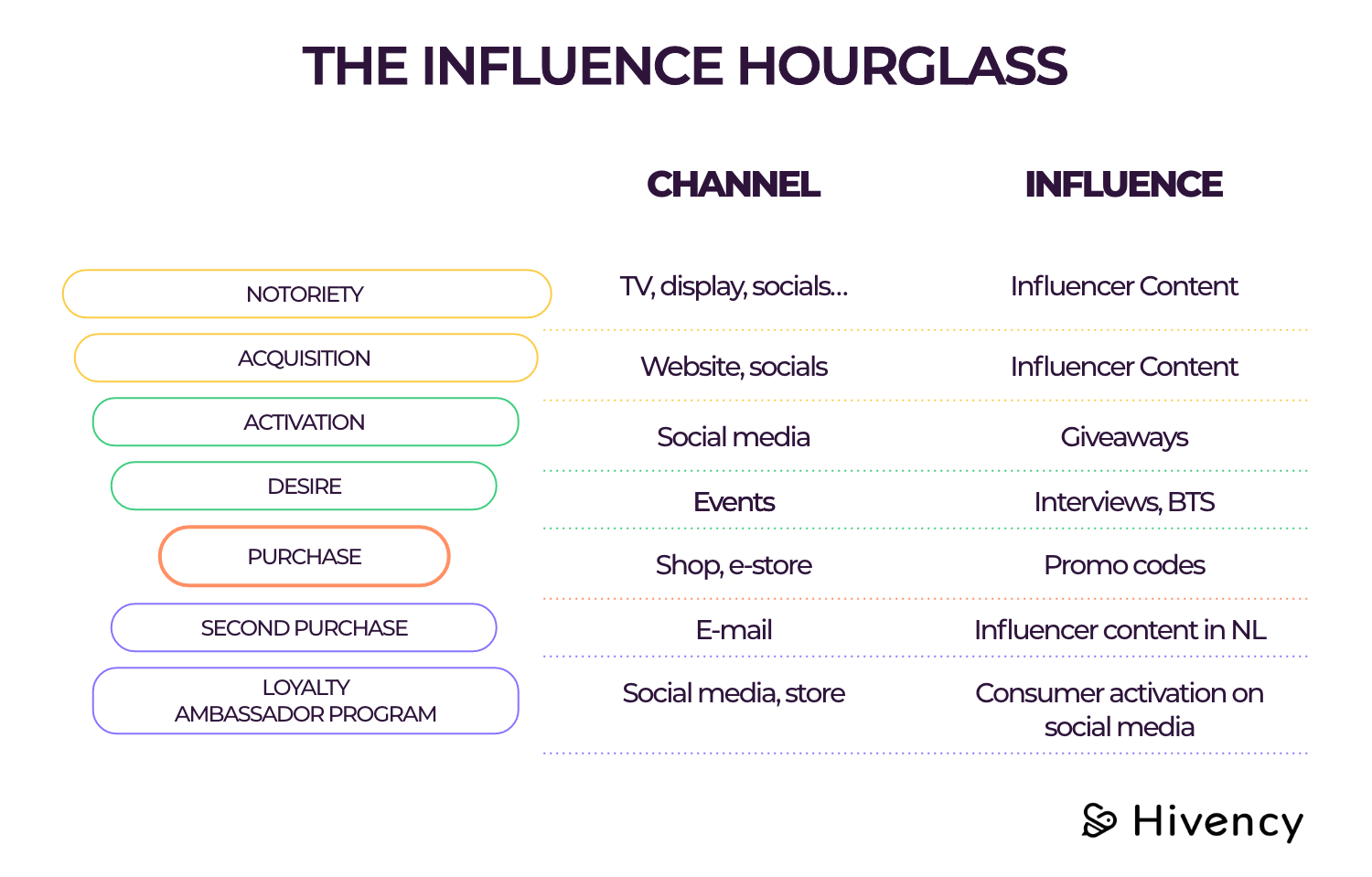 © Infographie Hivency. Tous droits réservés.
You're not afraid to experiment in order to stand out
Micro influencers are the perfect way to stand out from your competitors and prove your creativity!
You can combine more traditional marketing strategies with influence campaigns. For instance, you could propose to a micro influencer to participate in a publicity campaign by being the model for it. You could invite him to an event in your store so he can try out your products and even meet his followers.
Combining both strategies, you'll increase your visibility and meet your objectives more easily.
You're aware a long term strategy is better than risking it on a "one-time-only"
Constantly creating new content is the key to success!
To have content all year long and not rely exclusively on key dates, long term collaborations with micro influencers are the best approach. Thanks to multiple campaigns and year-round, followers are receiving a consistent stream of information from your brand.
This gets you started on the road of converting your micro influencers into brand ambassadors.
In addition, you can organise commercial operations during the year to increase the visibility of your brand.
You're aware micro influencers are the best possible display for your brand
For us, an influencer platform, there's no doubt that content creators with less than 100K followers are the best possible ambassadors for your brand! Next to your consumers, of course.
Indeed, certain clients can also be influencers. Today, the winning combo is to work simultaneously with micro and nano influencers!
For you, testing your product during its launch is essential
If you want to optimise your product or service as well as better understand the problems it may pose for your client and wether it's going to be appealing to them or not, the best tactic is to send your new products to micro influencers !
This will allow you to have constructive feedback before its market launch. You'll be able to gauge the micro influencer's interest and get their opinion. If they enjoy the product, micro influencers won't hesitate to collaborate again with you!
During this phase test, you can offer your followers a promotional code or propose the influencer to organise a giveaway with your product as price. It's also a simple way to test your product at a minimum cost.
You're ambitious and want to touch upon a new target or sector
The time has come for your brand to jump into influencer marketing especially if you want to target a younger audience.
In the actual context of over-sollicitation of consumers, brands are finding it increasingly hard to gain pertinence and visibility, especially with younger audiences.
Any one of these 10 signs made you think of you and your brand?
Then stop doubting yourself and go for it! This is the sign you were waiting for, you're ready and it's high time you integrated micro influence to your strategy.