The clientele of beauty brands or retailers is demanding. They expect companies to deliver a high-level, rich, cross-channel and seamless end-to-end customer experience.
If your company operates in the Beauty sector, you should seek to improve the quality of this experience at all stages and points of contact throughout the customer journey. This is no easy task. The customer journey in this sector is known to be particularly complex, with an overlapping of online and offline points of contact. In this industry, more than in any other, the "phygital" retail experience is a reality.
In this article, we will explain how to improve the end-to-end customer experience through customer knowledge and satisfaction surveys. We will focus on three key areas for improvement: pre-purchase information search, the purchase journey itself (online or in-store) and the interconnection between online and offline channels.
Information search on Beauty topics
Pre-purchase – a highly important stage in the Beauty sector
The stages prior to the act of buying are increasingly important. If your company operates within the Beauty sector and you are looking to improve the overall quality of your customer experience, then it is important to consider these pre-purchase stages, and to seek to optimise them. In practice, brands frequently neglect these stages. All the more reason to take a close look at them in order to stand out from your competitors.
Consumers do more and more research before buying a product. They are hungry for information, advice and reviews. The more expensive the product, the longer the information search.
This behavioural evolution is directly linked to the rise of the Internet and new technologies. It has been analysed by innumerable studies. Take for example the GE Capital Retail Bank study, which reveals that:
81% of consumers read about products online before buying them in-store.
Consumers spend an average of 79 days collecting information on the internet before making an important purchase.
In this quest for information, consumers use search engines, but also visit the brand's website if it is equipped to help them with their search.
Offer a personalised end-to-end customer experience during the consideration stage
If you want to improve your customer experience during this pre-purchase research stage, we recommend implementing diagnostic and personalised recommendation tools on your website. Do you sell cosmetic products? Then ask your website visitors what kind of cream they need, their gender, their age, their skin type (greasy or dry), in order to provide them with personalised product recommendations that can be bought online or collected in-store. This positions you as an advisor, and not simply a vendor.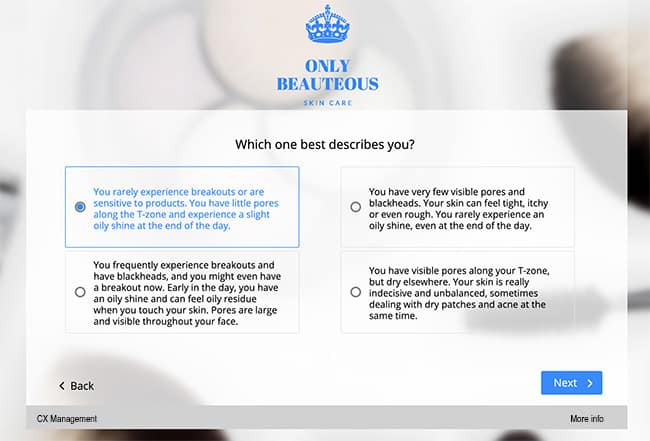 Several beauty brands offer diagnostic tools on their website. We think that this is an original and efficient way to personalise and enrich your customer experience right from the beginning of the purchase journey. A diagnostic tool is similar to a survey that can be deployed as a popin or a chat.
In-store or online beauty product purchases
The moment immediately following the purchase of a product is the ideal time to ask your customers about their buying experience and collect information to identify areas for improvement to your customer experience. Make the most of it! We recommend sending all your customers a satisfaction survey after their online or in-store purchase.
How did your customers find out about your beauty products?
Start by asking your customers how they discovered your products: internet, social media, word-of-mouth, marketing campaigns, advertising, catalogue, etc. This helps to measure the return on investment of your marketing efforts, to analyse the efficiency of your expansion strategy, and also to identify your best acquisition levers and those to be improved.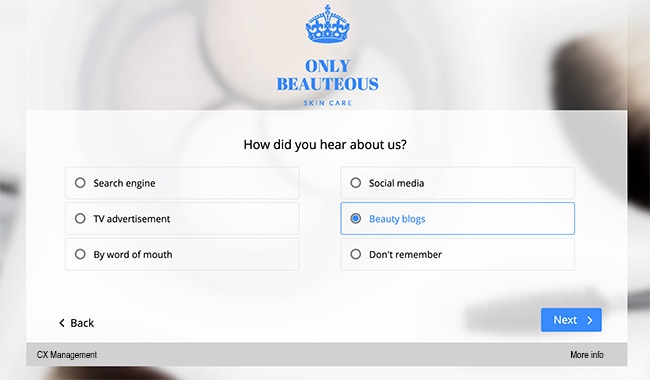 For example, if you note that only 0,5% of your customers discovered you through advertising, but you invest half of your marketing budget in publicity campaigns, then there is probably room for improvement. Either your campaigns are poorly designed and targeted, or advertising is not the best channel to reach your target audience.
Next, you need to evaluate the quality of the actual buying experience. There are two different cases: online purchases and in-store purchases. The questions will obviously not be the same for each.
Measure customer satisfaction for e-commerce end-to-end customer experience
With regards to online purchases, you should ask your customers about the quality of your e-commerce site: how easy it is to navigate, the quality of your product descriptions, the simplicity of the ordering process, the payment and delivery options on offer, etc. You can ask more specific questions linked to particular modules or features that your website offers: price comparison, chat, diagnostic tool, etc.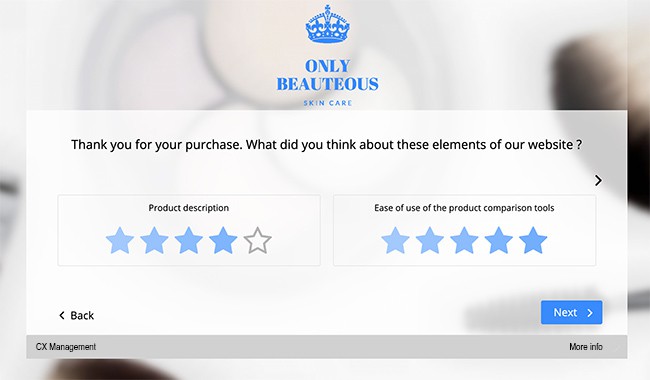 Measure customer satisfaction for in-store end-to-end customer experience
For in-store purchases, you should ask your customers about the accessibility of your sales point, the welcome, the variety of products on offer, the quality of the salesperson's advice, the store environment and organisation, the services offered (if your store has a spa area), the checkout, etc.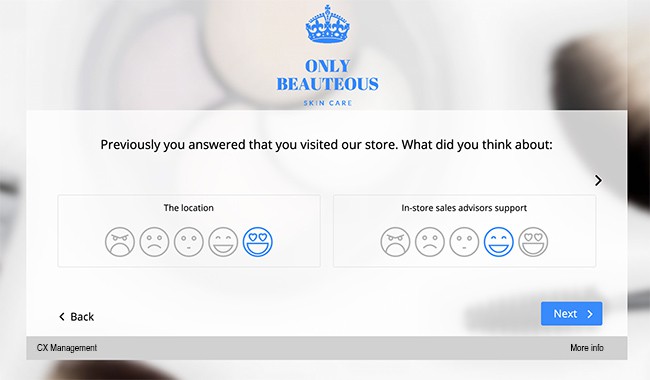 Feel free to ask your customers which areas they think need improvement with an open question.
Third section – Web-to-store
Better understanding cross-channels in the Beauty sector
As discussed in the introduction, the customer journey in Retail is increasingly "phygital". There is an overlapping of online and offline. A lot of consumers do research on the internet before buying in a store. This is widespread behaviour in retail, particularly in the beauty sector, where customers feel the need to try or see a product before making a purchase.
The opposite is also true; a lot of customers come into stores to test a product, and then take the time to think before buying the product on the brand's website.
"Click & collect" is also symptomatic of the overlapping of online and offline channels. It allows website visitors to order a product online and then collect it at a sales point of their choice. This is increasingly becoming a must-have service that most brands offer.
The symbiosis of physical and digital channels (internet, apps, etc) is a key factor in the quality of your customer experience. If you wish to improve it, you need to therefore ask your customers about their cross-channel experience.
Which questions to ask to better understand your customers in the Beauty sector
What questions should you be asking? In absolute terms, there are a lot, but questions should be adapted to your environment and your customer journeys.
Here are a few examples:
Did the customer go to a physical point of sale after visiting your website or answering a questionnaire?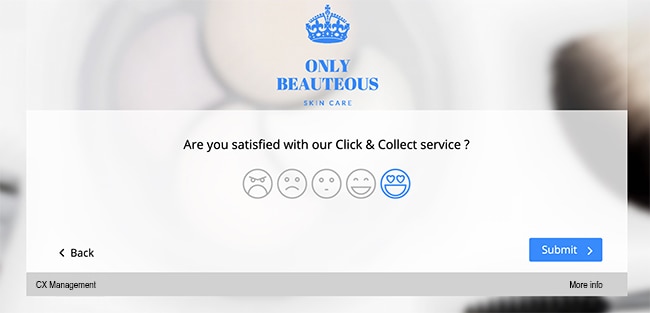 What do your customers think about your click & collect service?
If the customer went to a point of sale after visiting your website, what kind of point of sale was it; brand corner, brand store, specialised store, etc.?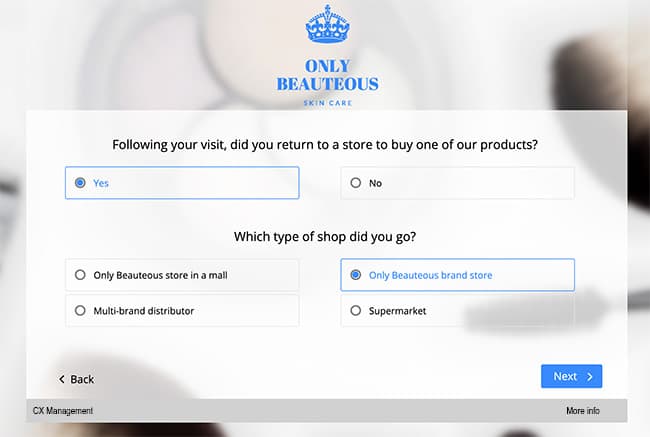 If the customer went to a store following an online visit, did they buy anything?

If yes, measure their buying experience.
If no, ask them why they visited the point of sale; to test a product, for additional information that was not available on the website, etc.
In order to identify the best questions to ask, you should first think about your customer journeys, their particularities, and the main points of contact. Ideally, we recommend that you carry out a mapping of the main points of contact and stages. Our roadmap Start your customer knowledge project may help you with it.
These questions will allow you to evaluate how your online points of contact (website, social media, etc.) contribute to your point of sale foot-traffic. And more generally speaking, they will help you to identify the areas of the cross-channel experience that need to improved and enriched. Improving customer experience in the beauty sector, as in any other industry, is based on Customer Focus. Listen to their feedback, comments and suggestions, and identify the priority actions to be taken.