Castorama, a major retailer specializing in hardware and home improvement, is recognized as a leader in the French DIY landscape.    ️
The retail chain wanted videos of its customers talking about its store brands, to build trust and add more of a human touch to its content. Find out how it did this with help from its community of satisfied customers :
Content created by consumers for consumers
Castorama was looking to win new customers by making its communities the central focus of its video content strategy.
The goal was to have their customers talk about their experience with Castorama's own brands on video. The retailer also wanted to revamp its content strategy by opening up a dialogue between consumers.
A solution for automating user-generated video creation by its community
Castorama used SKEEPERS User Generated Videos platform to really engage its customers in video content creation.
With this solution, the retailer can:
identify the best customer profiles
walk them through the video creation process
automatically optimize the videos for e-commerce
instantly post the videos on product pages, the brand's YouTube channel, and social media
analyze the impact of the videos on sales, traffic and SEO
A community inviting us into their homes  
Castorama recruited its ambassadors from its customer base and social media.
The brand put out a call via email and received hundreds of applications from customers keen to jump in front of the camera!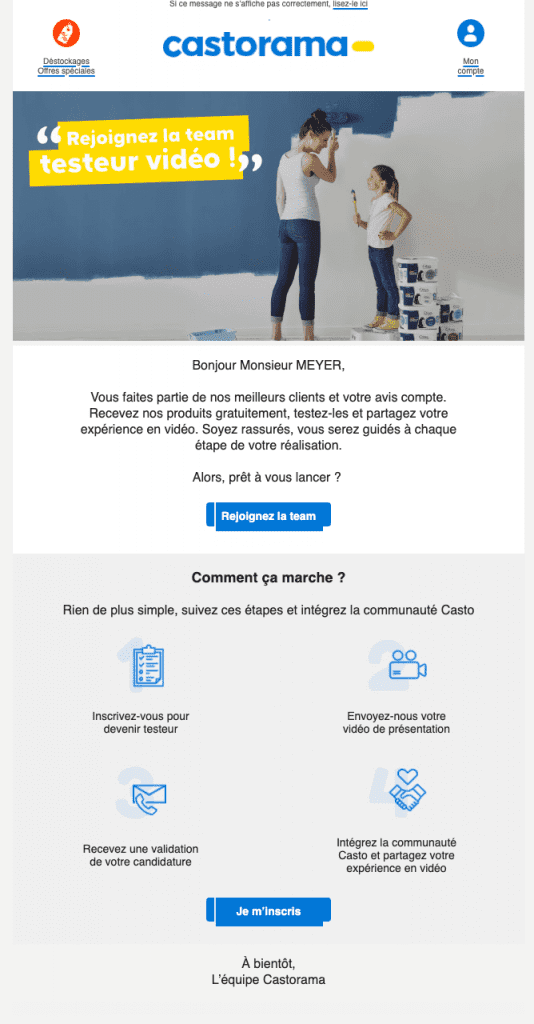 The video ambassadors then shared their experience with Castorama's home and DIY products. After undergoing an 
automatic post-production
 process, the videos were 
instantly posted
 on the product pages of Castorama's online store, on the retailer's YouTube channel, and on social media.
With user-generated videos, Castorama is automating video content creation and rethinking its content strategy by putting its customers in the spotlight.