One of the most common mistakes businesses make is their failure to consistently gather feedback throughout their customers' lifespan. Many businesses overlook the importance of asking customers what they think, leveraging the feedback to not only deliver an experience which caters to their needs and wants but also guides future marketing campaigns and improves products and services.
One of the most effective ways to deliver a competitive experience, one which ensures loyalty, is to ask customers to complete a quick and easy survey which not only measures the current performance of the business but also anticipates its future performance. Customer feedback enables the business to:
Understand what it needs to change to improve customer loyalty.
Compare progress from previous months or quarters to gauge improvements in customer satisfaction.
Determine how each product or service impacts customer loyalty.
Thankfully, there are a number of basic but useful KPIs any business can use to measure Customer Satisfaction and assess its current performance and predict its future, metrics which can be adopted depending on the specific needs of the business. Here are three of the most popular:
1. CSAT (Customer Satisfaction Score), the simplest KPI to follow satisfaction
The survey question to measure CSAT
"How would you rate your overall satisfaction with [specific transaction]?"
The question isn't meant to serve as an overall satisfaction metric but, instead, to evaluate one specific interaction such as a customer support call or buying transaction. This means that the question can – and should – be used to measure various interactions across the customer journey.
Customer response possibilities with CSAT
Customers use a simple rating scale: Very satisfied / Somewhat satisfied / Neither satisfied nor dissatisfied / Somewhat dissatisfied / Very dissatisfied. It's also possible to use a Likert scale from 1 to 5. This scale can be numerical, with stars or with smileys.
Possible follow-up question after CSAT measure
Probing follow-up question like "Why are you less than very satisfied?" or "How can we increase your satisfaction?" identifies specific strengths and weaknesses, making it easier to fix problems which decrease satisfaction. The open questions with verbatim analysis perfectly fit to deeply understand your customers.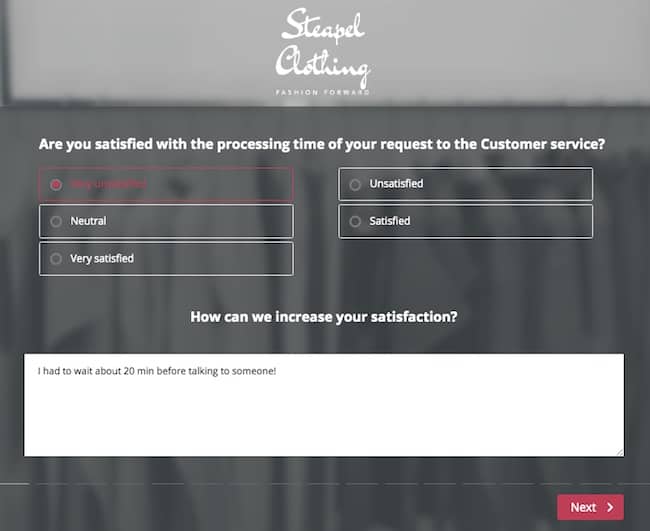 Why should you follow CSAT?
Because it takes 12 good experiences to make up for just one bad experience, it pays to make sure that every interaction leaves customers with a positive impression. Fortunately, because CSAT is especially versatile, it's easy to create customized questions related to any step in the customer journey. This enables a business to quickly identify and fix specific friction points which could hamper customer satisfaction.
To go further, read our article: CSAT works!
2. NPS (Net Promoter Score), the KPI about satisfaction and loyalty
The survey question to measure NPS
How likely are you to recommend us to a friend or colleague?
The main premise of this question is that it provides a simple and accurate measurement of satisfaction and customer loyalty.
Customer response possibilities with NPS
Responses to the question fall on a scale of 0 – 10 with 10 being 'extremely likely'. Responses are then segmented into three groups: brand detractors (0 to 6), passives (7 to 8) and promoters (9 to 10). The goal is to find out what makes promoters happy so that a business can replicate the same thing with its passives and detractors.
Possible follow-up question after NPS measure
Asking "What is the most important reason for your score?" eliminates any need to guess at what customers consider to be most important. Whatever it is, the follow-up question will extract feedback that can be used to make improvements, turning detractors into promoters, and promoters into brand evangelists.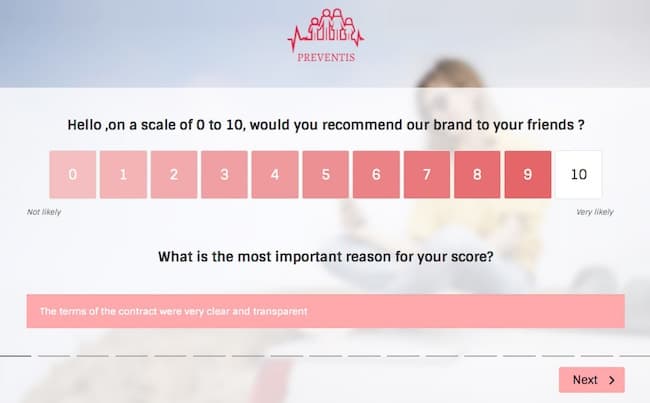 Why should you follow NPS?
The NPS is, essentially, a loyalty metric, helping business's understand their customer interactions and, more specifically, how likely customers are to recommend them based on those interactions.
Considering that word-of-mouth recommendations, coming from people we trust, are generally considered the most valuable form of marketing, increasing consumer trust by 72%, no business can afford to take positive word-of-mouth for granted. In fact, businesses who experience high levels of brand advocacy via word-of-mouth have been shown to outgrow their competition by 2.5 times.
To go further, discover our ultimate guide about NPS.
3. CES (Customer Effort Score), the KPI to reach the seamless experience
The survey question to measure CES
There are two common variations: "How easy was it for you to handle your issue?" or "How much effort did you personally have to put forth to handle your request?"
Customer response possibilities with CES
Customers use a simple 5-point scale: Far less than I expected / Slightly less than I expected / About what I expected / Slightly more than I expected / Far more than I expected.
Sometimes businesses prefer to use a 7-point scale, providing customers with additional response choices.
Possible follow-up question after CES measure
Simply ask "Why?" to identify concrete reasons for the response.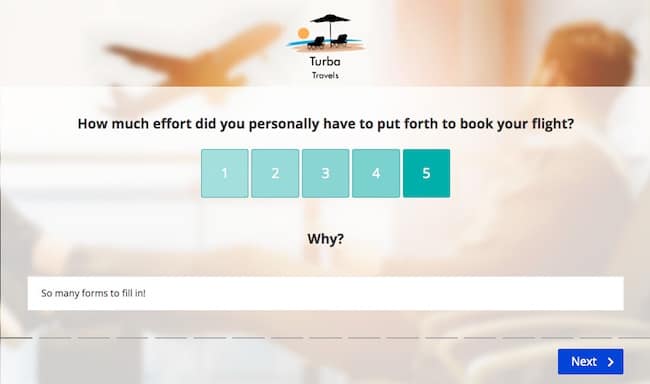 Why should you follow CES?
Customers expect a seamless experience with little to no friction. Yet, many have recently experienced inconsistent service (71%), unclear information (47%), communication problems across channels (35%), and/or delays in problem resolution (24%). All of which are identified as top reasons for customer dissatisfaction and, obviously, increase the chances of abandoning one brand for another.
To go further, read our article : No sweat! Best practices to measure Customer Effort.
Strategic customer satisfaction management is necessary for businesses to survive and thrive in today's competitive marketplace. And although none of these metrics may be 100% perfect for the needs of every business, CSAT, NPS and CES are, nevertheless, important tools for monitoring and improving customer relationships. With careful assessment of each, your business can make sure it is putting the most appropriate measures in place, ensuring customer happiness and your long-term success.