nIt is no secret that overall customer satisfaction with the "Big Six Energy Suppliers" (SSE, EDF Energy, British Gas, npower, E.ON UK and ScottishPower) in the United Kingdom may be improved. According to a Simply Switch study, there are lots of small energy suppliers offering viable alternatives to these companies, with much higher customer satisfaction levels than the Big Six.
Customer satisfaction is key for energy industry players to differentiate themselves, and one of the most effective levers to gain market share.
To improve your overall customer satisfaction, you should start by measuring it at every stage of the customer journey. This will help you identify priority areas for improving the customer experience.
In this comprehensive guide, we will review the main stages of the customer journey in the energy industry and provide a few examples of questions to ask.
If you are an energy supplier looking to improve your services or customer experience, then this article is made for you!
Surveys during sign-up
For energy suppliers (gas, electricity, etc), one of the first stages of the customer journey is signing up to a new contract.
Those under 20 years of age will not remember a time when switching energy suppliers was done over the phone. Today, switching is primarily done online, as a result of the digital revolution. This switching process is faster, simpler and reduces costs for the company.
However, this online sign-up stage raises major issues with basket abandonment. A lot of internet users never finalise the switching process.
Discover How to Effectively Fight Cart Abandonment?
One of the reason for this is the specific nature of the buying journey, which is far more complex than in other markets. Each offer is tailor-made, based on a specific diagnosis via an online form. This takes time and concentration. There are no impulse buys. Users often want to compare different offers, which is never simple, further slowing down the buying journey and leading to basket abandonment.
What can be done to solve this issue? We recommend sending users an exit-intent survey when they are about to leave the page, asking for their reasons for abandonment, and thus identifying any irritants.
At the end of the survey, we suggest offering drop-out users an agent call-back and configuring alerts to trigger these call-backs as quickly as possible.
Here are some examples of questions to ask:
Did you encounter any difficulties when signing up to your contract? (if so, ask an open-ended question)
Why did you not finalise the switch process?
How would you rate our quote tool?
Would you like a technical advisor to call you back?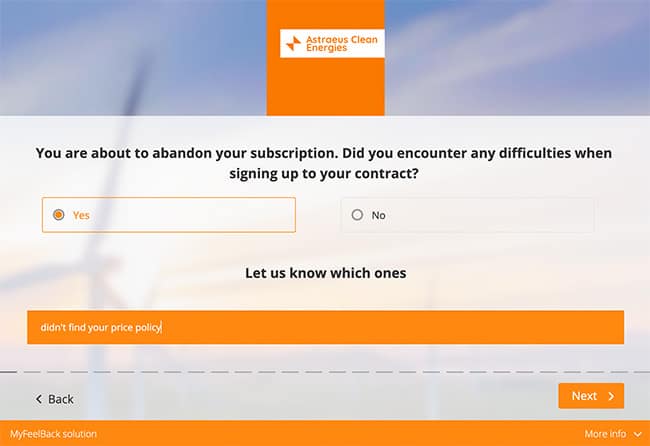 These questions can (and should) be rephrased in your words, according to your communication attributes, particularities, etc.
To sum up, when a user is about to leave your website before finishing the switch process, you should:
Find out their reasons for abandonment.
Try to re-engage them by offering an agent call-back.
Post sign-up surveys
We recommend you submit a satisfaction survey to customers who have just switched and signed up to a new energy contract, to help you understand the experience you deliver, and identify the irritants and areas for improvement.
The switch process includes several essential stages:
The quote, calculated from information provided by the user about their consumption, accommodation, etc.
Personalised offers based on the quote
The choice of an offer
Finalisation of the switch
Opening of a customer account
Activation of the contract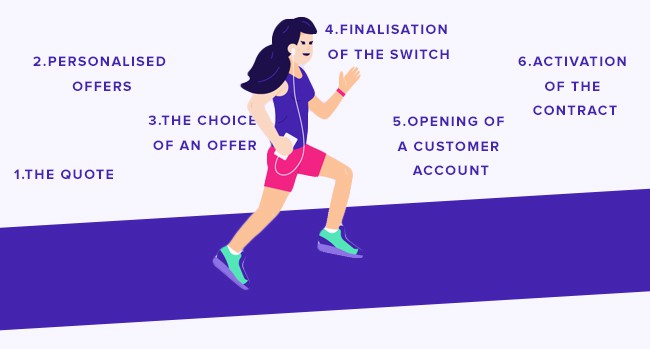 You can ask your new customers about all the sub-stages associated with the sign-up stage.
Here are a few examples of questions to help you create your survey:
On a scale of 1 to 5, to what extent does our offer meet your expectations?
How would you rate our online switch process?
How would you rate the contract activation time after signing-up?
What do you think about the information provided when signing up? (sufficient or insufficient…)
What could we improve to make the online sign-up process smoother? (open question)
Post-customer service contact surveys
Customers may contact your customer service whether to ask a question, solve a problem, make a claim, get personalised advice, etc. The quality of customer service is a decisive factor in a customer's overall opinion of their energy supplier.
For this reason, we strongly advise you send a satisfaction survey to your customers just after any interaction with customer service.
Here are a few examples of questions to include in your survey:
What do you think of the waiting time before being put through to an agent?
Did the agent meet your expectations?
How would you rate:
The agent's welcome?
The agent's friendliness? (politeness, courtesy…)
The agent's availability?
The agent's listening skills? (understanding your needs)
The quality of answers provided? (the proposed solution)
Discover 10+ questions to ask customers after an interaction with your call centre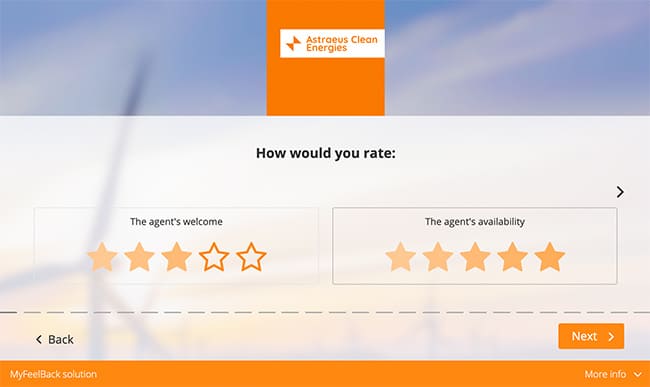 Surveys to evaluate customer account area navigation (website and app)
The customer account area is a key touchpoint between an energy supplier and their customers. This space can be accessed from the website or mobile app and enables customers to check their bills, manage their consumption, enter their meter readings, change their contract or payment preferences, contact customer service, etc.
It is essential that you ensure that your customer account area meets your customers' needs and expectations, that it generates satisfaction. Hence the importance of sending your customers satisfaction surveys on this very subject. The survey can be sent by email, SMS, directly from the customer account via chat (if you have one) or on the mobile app. MyFeelBack can help you deploy your surveys on all these different channels.
Here are a few examples of questions:
Are you satisfied with your customer account area?
How would you rate the navigation within your customer account area?
How would you rate the functionality of […]? (monitoring consumption, management of bills, etc.)
In your opinion, how can we improve the customer account area? (open-ended question)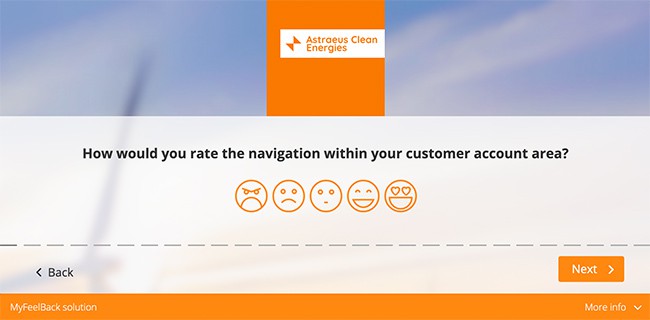 Surveys following a home visit
Whether to fit a meter or carry out maintenance, all energy supplier customers will, at some point, meet a technician. The quality of this human contact and the service provided will impact the customer's opinion of the brand and cannot be ignored. This encounter is a moment of truth in the customer experience.
We suggest measuring your customers' satisfaction by sending a survey by email or SMS following a technician's visit. 
A few examples of questions:
The technician's friendliness?
Punctuality?
Professionalism?  
How would you rate the meter fitting time?
Surveys to measure medium and long term product satisfaction 
Measuring satisfaction right away is essential. You will obtain more answers, of greater precision and closer to what your customers actually think. For this reason, we advise, in most cases, deploying your surveys immediately after any interactions you are seeking to rate.
But sometimes it is useful and interesting to measure customer satisfaction later. For several reasons:
Your customers have had time to explore their contract. This survey allows you to enrich the qualification of the customer experience that you deliver and to identify any new points of friction.
Your customers have also had a chance to take a step back and form an overall opinion of your brand. You can therefore use this survey to measure their overall satisfaction.
Sending a survey 3 months and 11 months after signing an energy contract has another use. It shows that you care about the customer, their Voice, and helps identify any sources of dissatisfaction shortly before the contract's renewal. In this specific case, the satisfaction survey therefore aims to encourage customers to renew their contracts. 
Here are two examples of questions to ask:
On a scale of 1 to 5, how satisfied are you with [brand]?
How likely are you to recommend [Brand] to a friend or colleague? (NPS)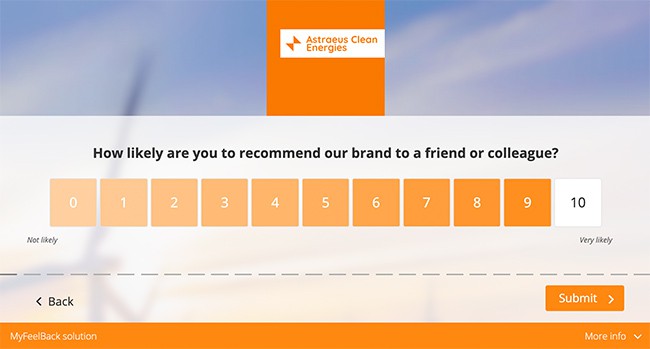 We recommend you offer an agent call-back to customers who express dissatisfaction, to avoid them leaving you company.
To learn more: How to manage dissatisfied customers
Satisfaction surveys allow to identify your strengths (to be reinforced) and your weaknesses (to be resolved). From the answers obtained and their analysis, you can prioritise the areas for improvement and build an action plan to maximise customer satisfaction in the long term.