80% of companies are lacking information about their customers. We created MyFeelBack to meet the rising challenges relating to customer knowledge.
We continually work to enhance our solution, in order to evolve with our clients' needs and new customer experience monitoring technologies. Design customisation, expansion of deployment channels, integration of collected data into your business tools – discover all of MyFeelBack's latest features.
A conversational format for even more effective surveys
MyFeelBack's surveys can be deployed on all the main marketing channels; websites, email, SMS, mobile apps, social media, etc. You can thus adapt the channel according to your surveys' targeted profiles, and your customers' preferences. Implementing conversational technology will enable you to adapt your Customer Relationship to evolving customer behaviours. It is estimated that the average response rate to a chat survey is around… 75%!
You can now deploy your surveys via chat tools (WhatsApp, Messenger, WeChat, etc.), using the conversational API that we provide.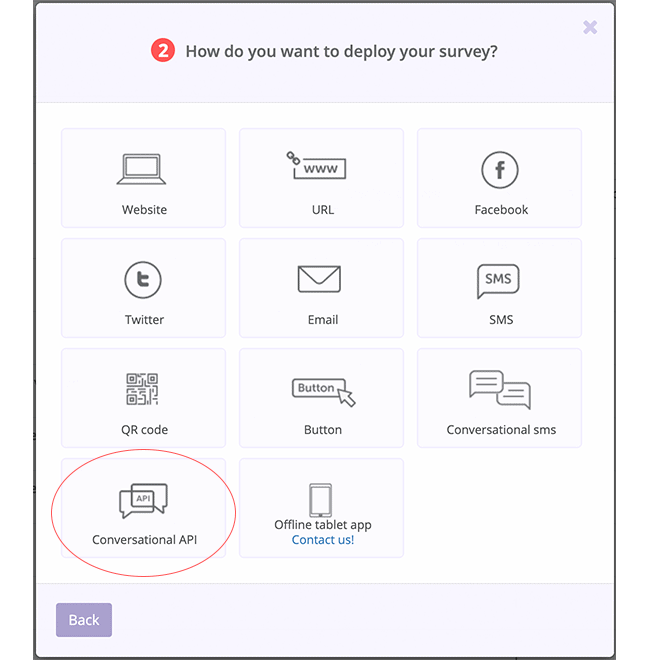 This API enables customer services to send surveys at the beginning or end of a conversation. Some examples? Here are two use cases: 
Measuring customer satisfaction following an interaction with a customer service agent.
Engaging dialogue with your website visitors via the chat module.

Strengthening the integration of MyFeelBack into your digital ecosystem
MyFeelBack enables you to collect qualified information about your customers. This information is then fed into your various business tools; CRM, Marketing Automation, customer relations tools, etc. And helps you transform your collected data to generate business value.
To facilitate the integration of MyFeelBack into your digital ecosystem, we have developed:
Webhooks. A webhook sends information collected via a survey to a third party application of your choice, in order to trigger specific actions. For example: publishing a message on Slack as soon as a customer responds to your survey. Webhooks ensure the integration of MyFeelBack into your activation tools, without you having to use the API. We offer webhooks with Slack, Google Sheets, Excel, Adobe Campaign, Salesforce, Oracle, SendinBlue and since the end of 2019, Freshdesk.

Native connectors that automatically send answers to MyFeelBack surveys  to your applications, to the location of your choice (customer account for example), using the "mapping" technique. MyFeelBack has developed connectors with the main tools on the market; Hubspot, Microsoft Dynamics, Adobe Campaign, Zendesk… and Salesforce Marketing Cloud since 2019.
Discover all the MyFeelBack integration tools (native connectors & webhooks)
100% customisable surveys to reflect your brand identity
Since 2019, you can customise your MyFeelBack surveys down to the very last detail, to adapt them to your brand identity. 
You can:
Create design templates and associate them to your various campaigns. Templates save time; you do not have to start from scratch, the visual design is pre-configured, so you only have to customise your surveys' content. The use of templates also gives greater visual consistency to your various campaigns and deployments.
Create rating scales with customised icons to surprise your customers, catch their attention and make your surveys irresistible!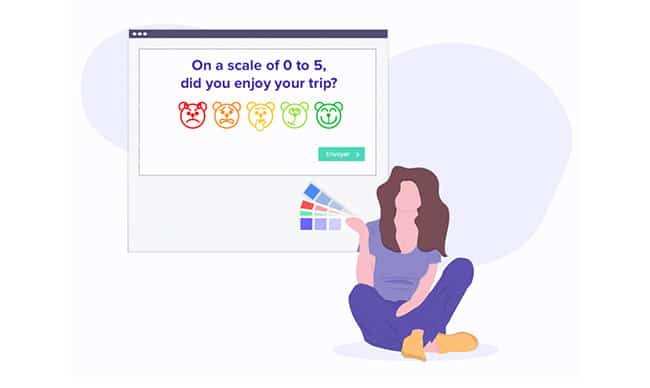 Use 100% customised colour schemes to adapt the colour of your surveys to your style guide and corporate identity. You can also use colour gradients.
Customise the CTA ("call to action") buttons, floating bars and pop-up windows, to improve the visibility of surveys deployed on your website.
Customised dashboards
To facilitate the analysis and management of collected data, MyFeelBack has developed a new functionality for customised dashboards, which will shortly be available on your account. This will enable you to easily build and adapt your decision-making dashboards according to your objectives and needs. They will be automatically updated for real time performance monitoring!
The innovations made to our platform all share one goal; to help you improve your overall customer experience. Now you too can deploy new business opportunities through customer knowledge!