Marketers spend their careers trying to get their customers to buy products. Knowing this, it is no surprise that one of the most frustrating things for a marketer to see is an abandoned cart.
Abandoned carts essentially say to the marketer, "you were so close to a sale, what happened?" This is why it is important for every company to implement a strategy to deal with a customer who has an abandoned cart.
This blog post discusses different techniques, ranging from direct reminders sent to your customer, to making the checkout process easier in the first place. All of the tips below serve one purpose: to get your customers to take their purchase all the way through to the end.
1 — Offer a discount
One very direct way to fight cart abandonment is to offer a discount when you fear you are losing a sale. For example, if a customer clicks to exit out of the browser window during checkout, you can create a pop up that offers a discount if they complete the purchase. The discount can be a percentage off, or a discount code specific for cart abandonment. This strategy is effective, however be careful of customers who learn about the discount and then try to take advantage of it by deliberately abandoning their cart. Many companies make the discount a one-time-only discount to prevent this from happening.
2 — Offer an exit intent survey to learn why people are abandoning their cart
Offering an exit survey is another way that you can help cut back on cart abandonment by figuring out why customers are abandoning their cart in the first place. The exit survey can ask questions such as:
"Why did you decide not to complete your purchase today?"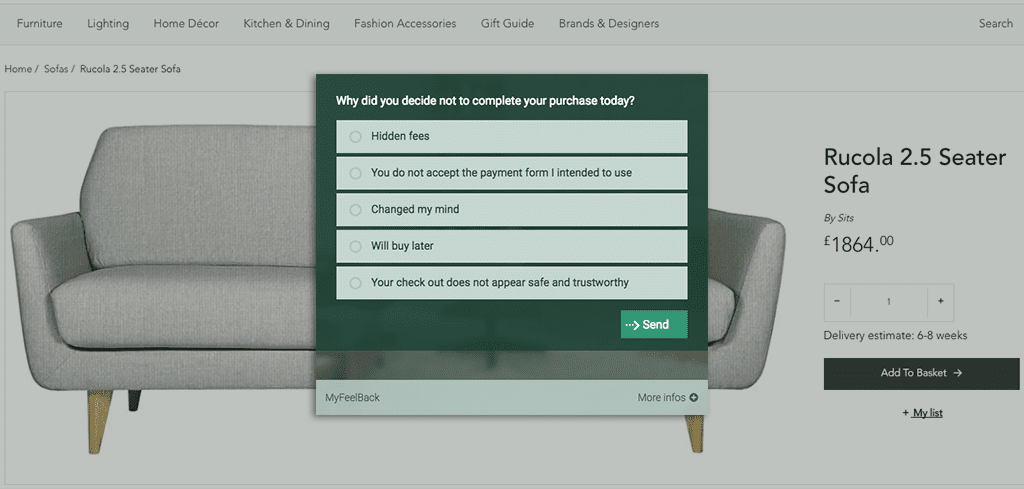 With the following multiple choice answers:
a. Hidden fees
b. You do not accept the payment form I intended to use
c. Changed my mind
d. Will buy later
e. Your check out does not appear safe and trustworthy.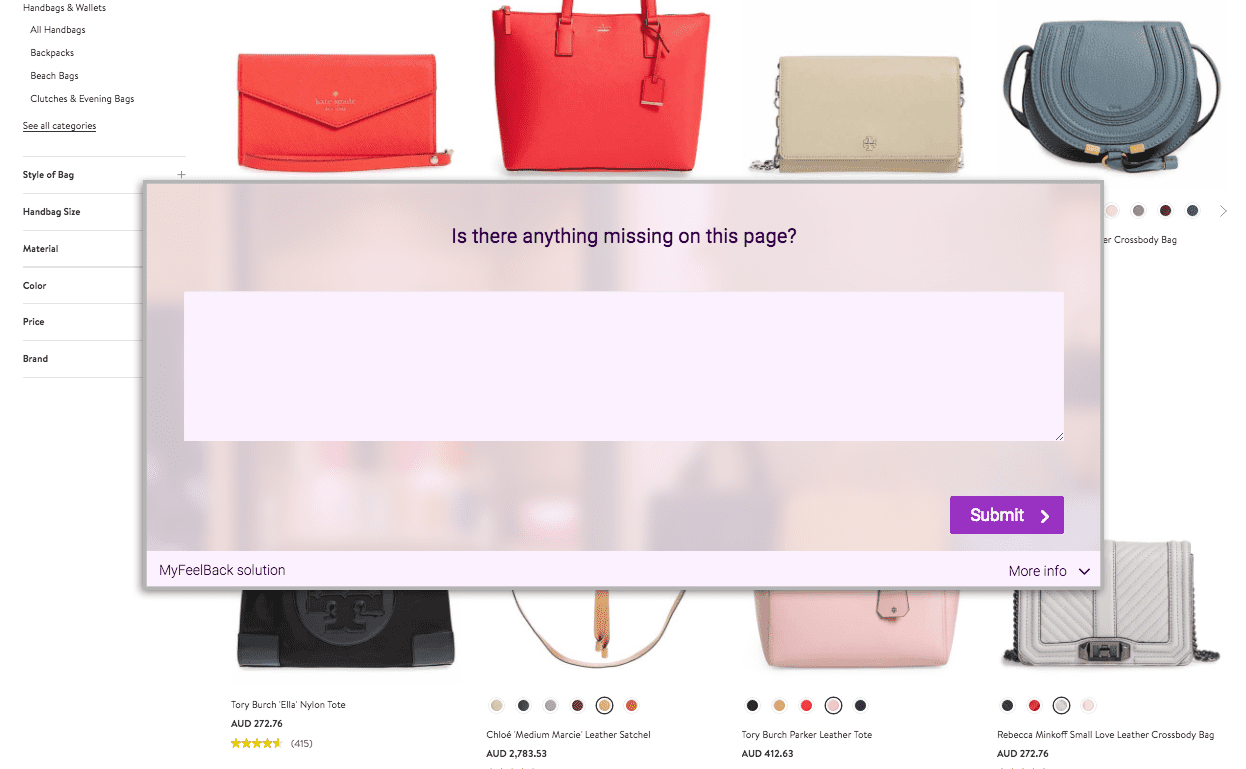 You can also include a discount on the page of the exit survey, as mentioned above. By offering this simple questionnaire, you can get insight as to what is wrong with your checkout process and make any changes you can to prevent people from abandoning their cart in the future.
3 — Allow people to check out as guests
One of the main reasons why customers walk away from purchases is because of unnecessary hassle during the checkout process. An easy way to decrease this hassle is by allowing customers to check out as a guest. Creating a username and password for your site when your customer is focused on making a purchase can seem like an annoying extra step. They may not want to give all of their information, and they may decide to go elsewhere instead of taking the time to do it. This may be why most top retailers offer guest checkout. By offering a guest check out, you let them coast through the buying process, and chances are they will end up making an account if send a follow up email asking them to register after they complete their purchase. You can also offer a discount for registering, and this will sweeten the deal and make them more likely to repeat purchase with you. Whatever you do, do not make purchasing something on your site take more than 5 clicks. With every click, you lose more and more customers.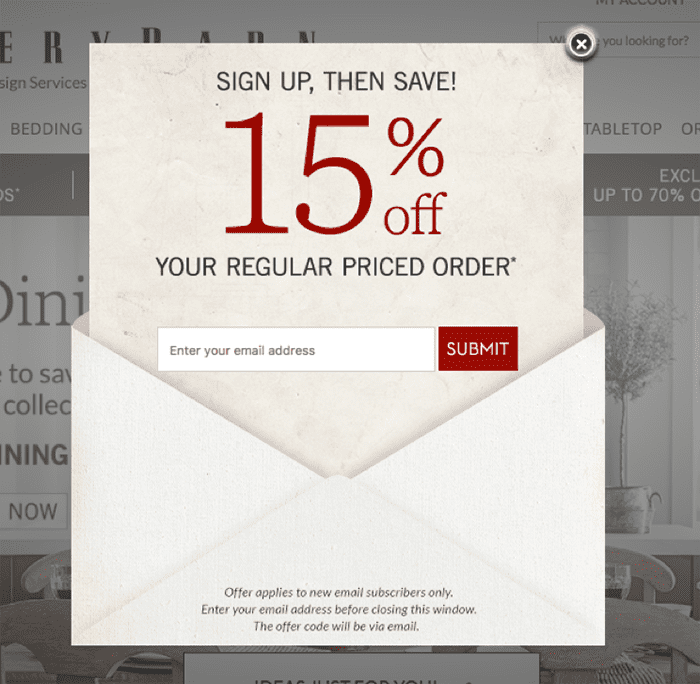 Pottery Barn is an example of a company that offers a 15% discount for registering.
4 — Don't surprise customers with hidden fees at the end
This is a sure fire way to get people to walk away from their purchase. Nobody likes feeling lied to, and adding on expensive shipping fees, or any extra fees at the end of the purchase can feel like a lie for your customer. Make sure to include the shipping price in clear view on the product page, and include any fees in the price of the item. It may seem like the higher prices will prevent people from clicking in the first place, but this isn't the case. Customers will appreciate knowing what to expect and being able to go through the checkout process without any surprises. It also helps to build trust with your customers if you have a "what you see is what you get" approach to selling.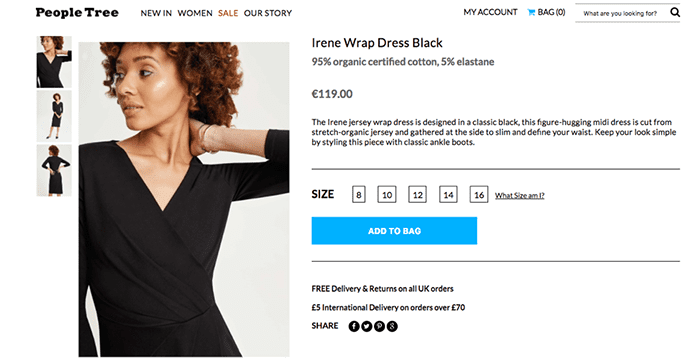 People Tree is an example of an online retailer that provides shipping information on the product page.
You're never going to be able to make every abandoned cart customer come back and purchase the item, and that should not be your goal. Your goal should simply be to make sure that you are doing everything you can as a company to make the checkout process as painless as possible so that your customers have easy access to purchasing if they choose to go through with it. Talk to your customers and see what you can do to ease their concerns and set yourself up to maximize your online purchases with a cohesive and welcoming online buyer journey.