Do you use Salesforce CRM to centralise your customer data and manage your email campaigns? Would you like to enrich your customer knowledge with the help of customer surveys? Then this article is for you! We will take a look below at how to send a satisfaction survey directly via your Salesforce CRM campaigns and...
Do you use Salesforce CRM to centralise your customer data and manage your email campaigns? Would you like to enrich your customer knowledge with the help of customer surveys? Then this article is for you! We will take a look below at how to send a satisfaction survey directly via your Salesforce CRM campaigns and thus benefit from the combined power of these two tools.
Measuring customer satisfaction, a pillar of customer-centric strategy
A customer-centric marketing and business strategy is based on customer knowledge, and more specifically, the measure of their satisfaction.
Why is it important to measure your customers' satisfaction?
Measuring customer satisfaction allows you to ensure that the services and products offered by your brand meet your customers' expectations and aspirations. It enables you to identify both the weak points (irritants) and strong points upon which to capitalise (enchantment), with a view to continuous improvement.
Measuring satisfaction also allows to detect dissatisfied customers, in order to address their dissatisfaction as quickly as possible. If dissatisfied customers are not dealt with in time, they can have an extremely negative impact on the brand's image. Finally, measuring customer satisfaction (and making sure to optimise it), improves customer retention.
Discover the 4 key measures of customer satisfaction.
How can customer satisfaction be measured? How can knowledge be enriched? By using one tool – the customer survey.
Surveys: the tool to measure satisfaction and get to know your customers better
Satisfaction surveys are playing an increasingly important role. As suggested by their name, they allow to collect data about the level of customer satisfaction. Below is an example of a satisfaction survey designed with MyFeelBack: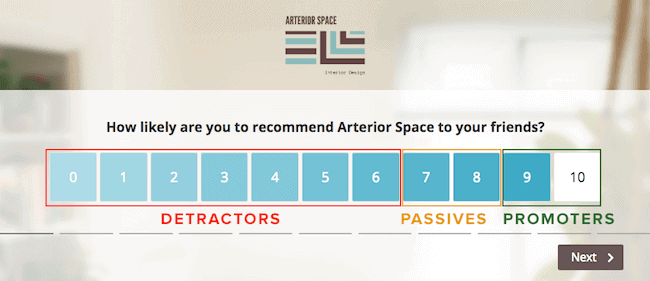 Example of an NPS-style survey to measure customer satisfaction. This example will be referred to throughout the article.
It is possible to create ultra-targeted surveys by defining the attributes of the customers you would like to question and configuring trigger conditions (for example: deployment in a pop-up format if the user is inactive on a website's pricing page for more than 5 seconds).
The method for deploying your surveys via Salesforce CRM
Surveys can be deployed on multiple channels: email, text messaging, social media, websites (in different formats: chatbots, pop-ups, widgets…), mobile apps, etc. The choice of channels depends a great deal on the nature of the survey, the characteristics of the targeted individuals.
We have, nonetheless, observed that email is generally the most efficient channel for the deployment of surveys. MyFeelBack clients obtain the best response rates via this channel. We would therefore recommend using email, although you can of course try out other deployment channels too.
We will now look at how to send a satisfaction survey via Salesforce CRM.
The first step consists in importing contact data from your Salesforce account into MyFeelBack.
Download our client case study to discover how the Olympique Lyonnais football club feeds its Salesforce CRM on a daily basis with MyFeelBack.
Integrating your Salesforce CRM contact data into MyFeelBack
There is no need to import all of your Salesforce CRM data into MyFeelBack. The only necessary data is that which allows you to personalise your survey (name and surname, gender, recent purchases, etc.), and thus improve the response rate and your customer knowledge. We recommend you create segments in Salesforce and then import the contacts from these segments into MyFeelBack (rather than creating segments in MyFeelBack). These segments will allow you to better target your survey's respondents.


Example of the creation of customer segments in Salesforce
Please read our article on this topic: 3 criteria to correctly segment your customer database.
Once the segment has been created in Salesforce CRM, you can export it in a CSV format. You can then import the segment into MyFeelBack by creating a new mailing list and uploading the CSV file. You can use a MyFeelBack CSV template to easily convert the data you wish to integrate into the correct format.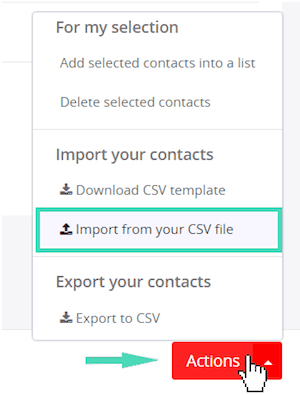 As discussed at the beginning of this article, personalisation is a key factor to success. The more personalised your survey, the more likely the respondent is to take the time to answer. A personalised message is, by its very nature, more engaging.
Personalising your surveys with variables
Variables are personalisation items that can be incorporated into your surveys.
There are a great number of different personalisation items available. You could for example, add the respondent's first name to a question's title by using the variable "first name". To do so, simply edit your question and insert the variable in the correct place, in the form of [#dt.firstname].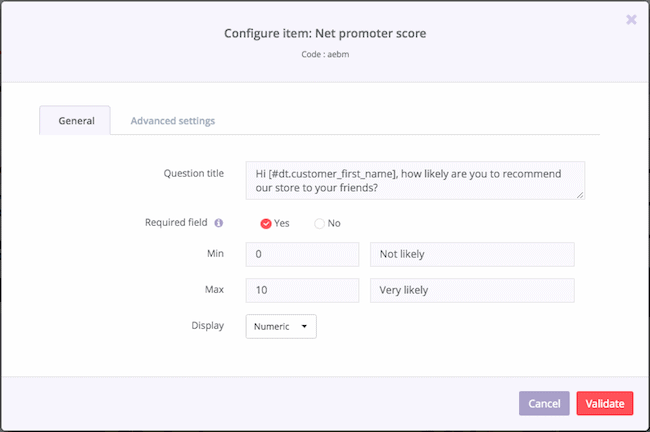 When the survey is deployed, the respondent's first name will appear in the place of the variable [#dt.firstname].
To insert a variable into a question, you can also simply add "[#]". MyFeelBack will then display all the personalisation variables available.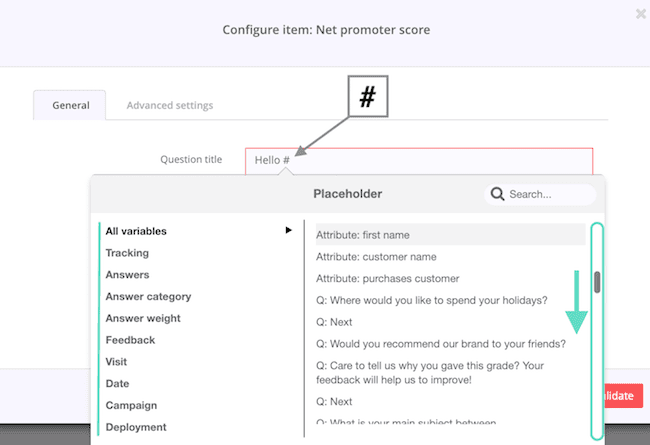 This data, beyond simply personalising the way you address your customers, allows to create different survey scenarios. Depending on what you already know about your contact, you may not necessarily want to ask the same questions.
As you can see above, there is a wide choice of variables to choose from. However, the corresponding information does, of course, need to be available in your mailing list in order for the variable to be used. If you insert the "products in basket" variable, for example, but this attribute is not included in your CSV file, then it will not work…
Have you edited your survey? Have you added personalisation variables? Then let's move on to the last step.
Integrating the survey invitation into a Salesforce email
A quick note before we get started. If you are using Salesforce's Email Studio, we recommend you deploy your surveys by email via this solution, in order to centralise all your customer contacts in one tool. The process detailed below can be carried out with other emailing tools, too. In fact, emails can also be sent via MyFeelBack's own mailing solution.
With MyFeelBack, you can also embed the first question into the body of your email. To do so, simply click on "My survey's first question", then copy and paste the HTML code into your email.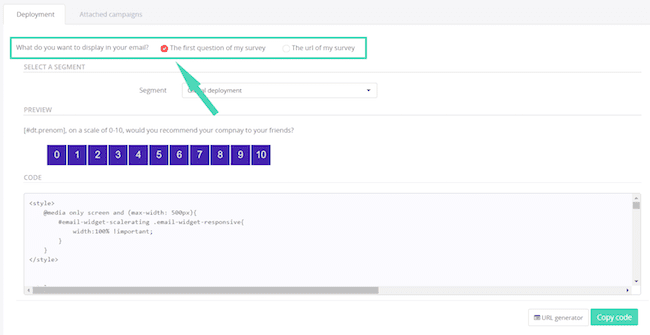 We recommend you use this option, as it is more engaging for the respondent. They can begin to answer the survey directly in the email. They are then redirected to the survey's URL when they click on one of the values. This offers a better user experience.
Excellent response rates can be achieved by using this process. One last note: you can redirect respondents to different variations of the survey depending on the answer given to the question embedded in the email.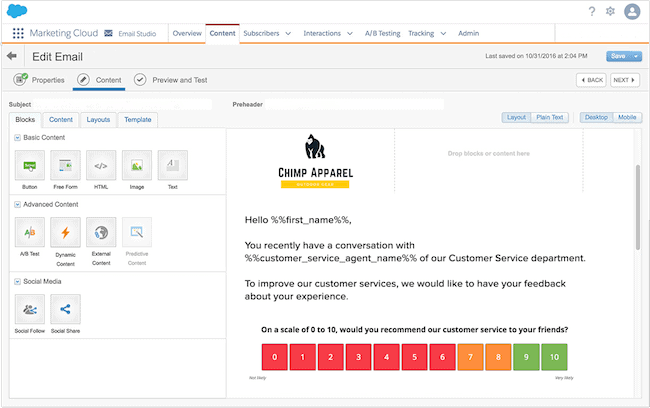 Creation of an email in Salesforce CRM, with the survey embedded in the body of the email
Surveys can also be deployed via your Salesforce CRM email campaigns by simply adding a button to the email with a link to the survey's deployment URL. MyFeelBack provides the URL link for the survey to be copied and pasted into the email.

This personalised URL allows to transfer the personalisation variables that are necessary for your survey to function correctly.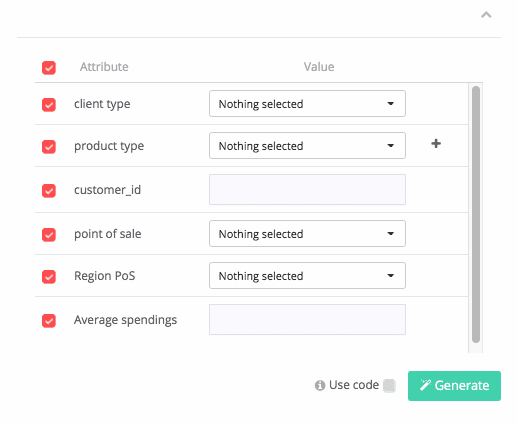 We have only briefly touched upon the satisfaction survey's content in this article. We therefore recommend that you read our step-by-step article about how to write a satisfaction survey.
Sending surveys via Salesforce allows you to collect additional data about your customers and to enrich your CRM. This is a virtuous circle, because this new data, in turn, enables you to create ever more targeted and efficient campaigns.
Would you like to know more about our Salesforce/MyFeelBack integration? Please don't hesitate to contact one of our experts.