Customer satisfaction with Hyatt Hotels Corporation is high, thanks to customer feedback. According to J.D. Powers' 2015 North American Hotel Guest Satisfaction Index Survey, the company did well in many key segments, even taking top spot for satisfaction in the upscale category. And in this year's American Consumer Satisfaction Index, the company scored better than the industry average of 75.
Hyatt is one of America's oldest and best-known hotel chains, offering brand differentiation through various lodgings: Park Hyatt, offering residential and urban luxury, Grand Hyatt, designed for upscale holiday travelers, and Hyatt Regency, specializing in mid to large-scaled premium properties. In recent years, the company has also added Andaz, an upper-end boutique brand, and HYATT, providing smaller full-service hotels. Most recently, the company launched Hyatt Centric, aimed directly at younger travelers.
Because of the company's high satisfaction levels and its unusually high level of brand diversity, offering more brands that competitors of the same size, it stands out as a particularly successful business, begging the question: how does it do it?
In fact, the answer is pretty straightforward: at Hyatt, it's all about consumer input. Sara Kearney, Senior Vice President of brands has said that, since 2008, the company has "focused on customer feedback in developing a brand. In effect, we learned how to design the hotel by responding to the needs of consumers as they described them to us."
A Five Star Digital Experience
Hyatt has developed a solid online presence, making it easy for guests to communicate with the hotel. On the company's home page, guests can click the "What's on your mind?" box which takes users to a microsite built around a complete customer experience: a Twitter plug-in, images of rooms and amenities, email commenting, links to social networks and YouTube content, and the company's booking engine.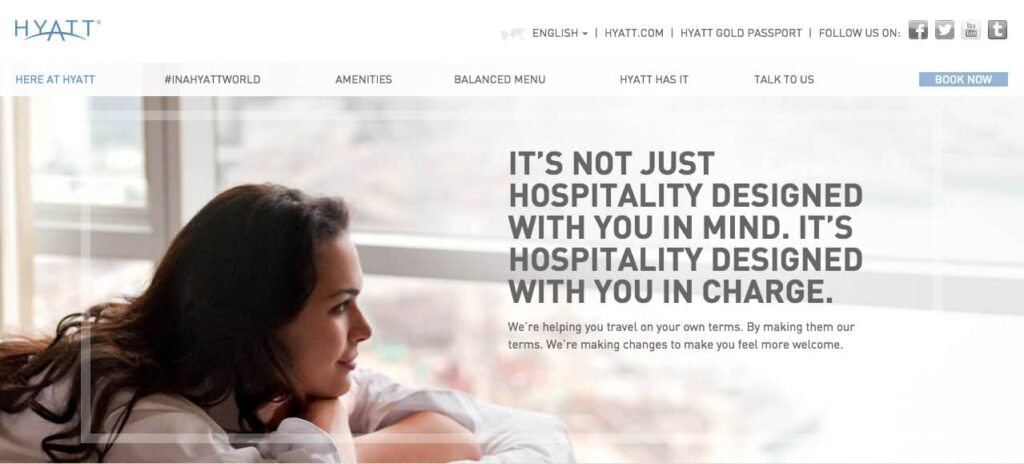 Hyatt enables travelers to easily interact with them and find relevant information. In designing such a comprehensive digital experience, the company is better poised to push customer engagement, and collect customer feedback to continue refining and/or creating experiences which provide real value to customers. And customers are responding to the company's efforts. This year, Hyatt ranks #1 in hotel-related Twitter engagement and #8 in Facebook followers.
Millennial Marketing
Hyatt has been around since 1957, but data collection and analysis has helped the hotel chain better understand just how different today's guests are compared to those of previous generations. To remain relevant with today's Millennial consumers, the company has used data to rebrand some of its key locations, launching an extreme makeover to attract younger guests. After extensive research and evaluation of customer feedback, Hyatt has embarked on delivering a new brand of hotels called Hyatt Centric.
Hyatt Centric, currently located in Chicago and Florida's South Beach – with additional locations in New York, San Francisco, and Paris having already been announced – is targeted at younger consumers who normally use AirBnB because they prefer city-centered locations and the residential feel of an apartment or home. Among its Millennial-friendly features, Hyatt Centric offers seamless digital capabilities, pet-friendly rooms, and a fitness center. Guests can curl up in the "library" in a place called the Corner, or socialize in the bar which promises locally inspired entrees, artisanal cocktails, and live music. From the food to the artwork and furniture, each location is designed with local authenticity in mind, helping travelers more easily transition into their new environs.
Customer Centric Brand Development with customer feedback
The Hyatt Centric name was inspired by the brand's mission to put the guest at the center of its city locations. But the customer has also been firmly situated at the center of all branding choices, increasing Hyatt Centric's value.
Hyatt Centric has been, from the start, customer centric because it looked at customer needs from the customer's point-of-view. By stepping into the customers' shoes, the company was able to do two things: gather rich data on guests' preferences and behaviors, and create smart segments that go beyond basic demographics. Forward-thinking analytics helped Hyatt Centric not only identify its best customers across an array of channels, from demographics to preferences and trends, but also understand their behaviors, habits, and interests. As CEO Mark Hoplamazain said earlier this year, "The process we followed to create this new brand is something that has worked really well for us over the last several years. It requires very intensive engagement with owners, developers, partners, our team members of course, and maybe most critically, guests – lots of guests."