In the field of e-commerce, live shopping is a small revolution. This interactive teleshopping, which is broadcasted directly on the Internet, is a huge success. In China, where it appeared in the 2010s, 67% of consumers say they have already made a purchase via this channel (source: Alix Partners). In Europe, this marketing device is also gaining popularity: Kohl's, Lancôme, Xiaomi and Tommy...
In the field of e-commerce, live shopping is a small revolution. This interactive teleshopping, which is broadcasted directly on the Internet, is a huge success. In China, where it appeared in the 2010s, 67% of consumers say they have already made a purchase via this channel (source: Alix Partners). In Europe, this marketing device is also gaining popularity: Kohl's, Lancôme, Xiaomi and Tommy Hilfiger have all adopted it, most often with the help of one or more influencers. 
So why and how do you integrate live shopping into your brand's influencer marketing strategy? SKEEPERS takes a look at the question!
What is live shopping? 
Entertaining and friendly, live shopping, or livestream shopping, is a kind of TV shopping 2.0. More precisely, it is an interactive commercial broadcast, live on a social network (TikTok, Instagram, Facebook, Twitter, etc.), a marketplace (Amazon Live), or on the website of a brand or media partner, via an adapted tool (Quidol, Spoockee, Livescale or Yoursosho in Germany for example).  
Live shopping allows consumers to interact in real-time with the speakers about the products presented. A live shopping event provides simultaneous access to : 
A video transmission, during which the products or services offered are presented; 
A chat, allowing the Internet users to exchange with the speakers and sometimes between them; 
Product sheets, thanks to which it is possible to buy the articles in real time.  

Live shopping involves personalities who are comfortable in front of the camera: salespeople, professional presenters, celebrities, influencers, or consumers. Its content can be varied: tutorials, demonstrations, pro tips, user advice, but also contests or quizzes. Finally, a shopping livestream can be broadcasted from a variety of locations: store, production site, studio-designed, or even the residence of a content creator.
Live shopping: why is it an attractive tool? 
Live shopping is a formidable marketing tool. Indeed, it allows you to effectively achieve different business objectives:  
Increase the conversion rate. During its live shopping, the cosmetics brand Douglas recorded conversion rates of up to 40% (source: McKynsey).  
How to explain these figures? Direct shopping simplifies access to information. Consumers can see the products from every angle, understand how they work, consult technical data sheets and ask questions live. The icing on the cake, the presence of a trusted third party, such as an influencer or a consumer, makes it easier for them to make a purchase.   
Shorten the sales cycle. During a live shopping event, many factors lead consumers to transition quickly from product discovery to product acquisition. These include: the group dynamic, the desire generated by an entertaining presentation, the reassurance elements provided during the live event (tests, questions, advice…), and the highlighting of a limited-time promotional offer.  
Decrease the return rate. Live shopping makes it possible to make an informed purchase. Thanks to the chat, consumers can ask questions to determine if a product or service will suit their needs. Moreover, the presentation of the items allows the buyers to appropriate them more easily when they receive them. This avoids disappointments and returns.  
Reinforce its brand awareness. In Europe, Direct shopping is relatively rare, which means that the brands who do utilize it will draw a lot of attention to themselves. This is even more true when the live shopping event involves influencers. The retailer Walmart declared that its number of TikTok subscribers increased by 25% following a live shopping event broadcast on the platform (source: TechCrunch).   
Building consumer loyalty. Direct shopping allows brands to present a human face: that of their teams and/or that of an ambassador. Even better, the entertaining and interactive nature of live shopping makes it a moment of conviviality. This tactic contributes to building a connection between the company and the shoppers. Repeated regularly, it can even become a communication point between a brand and its community.   
Live shopping with an influencer: 9 best practices
As you can see, live shopping is an effective marketing tool that can be successfully implemented in your collaborations with influencers. But to take full advantage of this type of operation, you should observe some best practices: 
Choose the right influencer
Content creators are great partners for your live shopping events. Indeed, they give good visibility to the operation, which they can promote to their community on social networks. An influencer who is comfortable in front of the camera and under live circumstances will moreover know how to give a rhythm to your show and interact naturally with the audience.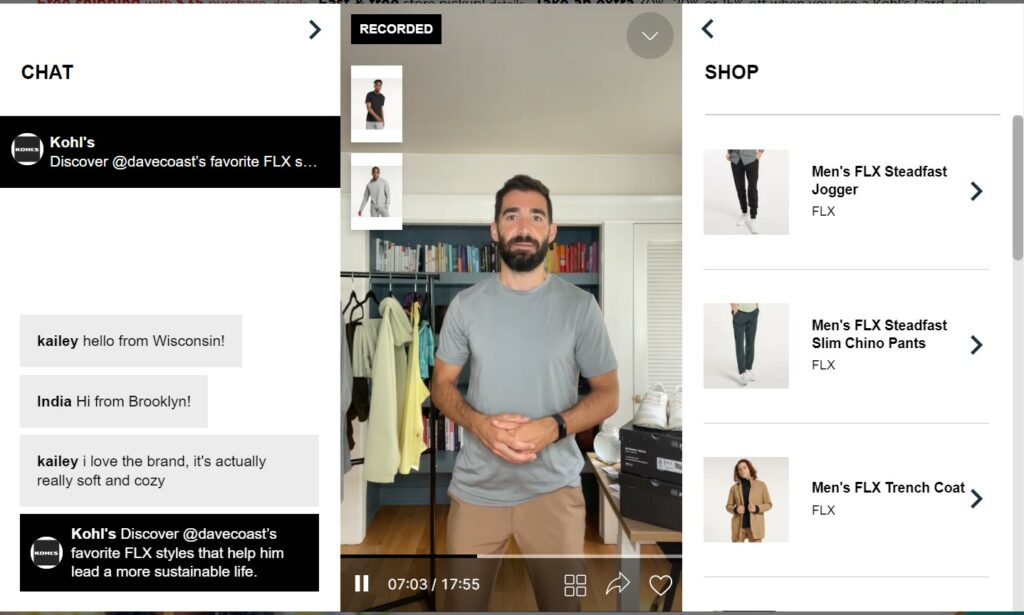 Good to know: the consulting firm McKinsey predicts an increase in live shopping in partnership with micro-influencers and nano-influencers. Accessible and authentic, these "niche" content creators maintain a close relationship with their community. They enjoy particularly high engagement rates and good credibility, while costing less than their colleagues with many subscribers.   
Provide a test period
To be persuasive during a live shopping event, content creators must have tried the product (or service) and know how to use it. This will allow them to express their honest opinion and share their tips with their followers. 
Offer an entertaining and informative concept
Content ideas can be planned to keep the audience on the edge of their seats. Some examples include apartment tours, make-up tutorials, trying on different looks, making recipes, interviewing experts (product manager, salesperson, engineer, make-up artist, etc.), quizzes, Q&As, live music, or video game sessions. The possibilities are endless! Don't hesitate to call on the creativity of your partner influencers.  
Share a discount code
The presence of a promotional offer is one of the main factors that lead Internet users to watch Direct shopping (source: Alix Partners). To attract consumers, consider offering an advantageous promotional code, reserved for live viewers and limited in time.  
Organize a giveaway
Giveaway games convince users to attend the live shopping event until it ends and encourage better engagement around the operation.  
Recycle your live shopping
To take full advantage of your live shopping event, consider reposting it on your social networks and/or website. Consumers will be able to watch it to discover your products or services. The show can also be cut into shorter clips that will be integrated into your product sheets in order to make them more persuasive.  
Repeat the operation
Direct shopping can become a real meeting point between a brand and its community. This type of operation can be repeated on different occasions: launch of a new offer, highlight of the commercial year (sales, holiday season, Black Friday, etc.) or even highlighting a product that is losing popularity.  
Using the right tool
The main social networks now offer a live shopping feature. Some brands also choose to broadcast their live shopping on their own website or on a partner's website (media for example). The best platform is the one on which your target audience is primarily located. However, it is also important to consider the platform that offers features best suited to your needs (surveys, MCQs, data collection, etc.). 
Get started as soon as possible
Still not widely used by European companies, live shopping allows you to differentiate yourself from the competition. But for how long? It's up to you to take advantage of this new tool as soon as possible to gain audience share! 
Lancôme in Instagram Live with the influencers Jamie Yeo (107K followers) and Cheryl Wee (10K followers) :
Conclusion
In tune with the times, live shopping is a marketing tool of choice for all brands, whatever their sector of activity. This type of operation fits particularly well into an influencer marketing strategy. Influencers are followed by many people, are comfortable in front of the camera, and are used to interacting with their audience, making them ideal speakers for the events. Influencers are also experts in creating engaging content and can help you design original show concepts.  
The key is to find influencers who are aligned with your brand. To do this, visit the Skeepers influencer marketing platform!