Are you looking to optimise your e-reputation? Then you need to manage customer reviews on the Internet and social media. And for good reason, customer reviews are now the main vector of a brand's digital reputation. This article will explain why and present a few customer review platforms to manage customer feedback at all levels:...
Are you looking to optimise your e-reputation? Then you need to manage customer reviews on the Internet and social media. And for good reason, customer reviews are now the main vector of a brand's digital reputation.
This article will explain why and present a few customer review platforms to manage customer feedback at all levels: feedback collection, moderation, analysis, display, etc.
Why are Customer Reviews a Key Lever for Monitoring and Optimising E-Reputation?
E-reputation is your company's reputation on digital channels: search engines, social media, etc. It represents Internet users' perception of your brand. In other words, it is your brand image on the Internet, your digital reputation.
E-Reputation and Customer Reviews: 2 Related Concepts
You need to take care of your online brand image because, as everyone knows, a bad brand image can seriously undermine your business' short and long term performance. Today, more than ever, e-reputation plays a key role in consumers buying decisions. Especially on the Internet! Customer reviews are reassuring for consumers. Positive reviews build trust in the brand and its products.
In this sense, the digitalisation of the customer journey has led to a considerable increase in the importance of brand reputation. Not to mention that the development of customer review platforms and social media enables customers to share their opinions and feedback more easily than ever.
Making e-reputation a central part of your marketing strategy is therefore key. How? By managing consumer and customer reviews of your products and services. Managing customer reviews is the first e-reputation monitoring and optimisation lever.
The Two Levels of E-Reputation Management
E-reputation is managed at two levels, which correspond to two time frames:
Short term, by checking and monitoring reviews posted by your customers and users on the Internet in real time, on search engines and feedback platforms, social media, forums, etc. If a customer leaves a negative review, then act quickly and respond to this feedback. This is a "short-term" approach. It is essential, but not enough. You should combine it with a medium-term approach.
Medium term and long term. Analysing customer reviews (particularly negative ones), enables you to identify areas for improvement for your products and services. This approach enables you to optimise customer satisfaction and your digital reputation in the long term. In this sense, managing customer reviews becomes part of your continual improvement strategy.
The Best Way to Collect Genuine Customer Reviews: Post-Purchase Surveys
A customer buys a product on an ecommerce website. A few days after delivery, they receive an email asking for feedback about the product they purchased. This is a post-purchase review, when a brand asks its "real" customers for feedback, as opposed to user reviews posted spontaneously on product pages, forums or social media.
The platforms below enable you to automate the collection of post-purchase reviews by email. This practice allows to collect as many verified reviews as possible, without worrying about fake reviews and acts of unfair competition (false reviews posted by your competitors, etc.). Post-purchase reviews are key to improving your e-reputation. They give you maximum control over your customer reviews.
A Few Platforms to Manage Customer Reviews and E-Reputation
Contrary to popular belief, customer reviews are not beyond a brand's control. They can be managed via specialised customer review monitoring platforms. Below we will focus on 4 major players on the market: Verified Reviews, Trustpilot, Google Reviews and eKomi.
Verified Reviews
Verified Reviews is a solution from Marseille, designed to manage e-reputation at all levels, from collecting feedback to analysing, moderating and displaying it on your various digital channels. As its name suggests, Verified Reviews, allows to certify the authenticity of customer reviews. Verified Reviews is a solution that fights against false reviews which can cause harm to your online brand image.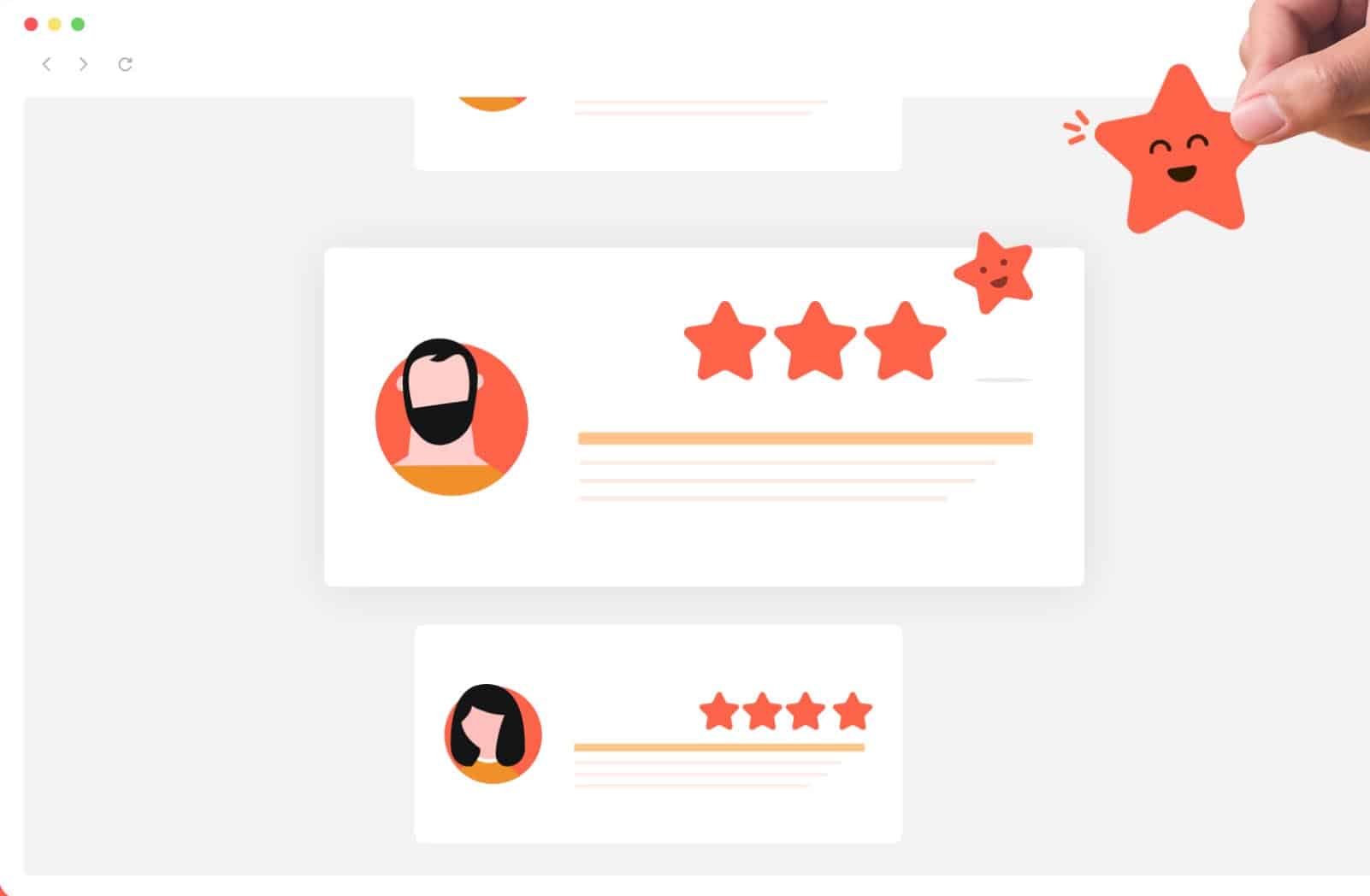 Here are a few Verified Reviews features:
The platform includes a "Verified Reviews" widget that makes it easy to display certified customer reviews on your website (e.g., on your product pages).
Users can read all reviews (positive or negative) posted about a brand on a specific page (see image below).
You can collect and display all kinds of customer feedback: brand reviews, local reviews, and/or product reviews. Verified Reviews is an "all-in-one" solution.
The platform enables you to easily identify your company's promoters, detractors and neutral customers.
The Verified Reviews interface allows you to respond publicly to reviews in a few clicks.
You can ask customers for feedback via post-purchase surveys and therefore obtain a maximum of reviews from your "real" customers.
Verified Reviews offers advanced customer review analysis features for an accurate overview of customer reviews.
Trustpilot
Trustpilot was founded in 2007 and is a similar solution to Verified Reviews, that allows you to collect consumer feedback and display it on your digital communication channels, including your website and social media.
Like Verified Reviews, Trustpilot also enables you to send automatic post-purchase surveys by email to collect verified reviews from your real customers. Skeepers offers a native connector with Trustpilot that allows you to take things further. For example, with this connector you can program emails to be sent automatically to your brand promoter customers, so as to get as many positive reviews as possible and increase your average score.
Trustpilot reviews are often well ranked on Google, which makes this platform a key lever for managing your SERP (Search Engine Results Pages) reputation: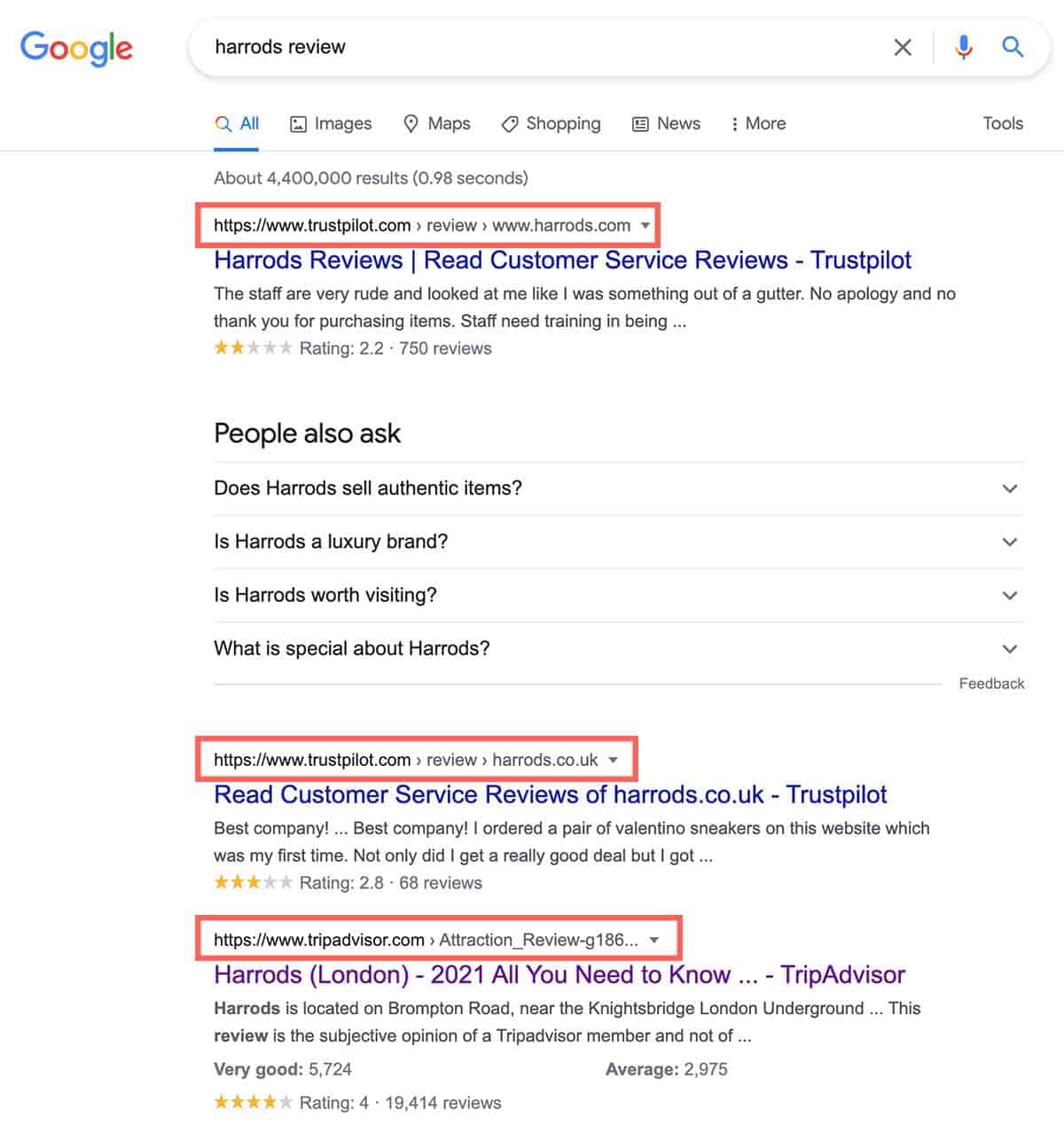 Trustpilot, like Verified Reviews, complies with Afnor standards for certified reviews, which guarantees the quality and authenticity of reviews. On the other hand, unlike Verified Reviews, Trustpilot does not allow you to recover reviews; you do not have ownership of the reviews submitted.
Google Reviews
Unlike the two previous platforms, Google Reviews is free. It is easy to use in the sense that you only need a Google Business account to use the Customer Review module. Google reviews appear in the search engine, in Google Shopping as well as Google Maps: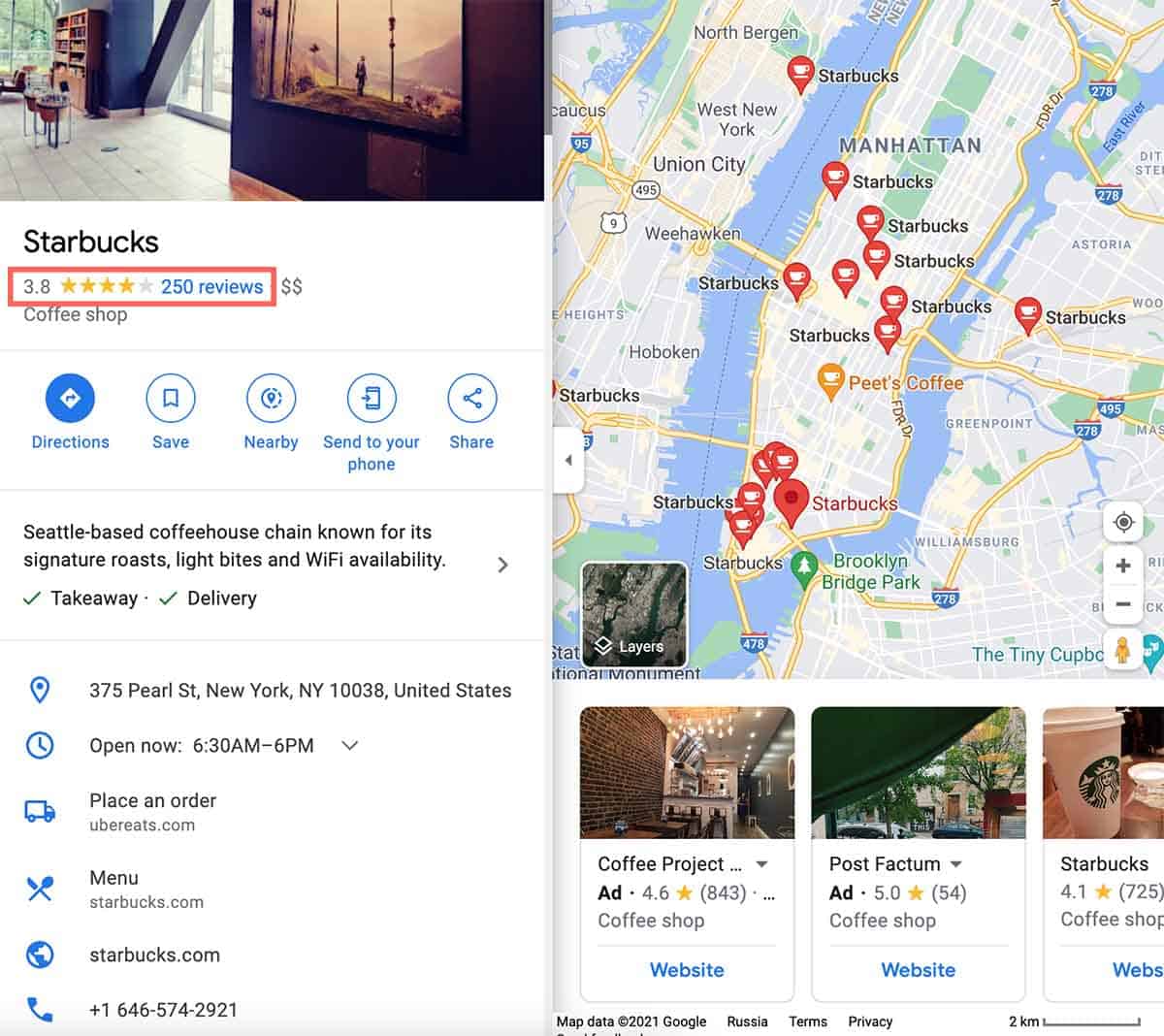 You can pair Google Reviews with a third-party platform such as Trustpilot or Verified Reviews to collect even more reviews and better manage them.
We recommend using Google Reviews (it's free and a must-have) and choosing a third-party platform (Verified Reviews, Trustpilot, etc.) to further monitor your customer reviews and e-reputation.
eKomi
We'll end this brief overview with eKomi, an easy-to-use platform, with similar features to those mentioned above. eKomi allows to:
Collect post-purchase reviews by email.
Moderate reviews. eKomi has a team of highly responsive moderators. All reviews are verified before publication.
There are, of course, other generalist reference platforms as well as sectoral platforms. We chose to focus on generalist customer review platforms, but let's not forget about specialised ones, such as Tripadvisor (for tourism, restaurants, etc.) or Capterra for software.
These platforms are your best allies for managing the collection, moderation and display of customer reviews. They are key tools for managing your e-reputation!
Fibd out how Clarins provides unforgettable shopping experience to its customers across all channels.