According to multiple recent reports, Paris is a top travel destination in 2015.
But the French travel sector has been in trouble for some time. It seems that for all its charms, pleasing customers hasn't been high on France's list.
It all begins with customer dissatisfaction
In recent years, Paris, and larger metropolitan France, has ranked poorly in numerous traveler satisfaction surveys.
In a Condé Nast survey, respondents cited three French cities in their list of top 5 unfriendly destinations: Cannes came in 2nd, Paris 4th, and Marseille 5th. While none of the participants of this survey argued that Paris wasn't a beautiful and romantic city, many took issue with the city's unfriendliness.
Similarly, Travel + Leisure magazine surveyed 200,000 readers to rank the friendliness of 266 popular travel destinations.
The magazine reported that 4 French cities ranked among the least friendly for travelers: Marseille, Cannes, and Nice, all appear in the bottom 30. (Though technically it's not French territory, Monaco's Monte Carlo also ranked in the bottom 30.)
Complaints included the "unkempt and gritty" atmosphere of Marseille and the "faded charm" of Cannes.
The Voice of the Customer to better understand travelers
In response to complaints, the Paris Region Tourist Board, an organization which provides resources, tools, and support for Paris tourism professionals, has developed assessments and observation tools to better understand the demands and expectations of visitors.
Most notably, in 2012, the Board launched a satisfaction survey asking 4,000 participants, all of whom had recently visited Paris, to share their opinions about main areas of improvement within the tourist sector: transport, hotel, restaurants, and major tourist sites.
The results of the survey were intended to:
Serve as an objective tool to assess quality of service
Identify strengths and areas for improvement
Define specific plans of actions
Monitor follow-up and corrective actions.
French tourism offices collected survey responses for a year and a half, compiling data and statistical studies to better understand what it must do to satisfy travelers and maintain the country's position as a leading destination for world travel.
Working with survey data, the Paris Chamber of Commerce and Regional Tourism Committee teamed up to reinvigorate the service industry with a higher degree of professionalism and friendliness.
Recently, the city has embarked on a major campaign to improve its unfriendly reputation.
Do you speak touriste? The perfect campaign to regain prestige!
Solutions have included everything from posting multilingual travel signs in French airports and hotels to finding ways to make it easier to traverse Paris' metro stations with luggage.
And, in 2013, Paris's tourism chiefs launched a formal campaign called "Do You Speak Touriste?" to raise general awareness of the perceptions foreign visitors hold of the city and larger metropole.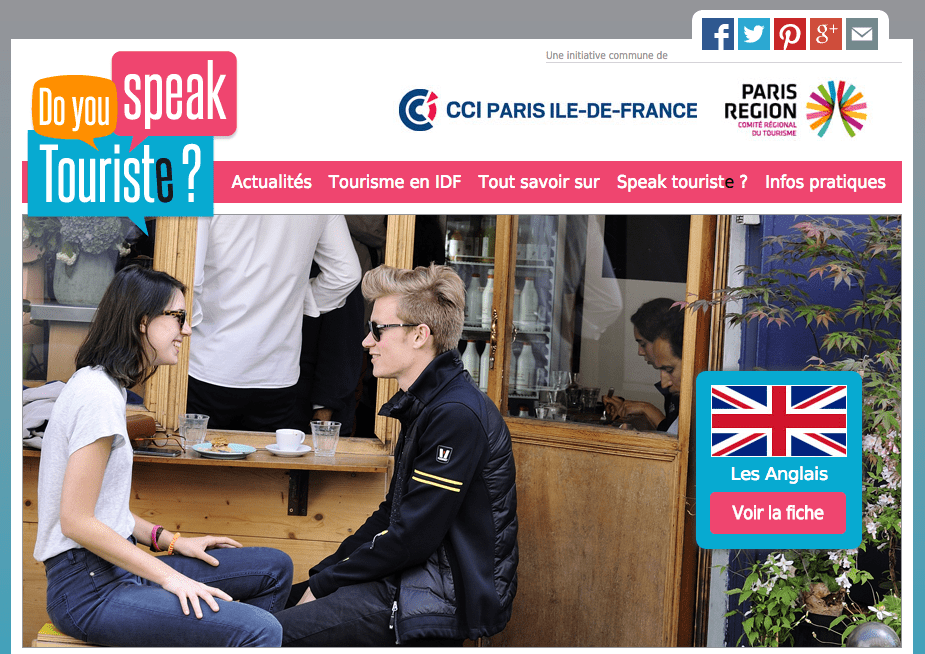 A "Do You Speak Touriste?" website has been created and over 50,000 pamphlets have been distributed to businesses catering to tourists.
The web site and pamphlets are designed to inform business of cultural differences so as to better serve travelers from destinations all over the world.
Efforts to improve Paris's service industry have paid off. The city ranks as one of 2015's most visited cities in the world with a 95% visitor satisfaction rate.
A Priceline survey indicates that in 2015 Paris has increased its popularity as a top destination, jumping from #116 to #36. Currently, tourism accounts for 6.5 %  – 7% of France's GDP with Paris remaining one of the most popular travel destinations in the country. 
Assess traveler satisfaction with surveys
While the hospitality industry in other parts of the world may not be as large, Paris's commitment to providing customer service demonstrates the financial importance of marketing tourism in any region, bringing myriad social and economic benefits.
If your business provides hospitality or travel services, you depend on satisfied customers who will return or, at least, generate good word-of-mouth for your business.
Perhaps more than any other industry, the travel industry depends on customer satisfaction.
Developing satisfaction surveys to understand why tourists are attracted to your specific destination, and meeting or exceeding their expectations, will ensure a more profitable, stable, and inviting tourism business and industry.