If you do a random search on Google (go on, open a new tab ), I bet at least one video will come up in the organic results. We searched for "Game of Thrones season 8" (we've got some fans on the team who are dying to see what happens next…) and smack in the middle of the first page of Google we found 3 videos, including a teaser for the new season. To confirm the results of the experiment, we tried again with a different search query: "How do you fix a flip-flop?" Bingo! Four YouTube videos come up at the top of the results, including a tutorial on how to repair your flip-flops with a bread-bag sealer clip… I mean why not?!
So? Did your Google search bring up some videos? We're willing to bet it did, and that's why we've decided to write a whole article about the impact of video on SEO.
If Google prefers video to your 2,000-word articles, it's simply because consumers also prefer video to your 2,000-word articles. In fact, a post featuring a video is 53% more likely to show up on page 1 of Google search results. So why is video so effective when it comes to making your content visible in search engines? Here is a list of 5 reasons that will motivate you to add some to your pages.
3x more backlinks
According to a study by SEO moz, an article that includes a video generates triple the amount of backlinks. Link building (= a website's inbound and outbound links) is one of Google's main criteria for ranking pages. These links help to increase traffic, but they also boost the page's SEO performance. The more your inbound links (backlinks) come from high-quality sites with established authority, the better your ranking will be.
So a good video is an excellent way to boost your SEO. The medium is engaging and easy to consume, plus videos are actually one of the best link baits on the market.
A longer visit
Video is an excellent way to get visitors to spend more time on your page. This is what Google calls the "stickiness factor" of a page, and it's an important criterion for evaluating the quality of your site. It's simple: the longer you keep visitors on your page, the more search engines will consider that your content is interesting to them, and the better your page will rank.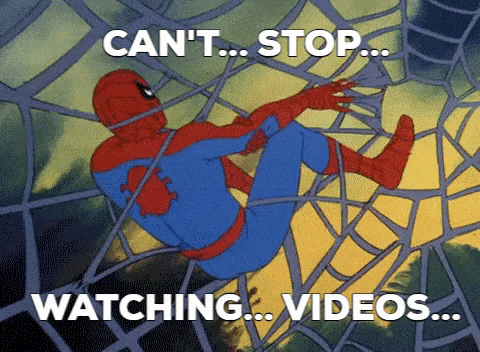 Our advice: if you do add videos to your pages, do what it takes to make them visible! Try to place them towards the top of the page if you can, above the fold. And if your video happens to be more towards the middle or the bottom of an article, make sure to mention in your intro or in the article title that there is a video further down the page.
Video transcripts are a gold mine for SEO keywords
Video transcripts are a quick and easy way to generate text for page content and to boost your SEO. When adding a video to your website, be sure to also upload the captions. These are indexed by Googlebot and improve your page's ranking. The videos can also be a source of inspiration for an article. Add your video to a page, transcribe its content, then expand on it to create a new article full of keywords to feed the search engine crawlers!
And if you'd rather watch paint dry than transcribe videos, don't panic… we've found a video (of course) that presents tools that can save you time by automating the task:
Video to appear on the first page of Google… but also of YouTube!
YouTube is the second most popular search engine after Google. Combined, these two generate 58% of web searches. Uploading a video to YouTube increases your audience significantly, since the video platform attracts 1.8 billion active users each month. That's a pretty good incentive for brands to create content on there that will increase their visibility and attract customers to their site.
And if you have neither the time nor the resources to make your own videos, don't hesitate to use content that exists already! Every minute, more than 100 hours of video are uploaded to YouTube, making the platform a major source of quality content you can re-use in your communication. But be mindful of copyright laws. To avoid stepping on anyone's toes and exposing yourself to legal action, always ask the content owner for permission before using their material on your site. No need to send your request in a formal letter; a DM on Twitter should do
Video is 1,200% more likely to be shared on social media
I know what you're going to say: why are we talking about social media in an article about SEO? It's true, search engines have confirmed that backlinks from social platforms like Facebook or Twitter don't have a direct impact on link building because they're set to NoFollow, which means search engine crawlers ignore them. BUT! They still have a considerable indirect impact! Publishing content on the socials can increase a website's visibility, its popularity, and generate qualified traffic, 3 positive signals that help a website's ranking. We found this interview with Matt Cutts, Google's former SEO guru, to explain the impact of social media on search engine ranking:
Keep in mind, though, that search engine algorithms are constantly evolving and it's possible that social media signals will one day be used as ranking factors.
But to get back to the point: video is hands down the most consumed format on social media. Because they're more engaging than text-only content, posts featuring a video are 1,200% more likely to be shared on social media (source: Brightcove). Video is engaging and easy to share, so it's an excellent way to generate traffic to your site and, as a result, improve your SEO.
A huge majority of businesses (86%) use video as a marketing tool and 92% of marketers continue to value video as an 'important part' of their marketing strategy (source: Wyzowl, 2022).