If you keep on top of new consumer buying behaviours, the "shoppable content" approach will no doubt have caught your attention.
But what is it, exactly? And how is it revolutionizing online retail?
In this comprehensive guide, we're going to look at what's hiding behind this expression and present the basics you need to know about this smoking hot trend in e-commerce.
What is shoppable content?
Shoppable content is any type of content (videos, images, articles) that provides the consumer with a direct purchasing opportunity. To put it another way, shoppable content is content that includes one or several "calls to action" (CTA > clickable buttons) so that, in as few clicks as possible, the shopper can buy the product featured in the image, video or article…
A little further on we'll present a few concrete examples of shoppable content.
Over the last few years or months, most social media and streaming platforms (with YouTube at the top of the list) have developed functionalities to facilitate instant purchasing. If you use Instagram, Pinterest, TikTok or even YouTube, you've already come across "shoppable content".
There are two types of shoppable content:
Shoppable content that allows consumers to buy the product with just one click, without leaving the content platform. Here we're talking about social media platforms that give you the option to buy the product featured in the post or story without redirecting you to a product page. In this case, the social media platform isn't just a channel for promoting and sharing, it's also a stand-alone sales channel in its own right, just like an e-commerce site.
Shoppable content that contains a button linking back to a product page on the online store and, in just a few clicks, allows the consumer to buy the product they discovered in the content.
In any case, shoppable content shortens the path to purchase. That's the main advantage of this approach that merges content and retail.
What advantages does shoppable content offer brands and consumers?
Shoppable content benefits both consumer and brand by shortening the path to purchase. Shoppable content also makes it easier for you to measure the effectiveness of your marketing efforts. Let's look at these two key advantages of shoppable content in more detail.
Shoppable content shortens the path to purchase
Shoppable content considerably cuts down the length of the purchase path. In e-commerce, the typical buyer journey goes like this: Successively, the web user
Discovers a product by being exposed to a piece of content such as a blog article, a video, a social media post…
Visits the brand's online store and searches for the product that caught their attention.
Looks over the product page.
Adds the product to their basket.
Proceeds to check-out.
The purchase path (or conversion path) your customer takes between the moment they discover the product through some piece of content and when they actually buy it can be long and sometimes tortuous… just think of those poorly structured e-commerce sites where searching for a product is an uphill battle!
With shoppable content, the path to purchase is much shorter. Online shoppers goes through the following steps in order:
They look at the shoppable content.
They access the product page by clicking on the CTA that's right there in the content.
They add the product to their basket.
They pay.
In some cases, as we saw, the buying journey can be even shorter:
The consumer looks at the shoppable content.
They add the product to their basket.
They pay.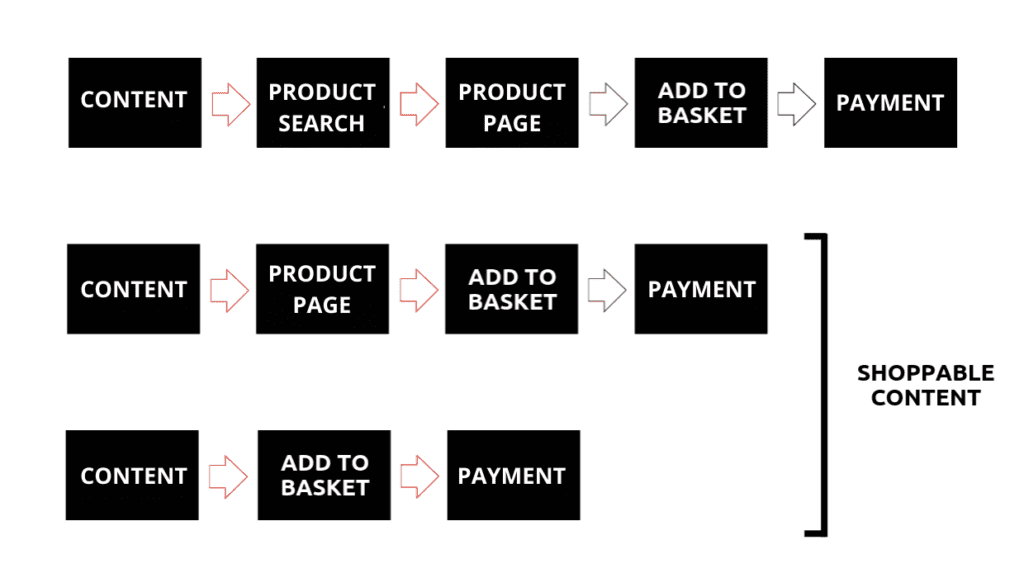 Let's look at a concrete example:
In the past, when you saw a pair of shoes you liked in a YouTube video, you had to search for them on Google first, figure out which site sold them, add them to your basket, then go through check-out.
With shoppable content, just one click (or very few) stands between you discovering the product and you owning it. All you need to do is click on the pair of shoes that is highlighted in the content.
The result? The number of steps between discovering the product and buying it is reduced to a few clicks.
The customer journey is simpler and more fluid, which makes for an optimal shopping experience. Consumers like easy, quick, and frictionless. By offering them shoppable content, you save them time and make life easier for them.
Don't forget that complexity of the buyer's journey is a major cause of basket abandonment. Simplifying and shortening the path to purchase is the best way to reduce shopping basket abandonment… and increase conversion rates.
Easier performance measurement
Attribution is important in marketing. It's the practice of measuring what each different channel is contributing to sales. With this metric, marketers are then able to allocate a maximum of resources to the most effective channels, to optimize the ROI of marketing efforts. The longer the conversion path, the higher the number of clicks required to make a purchase, or in short the more channels and steps there are in the buying journey, the harder attribution becomes.
With shoppable content, it's much easier to measure the impact of content publications on sales and conversions. Why? Because there's no ambiguity; sales and conversions can be clearly and directly attributed to a specific piece of content.
Shoppable content makes it easier to measure the ROI of your marketing efforts and, in particular, the ROI of your content marketing.
Which are the go-to platforms for shoppable content?
You can publish shoppable content directly on your e-commerce site. As you'll see a little further on, Ikea uses this approach. But it's social media platforms that are the most commonly used for shoppable content, with Instagram in the lead.
Instagram
Since 2018, brands have been able to tag products in Instagram stories or posts to redirect customers to their product pages. This works for both organic content and for sponsored content promoted in the feed or in Explorer. This capability offered by Instagram has made it the go-to social media platform for shoppable content.
In fact, this subsidiary of Facebook has even developed a secure native payment system that allows users to buy a product without leaving the app. For now, this functionality is only available to American businesses.
Pinterest
Pinterest recently rolled out some new features to brands, to help them monetize the content they share on the platform. Since Pinterest is the ultimate social network for inspiration, it plans to develop more and more ways to help visitors go from inspiration to purchase. It's now possible to add calls to action to pins or "Idea Pins", a recently launched format that's a cross between TikTok videos and Instagram Stories. Pinterest's new shopping functionalities make it a prime social media platform for shoppable content.
TikTok
TikTok sealed a partnership with Shopify in October 2021, to roll out shopping functionalities on the famous social network. It's now possible to create and manage TikTok advertising campaigns directly through the Shopify e-commerce platform. The TikTok <> Shopify integration allows web merchants to install the TikTok pixel with one click.
But more importantly, this alliance between the two giants also enables brands to offer shoppable content on TikTok, i.e. clickable videos that allow users to buy a product with a single click.
YouTube
For several years now, YouTube has been offering functionalities that allow brands to insert CTAs directly into the video player. YouTube is now working on adding more shopping functionalities to enable consumers to buy with one click on the famous streaming platform, without being redirected to an e-commerce site.
Some examples of shoppable content
To wrap up, here are a few examples of shoppable content.
Ikea
Ikea now has an "Inspiration" section on its website, to show customers its products in different settings and give them ideas for decorating their home. The showcased products are clickable, taking shoppers directly to the product page. This is an example of shoppable content on a website. The English version of the Marks & Spencer website also has an "Inspire Me" section.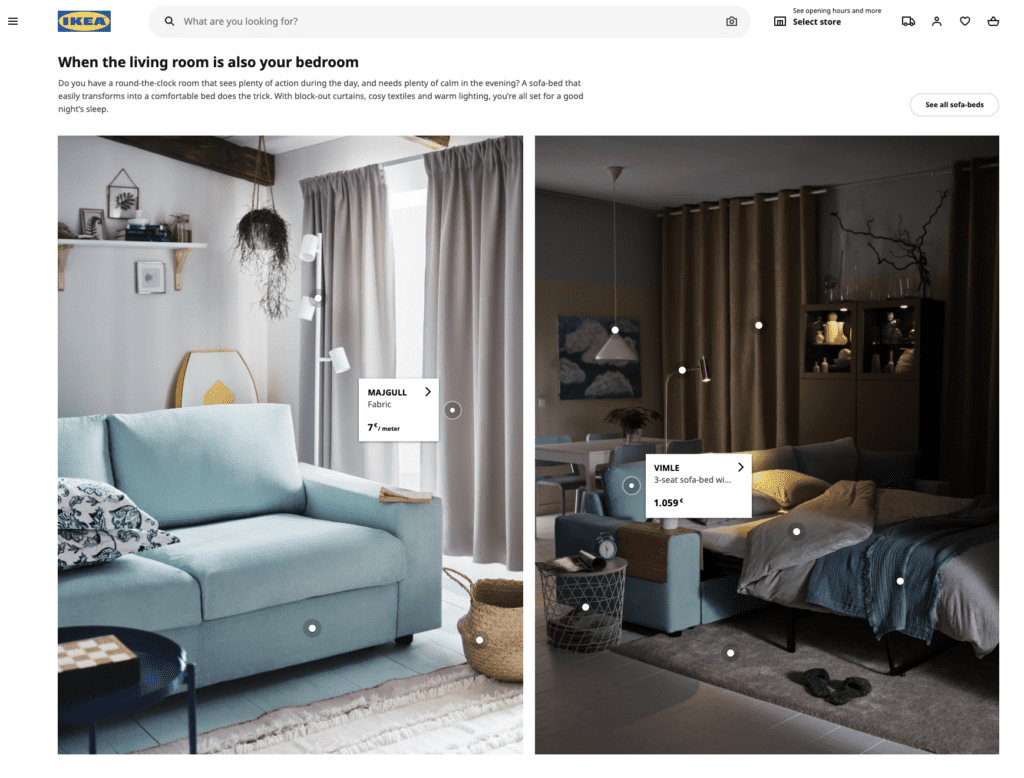 Rituals
Rituals uses shoppable content on Instagram. The cosmetics brand uses the product tagging functionality in some of its posts. We invite you to take a look at Rituals' Instagram account to discover other inspiring examples of shoppable content.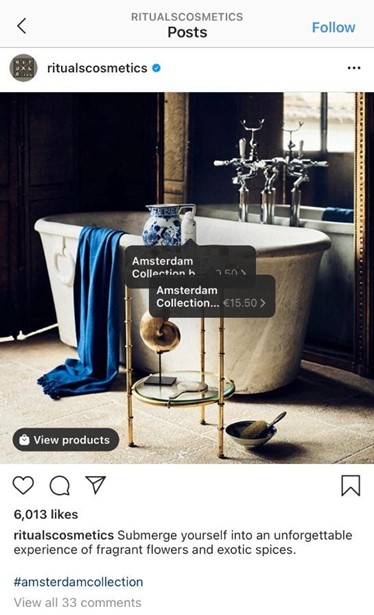 Made.com
Facebook offers exactly the same functionality as Instragram, i.e. the ability to tag products in the photos shared in posts. Made.com uses this to perfection and is an inspiration to all retailers wanting to get started on the shoppable content adventure.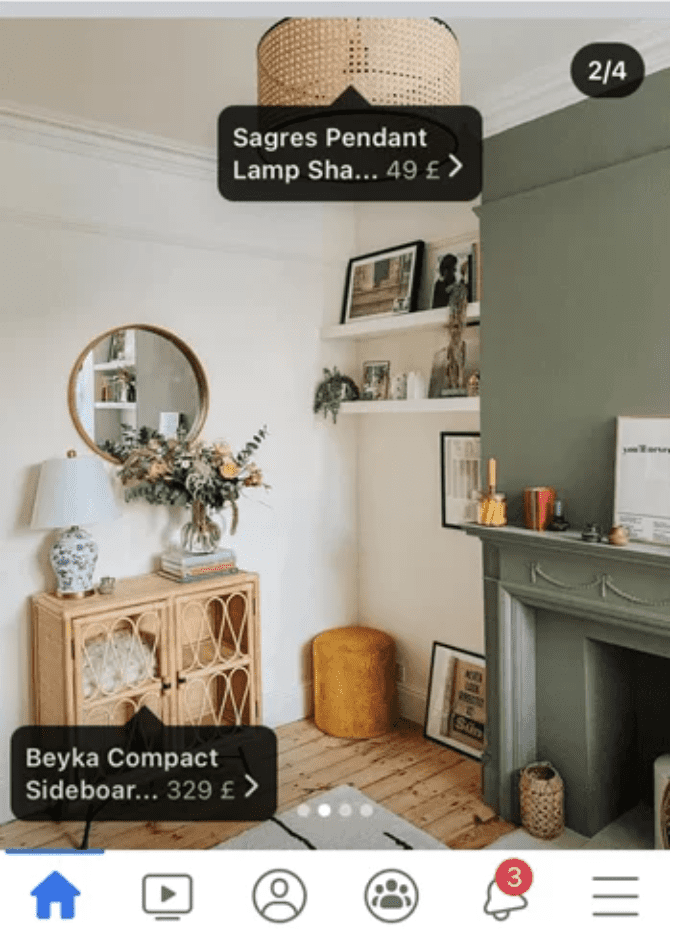 Phildar
Well aware of the new challenges associated with the digital medium, the French ready-to-wear and ready-to-knit brand has gone the extra mile with its modern and engaging content strategy. Very quickly, the brand chose to implement a versatile and effective format: video. And to produce these videos, it decided to enlist the help of its sales teams, using Skeepers user-generated video platform!
The videos undergo an automatic post-production process and are then posted across all broadcast channels: product pages, YouTube, Facebook, Instagram, Reels, IGTV, Pinterest, etc.
As the line between experience and shopping becomes progressively blurred, photo and video content is no longer simply a sales tool, it's becoming the embodiment of the product.
Now it's up to brands to make it easier for consumers to buy. And in the race for an ever shorter and simpler path to purchase, having just one click too many is enough to lose a customer forever!