Tourism has been hard-hit by the global pandemic. Today, industry players are gradually recovering and looking for ways to return to prosperity and growth. Some are doing better than others, particularly those who focused on customer experience.  The main way to bounce back and stand out from the competition is to improve customer experience (CX)....
Tourism has been hard-hit by the global pandemic. Today, industry players are gradually recovering and looking for ways to return to prosperity and growth. Some are doing better than others, particularly those who focused on customer experience. 
The main way to bounce back and stand out from the competition is to improve customer experience (CX). In this article, we will take a closer look at the hotel industry to see what the new customer experience standards are and draw valuable lessons for anyone in tourism.
"Where to Travel?": A Question that Reveals a Desire to Travel… and a Need for Support
Monitoring Google trends can provide you with interesting and sometimes intuitive insights. For example, the number of searches for "where to travel" doubled in 2021. Is this a surprise? Not really! The surge in this Google search can largely be explained by the current global pandemic.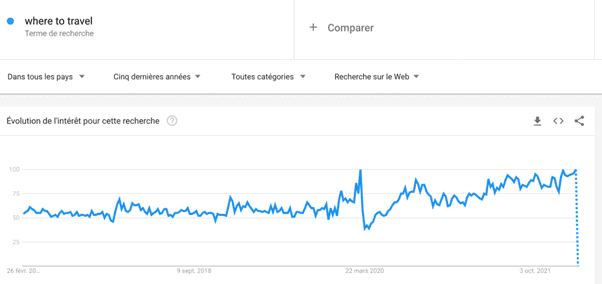 We believe that this result reflects two things:
Firstly, a strong desire to travel. Some countries have experienced months and months of restrictions and lockdowns. Travel lovers have had to put their plans on hold. Now that things are getting better, people want to go on trips again. The longing to be elsewhere and to simply relax, is stronger than ever.
Secondly, a demand for support and advice. People who enter that query into Google are also looking for destination recommendations and, more broadly, travel advice. Internet users want help with their research and are generally requesting information.
This leads us directly to the heart of this article: CX in tourism. The Google Trends graph above highlights the importance of digital channels and online presence in the tourism industry. This is important because almost everyone gets their information from the internet these days. It's where people start their research and where the customer journey begins.
These are the "pre-purchase" steps, which are often quite long in the tourism sector. And for good reason: customers are buying a holiday, not a pair of socks!
During these initial phases, people are looking for information, advice, content or special offers. They're also looking for reassurance from any companies they might use. Providing future/potential customers with a great experience is key in tourism. This applies to all the other stages of the Customer Journey too.
CX Is the Real Differentiator in Tourism
If you work in tourism, you already know that the industry was hit hard by the global pandemic and is now looking for levers to bounce back.
There are several ways to achieve prosperity and growth again. One of them involves focusing on the customer experience. During the 2022 edition of Net Managers, Daniel Ray, a marketing professor, commented that: "the more mature the market, the more customer-centric companies become… It is essential to be customer-centric before your competitors, as this gives you an inimitable competitive edge."
In a highly competitive and mature market like tourism, the best way to stand out is to adopt a customer-centric approach and make the improvement of the customer experience a priority.
For two reasons:
In a service sector such as tourism, customers attach great importance to the quality of services and experiences. They aren't buying a product, they're buying service, reception and customer relations.
Price differentiation has its limits. Offering low prices is not a sustainable solution and it can have a negative impact on the company's margins. Moreover, low prices often mean a lower quality of service… which is the opposite of what modern customers are looking for. It's a vicious circle.
If you want to find out more, feel free to browse our blog articles about CX and its importance. But now, let's focus on the opportunities for stakeholders in tourism to reinvent, enchant, enhance or simply improve the customer experience.
The next part of this article focuses on the hotel industry, which is representative of these changes. But first, here's a quick reminder about customer experience.
Improving Customer Experience (Often) Comes Down to the Little Things
"Customer experience" is often misunderstood, a buzzword. It sounds like something big, with the potential to wow. Yet customer experience simply refers to how your customer feels when interacting with your brand at your various touch points.
Improving the customer experience mainly involves improving certain services or providing practical and useful services for potential and existing customers. More often than not, it doesn't take much to provide a pleasant customer experience.
Let's take an example. The pandemic has created a lot of uncertainty and doubt about where you can travel and the entry requirements. Nobody knows where they can go anymore… which echoes the Google query mentioned at the beginning of this article!
The Spanish airline, "Iberia", decided to add a practical interactive map to their website, to make potential customers' lives easier. Simply enter your departure airport, arrival airport, nationality, country of residence and vaccination status. The service then informs you if you can travel to the country and entry requirements that apply.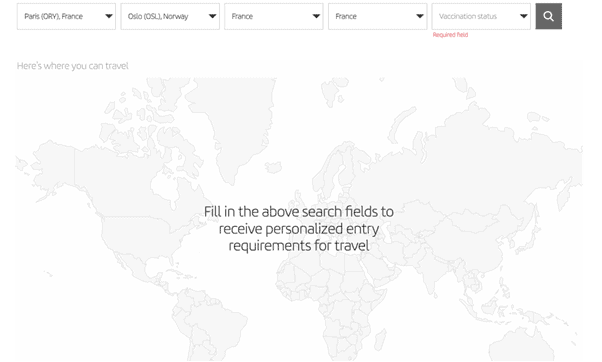 This isn't a revolutionary service, but it answers a need for travellers in a pandemic. Which is all that counts. It creates customer satisfaction and improves CX. It has therefore achieved its objective.
Listening to customers and their needs is more important than offering revolutionary services. It is usually the sum of little things that makes great customer experiences.
A Focus on New Customer Experience Standards in the Hotel Industry
An optimal customer experience is one that is rooted in the fundamentals of the customer experience and that also adds a few innovative touches. The hotel industry allows to draw some general lessons that apply to the tourism industry as a whole.
The Emergence of a "New Customer"
KPMG published a remarkable study in 2021 about the French hotel industry. It revealed that a "new customer" has emerged in the hotel industry, hard-hit by the Covid crisis.
Who is this new customer? It is a person who wants to get quick answers using technology, but also to benefit from a personalised customer relationship. They want technology and the human touch and are more concerned than ever about the protection of their personal data.
It is therefore in hotels' interest to invest in digital technology, the personalisation of the customer relationship and the protection of personal data.
These trends are already well-known, but the study reveals that the improvement of CX involves the implementation of several service components, some of which are basic and others more inventive. We will now look at this in more detail.
Improving the Customer Experience Starts with Basic Services
Basic services include Wi-Fi, TV, the management system for bookings, arrivals, departures (PMS software), etc. These are essential services. To improve the customer service, you must first ensure that these basic services are provided for and functioning correctly.
For example, providing Wi-Fi isn't enough, you also need to:
Ensure that all the bedrooms and communal areas in the hotel have access to WIFI.
Make the service easy to access for guests, with a simple and secure login portal.
CRM Software Is Your Friend
In addition to these basic services, more and more hotels also now use CRM software (Customer Relationship Management) to centralise and optimise the management of customer interactions across all channels. This is very important: optimising the customer experience means optimising the customer relationship. These two notions are inseparable.
Why? Because CX is first and foremost about service and therefore customer service in the broadest sense.
It's worth noting that some Property Management Systems (PMS) have natively integrated CRM modules.
CRM-type software also enables a customer knowledge strategy. They allow to collect, store, unify and activate customer data. Optimising the customer experience therefore involves personalisation and customer knowledge.
Make Way for Modernity!
Once you've deployed the basic services and you're using CRM software to personalise campaigns and customer services, you can take things further with innovative services. In 2023, "innovative" means "digital".
Here are a few ideas for the hotel industry:
Display hotel news and events on a screen in the lobby. This screen could also display rates, the weather… anything that guests may be interested in.
Provide a digital welcome leaflet, which can be accessed via smartphone or tablet with a QR code, presenting the different services the hotel provides. Practical and environmentally-friendly!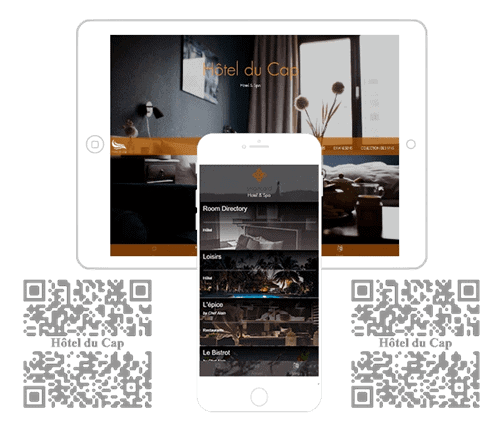 Provide a TV that can connect to different streaming services: Netflix, Amazon Prime, Disney+, etc. Installing Chromecast on TVs connected to WIFI is a much simpler and cheaper solution than buying smart TVs.
Use the TV to display information on arrival in the bedroom. Some services allow you to send messages directly to the TV or trigger a welcome video.
Conclusion
There's no doubt about it. Customers searching Google for where to travel aren't only looking for hotel rates or the cost of plane tickets.
Price sensitivity exists, of course, especially during a crisis like the one we're currently experiencing, but it's not the only thing your customers are interested in. Your customers want information and to be reassured about travel requirements. Which is why focusing on the customer experience, i.e. the quality of services offered on different channels before, during and after a purchase, is so important.
In conclusion, we recommend asking your customers about their needs and expectations. What services would they like to have access to? What could improve the various stages and contact points of their customer journey? Listening to the Voice of the Customer is the best way to ensure that your customer experience is in line with your customers' expectations.
<!–[if lte IE 8]><![endif]–>

hbspt.cta.load(20304540, 'cb2d0916-f405-47e9-bb18-4064b993938a', {"useNewLoader":"true","region":"na1″});