Live shopping is a new trend imported from China, where it recorded a 280% growth between 2017 and 2020 (source: McKinsey, 2022), that is rapidly expanding in Europe. 70% of European consumers say that they are interested in live shopping, including 67% of French people (source: Forrester Consulting study, 2022).  But what exactly is livestream?...
Live shopping is a new trend imported from China, where it recorded a 280% growth between 2017 and 2020 (source: McKinsey, 2022), that is rapidly expanding in Europe. 70% of European consumers say that they are interested in live shopping, including 67% of French people (source: Forrester Consulting study, 2022).
But what exactly is livestream? How does it work? How can you implement a live shopping strategy and what are the benefits? Read on to discover all our tips, as well as examples of brands who have decided to incorporate this channel into their strategy.
Live Shopping: Definition
Live shopping is like a modern-day version of teleshopping: a livestream of hosts (employees, influencers, presenters, journalists, opinion leaders, etc.) presenting products and/or services to consumers.
Livestream is an online sales technique that connects your hosts with consumers to promote a selection of your brand's products. 
Any brand can livestream an event on their e-commerce website. All you need is a smartphone, a host, a moderator for the chat, a selection of products to present, and a location (e.g., your offices). Depending on your expectations and objectives, you can also film premium lives with a team of video professionals and several hosts, experts and influencers in original locations.
How Does Live Shopping Work? 
More and more companies are interested in the benefits of live shopping, but these events take a bit of planning. A live session needs to be prepared several weeks beforehand, to get the content ready and, among other things, promote the launch date.
5 Steps to Implement a Live Shopping Strategy
1. Choose a Theme and Products
The first step is to define your live event's theme and which products you want to showcase. You can base this on your objectives and the season. 
For example, select products that belong to the same product category to reach a targeted consumer audience. Use live shopping events to present your latest items and optimize your product launches. 
Finally, the theme could reflect a sales period, such as Christmas or Valentine's Day, or any other important date for your brand.
2. Choose Your Hosts 
Choose the right hosts for the products you want to present. You could ask your own employees who know your products inside out (sales reps, product managers, etc.) or external experts.
For example, Monoprix collaborates with two journalists for its monthly live sessions. One for live shopping events promoting food and drinks, and the other for fashion, home decor and beauty products. They are also in charge of briefing any other participants on what to say and preparing the scripts.
Another example is MicromaniaZing. Each of its live events is hosted by TV presenter and gamer Alex Goude. He is accompanied by one of the brand's expert in-store sales assistants.
3. Prepare Your Content
Once you've selected your products and hosts, prepare the content of your live shopping session, i.e., the script and any other activities you have planned. Especially if you want to share promo codes or organize giveaways which need to be prepared beforehand. We strongly recommend using these levers because they help engage viewers during the live event and encourage purchases.
The aim is to create unique content for each live session, with different themes and sales promotions, so that customers come back.
4. Activate a Communication Plan
To maximize the number of live shopping viewers, remember to promote your launch date beforehand. Let customers know about the event, theme, hosts, products, etc. Use all your distribution channels, social media and website: display CTAs and pop-ups to inform visitors. If you have the budget, you could also roll out a media plan to reach a wider audience.
This communication stage is key for a successful live event.
5. Analyze the Results
After your live event, post a replay video on your social media networks and website.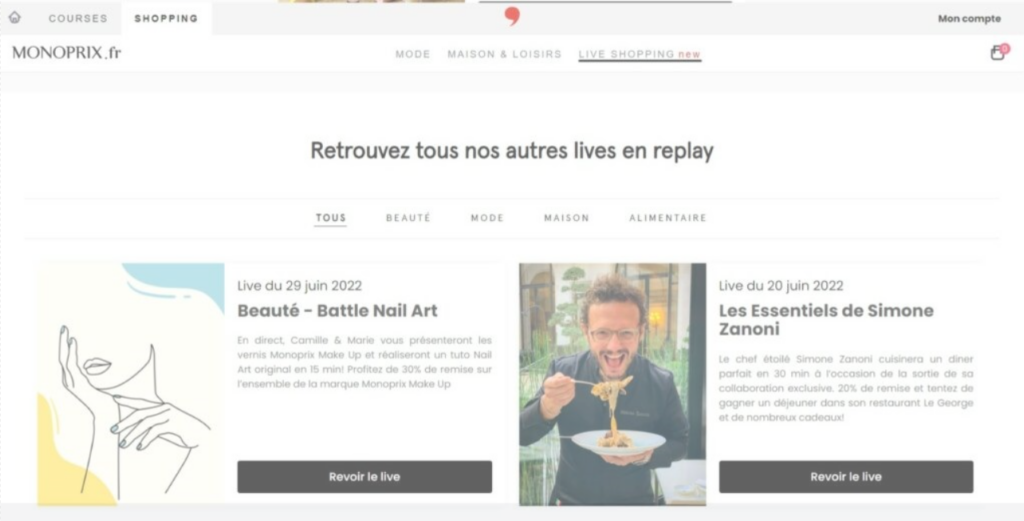 And of course, analyze your performance to adapt your strategy and measure your results. Try out different products and hosts, or the date and time of your live event, and analyze their impact on your KPIs: number of viewers, add-to-cart rate, conversion rate.
Then start to prepare your next live session, to create an engaging recurring event with your customers.
Implement a Winning Live Shopping Strategy 
The key success factors in a live shopping strategy can be summed up as follows:
A recurring event: set regular dates. End each livestream session by announcing a date for the next one.
Live promotion strategies: bring your live sessions to life. Use gamification and giveaways, in line with your brand's identity, to make your event unique and entertaining. For example, IKKS starts each live shopping session with a music quiz.
Communication and promotion: activate all your distribution channels, your website and social media accounts to promote your live event before it launches and maximize the number of viewers.
The 3 Main Benefits of this Marketing Channel
Live shopping is popular because it benefits both brands and consumers. Livestream is an excellent way to build a close relationship with your customers, while significantly boosting your sales.
Build a Close Relationship with Your Audience
Live shopping helps brands create a strong relationship with their customers, by offering a far more unique and entertaining experience than traditional channels.
You can have fun with livestream, by choosing specific themes, products to highlight and a wide range of hosts, such as influencers or experts. For example, Monoprix organized a live shopping event with one of its brands, Barilla, and influencers. The influencers took part in a cooking competition with the Italian brand's pasta, to promote its products. This is just one of the fun and original ways you can showcase your products.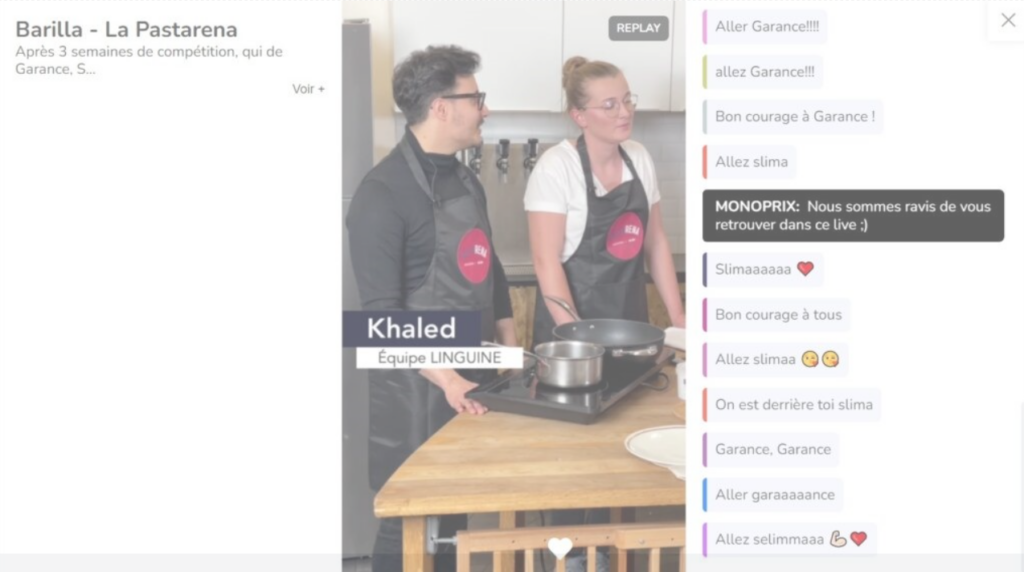 Livestream themes could be related to important sales periods or the time of year. As long as you're consistent, anything goes!
Finally, live shopping meets a new consumer need for greater brand authenticity and transparency: 52% of online audiences expect brands to be more authentic (TikTok for Business, 2021). In a live video, you can present your products from every angle. Consumers can also use the chat section to interact with your brand and ask questions about the products, which can reduce purchase barriers.
Increase Your E-commerce Sales
According to several studies, live shopping is expected to account for 10 to 20% of online sales by 2026 and to generate a conversion rate that is 10 times higher than traditional e-commerce channels (source: McKinsey, 2022). It is therefore a key tool for driving traffic to your online store and boosting sales.
Speaking to a highly targeted audience, with expert hosts on a specific theme, increases your chances of convincing customers to order new products. Promo codes and giveaways make live shopping events even more entertaining, and drive consumers to buy.
Livestream also has a high retention rate. Viewers spend 10 minutes or more on the presentation of a product, which never happens in-store or on an e-commerce product page.
Finally, prolong your live shopping events with replay videos. Add them to your product pages to reassure customers and maximize your conversion rate. Video is an authentic format that has a real impact on sales: 84% of consumers say that they have already been convinced to buy a product after watching a video (source: Marketing Insider Group, 2021).  
Reach New Consumers
Live shopping is not only an excellent way to engage your community of customers, but also to reach new ones. For example, by inviting influencers with lots of followers on social media, who don't necessarily know you or buy from you. The most engaged followers will be interested in your live shopping event if an influencer they like is involved. 
Use a Live Shopping Solution
We recommend using a live shopping solution to implement and manage your strategy. A turnkey solution can help you deploy your strategy on a large scale and create live events in just a few clicks, using a single tool.
Analyzing your live shopping events' performance will help you measure their impact on your conversion rate and optimize their content and deployment.