At the time of inbound marketing, we're all a little data crazy. There appears to be a KPI metric for every situation, so we do our best to collect and make sense out of them all. Data is great and necessary for your business, but it's also important to spend time collecting the right data....
At the time of inbound marketing, we're all a little data crazy. There appears to be a KPI metric for every situation, so we do our best to collect and make sense out of them all.
Data is great and necessary for your business, but it's also important to spend time collecting the right data. This will prevent you from wasting precious time and energy with useless information that's just going to sit there without doing anything to help your business.
To collect this data from your customers, you can use surveys, which can become your best friend or on the contrary make your customers annoyed if not used wisely.
You get it,  surveying customers has a lot to do with timing. Surveys are a marketing data goldmine for so many reasons: they allow you to increase customer satisfaction, reduce churn, get new ideas for new content and services, as well as quantify and qualify your marketing efforts.
That being said, it's essential to make sure you are surveying your customers when it matters the most, so that the data you collect is helpful and relevant. Here are a few tips about when to survey your customers and what you should avoid doing.
1 – Survey your visitors directly after an interaction with your company
One of the smartest things you can do as a marketer is survey your customers straight after their experience with your company.
Ask for feedback while it's still hot, after a service was delivered, a customer called customer support to get help or for example when a customer has abandoned their cart.
Why? Because one of the most important aspects of customer feedback is avoiding churn.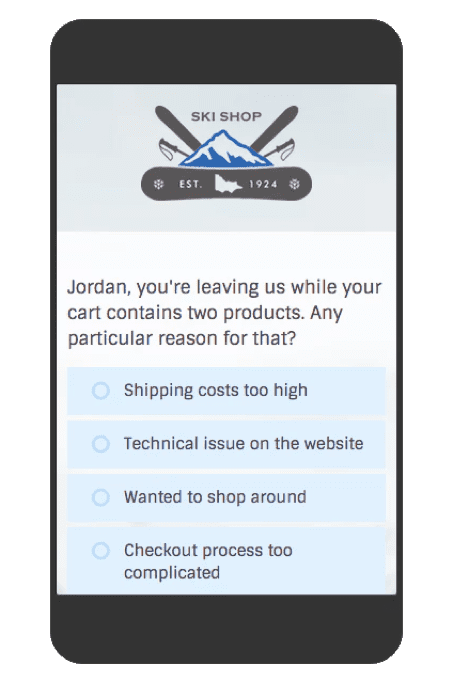 MyFeelBack Cart abandonment survey question example
If your customers have an unpleasant experience with your company, they may very well decide to contribute to the 91% of unhappy customers who leave a company because they are dissatisfied, but without actually complaining about it. Surveying customers right after an interaction is giving them an outlet to express their dissatisfaction so that you can fix it.
Considering and fixing a bad experience is an effective way of making people stick around. An estimated 67% of this customer churn is preventable if a customer issue is resolved at the time it occurs, but you have to be alerted of the problem in order to fix it, and a survey is a great way to ensure that.
Tip: A great way to do this is by offering a feedback survey right on your website.
Unfortunately this is where some businesses that use surveys go wrong, they are not using them at the right time, often waiting too long after an interaction. You shouldn 't wait a few days to get follow up on the customer's experience: it may be too late already. On the other hand, you shoudn't bombard them with surveys either, being timely is the key to success.
2 – A good time to survey your customers is just before making a big change
We're always looking for innovative ways to change up our company, in order to make it the best it can be. However, not all change is welcomed by loyal customers who are comfortable with your product the way it is.
Sending out a survey before a big change does several things to help you. First of all, it alerts your customer that a change is coming and gives them a perceived feeling of power over the change.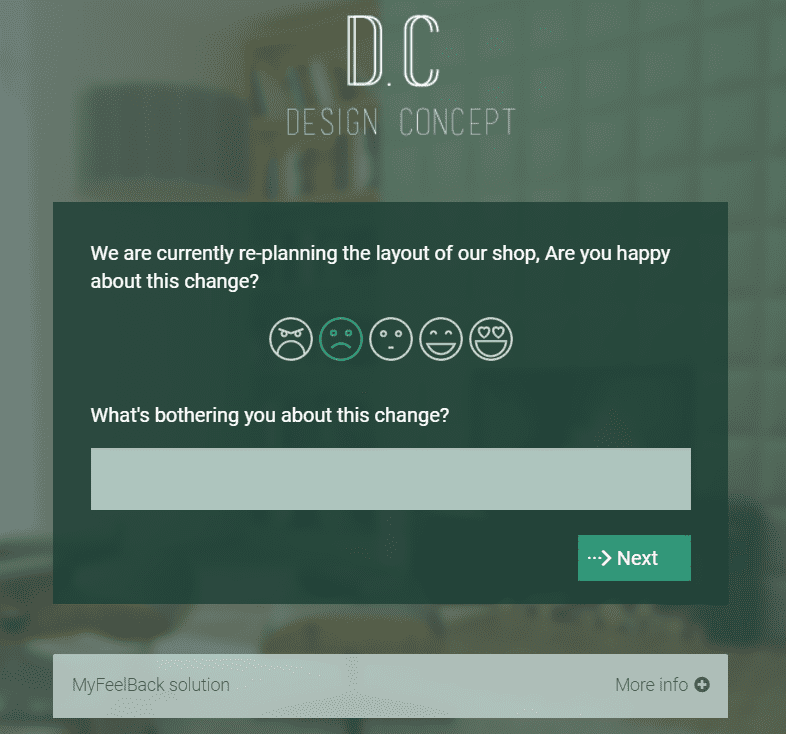 MyFeelBack survey change question
As a matter of fact, being asked about their opinion on the change will make them feel engaged, included and therefore more likely to accept the change.
Second of all, it provides you with useful information on how the change will benefit your customers, as well as giving them a chance to speak up if it represents a problem for them. If you get an overwhelming response, proving that this change is not going to make your customers happy, you'll have time to think your strategy through and perhaps make the decision to reverse the situation.
Useful tip: Make sure to survey your customers again after the change has been implemented for a while, to make sure their expectations match up with reality and that the change is as successful in practice as it was in theory.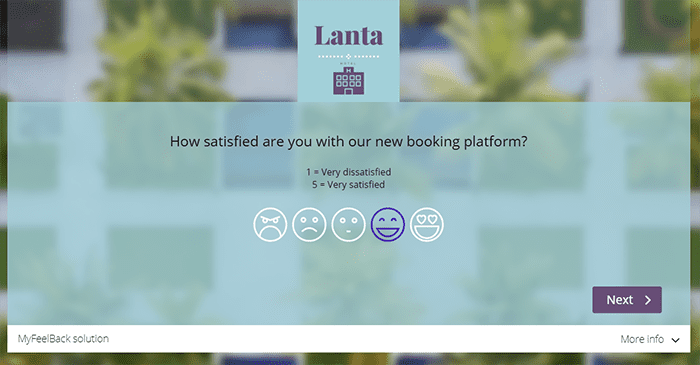 MyFeelBack survey post-change question
3 – A the end of a marketing campaign: the perfect time for a survey
It's essential to track your results in marketing: not doing so is a waste of time and energy.
One of the best ways to do this is by tracking your customer satisfaction. Surveys are one of the main ways that a marketing team can determine if a campaign was successful or not, and should be implemented at the end of every marketing campaign.
Discover 7 things that make your marketing terrible and less effective.
By simply sending out a survey, you'll give your marketing team a huge boost by allowing customers to give positive or negative feedback that can shed light on how you're doing and what's going wrong. Without surveys, you may struggle to understand your audience and gain a good grasp on whether or not your content is working.
A marketing campaign survey should include questions on how user-friendly the customer found the marketing tools, how likely they are to refer your services to a friend and whether or not they feel that your brand is accessible and relatable.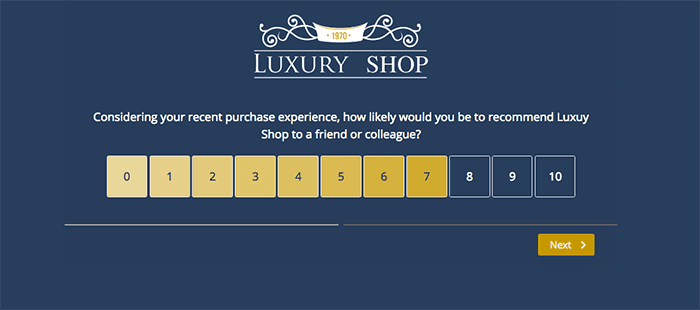 MyFeelBack Nps survey question example
4 – When your customers leave you, a survey is necessary to understand them
Yes we mean it! Surveying customers who decided to stop using your service is a great way to learn about the weaknesses of your company and help prevent future churn.
This will enable you to understand the what and why they left, eventually try to win them back, but also approach your errors to stop other customers that may have the desire to leave you to.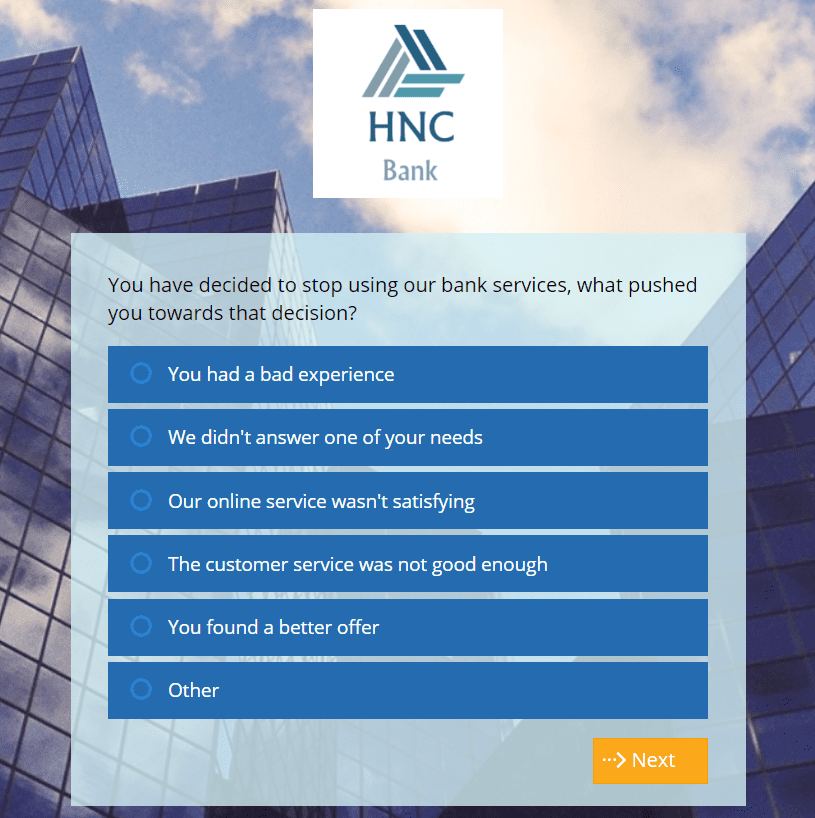 MyFeelBack lost customer question
GrooveHQ has a great template for an email that asks for this kind of sensitive feedback without appearing pushy or desperate.
You now understand how feedback is necessary and helpful, especially when you're catching it at the right time. It will help you direct your marketing initiatives, save you from losing customers, guide you in regards to innovations and changes for your company.
Don't miss out, this is the opportunity to turn your customer feedback into revenue.