CRM is the driving force behind relationship marketing, fuelled by customer data. The enrichment of customer data allows you to increase the power of your Salesforce CRM and to implement new marketing channels. Why? How? That is precisely what we will explore throughout this article.
Segmentation, NPS, customer knowledge; discover three use cases for the enrichment of your Salesforce CRM customer data.
1 – Creating customer segments with personas and scoring
The enrichment of customer data allows you to get to know and understand your customers better. Surveys are the ideal tool to enrich your CRM data. Your customers' answers will enable you to match them to personas and attribute a score, in view of segmentation.
Segmenting your customer base with personas
You can segment your clientele and match each customer to one of your personas through the survey answers provided by your customers.
Suppose you are a travel agency. You have created two personas:
Sonia, who lives alone in a town or city and travels by aeroplane.
Julien, who travels with his family and by car.
If you submit the below survey to your customers, you can segment them by associating them with one of your two personas: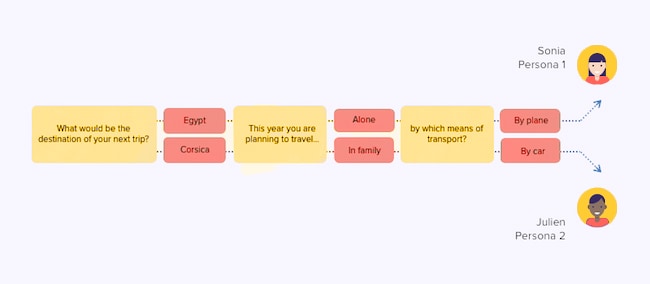 Attributing a score according to the customer's answers
Scoring allows to evaluate a prospect/customer's level of maturity, as well as their level of suitability with your target. Customer scoring can be implemented through surveys, as demonstrated in the example below: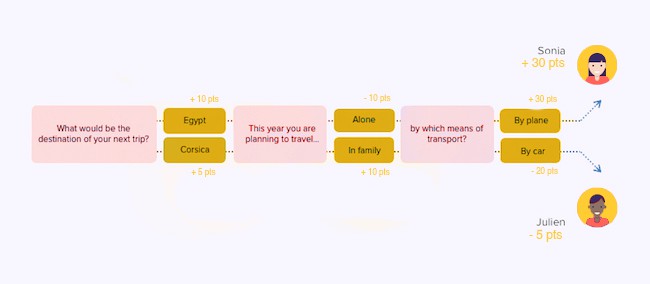 If you are a travel agency and you only offer packages including air travel, then it makes more sense to contact the Sonia persona commercially. With a view to winning customers, scoring is a tool that helps prioritise your sales and marketing efforts.
Segmentation (via personas and/or scoring) constitutes the first use case for customer data enrichment via surveys. When the information collected from your surveys feeds directly into Salesforce Marketing Cloud, it can be used to trigger specific marketing campaigns for each segment, via workflows. Scoring allows to trigger alerts or commercial emails when a customer reaches a score of X.
2 – Integrating the Net Promoter Score (NPS) back into Salesforce
With CX Management, you can collect your customers' Net Promoter Score (NPS) data and synchronise it with Salesforce CRM. Once synchronised, this data needs to be exploited. How? Below are two examples:
Monitoring general customer satisfaction with NPS
We recommend that you begin by creating an NPS performance dashboard in order to gain an overview of customer satisfaction, that is updated in real time. This dashboard should be shared with all employees in contact with customers (sales, marketing, customer service, etc). This allows companies to closely monitor customer satisfaction levels and, more specifically, the evolution of their satisfaction.
Below is an example of a customer satisfaction dashboard, including the NPS: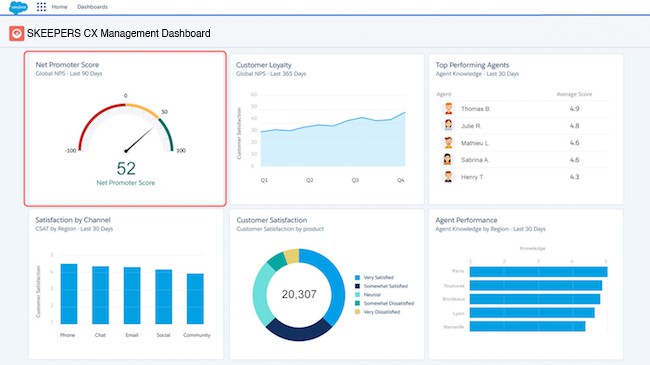 Creating specific actions according to the NPS category
On an individual level, the NPS score can be used to trigger specific actions according to the category to which the respondent belongs; promoter, passive or detractor.
For example:
Sending a recommendations offer to promoters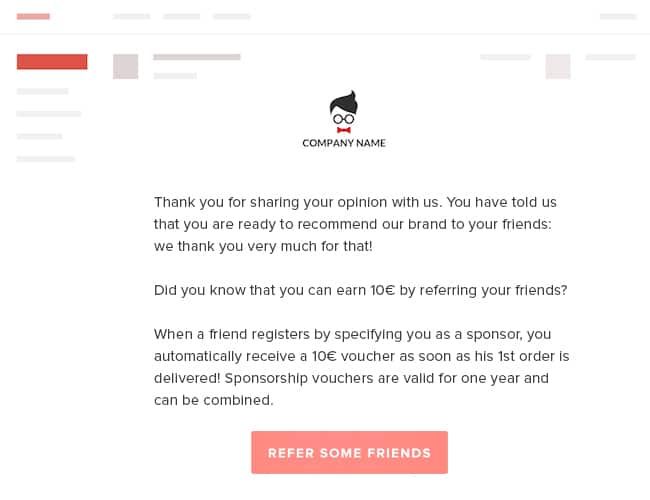 Creating a customer ticket in Salesforce Service Cloud for detractors
3 – Enriching your Salesforce customer data with post-purchase surveys
Information that would be difficult or even impossible to obtain otherwise, can be collected by sending a survey following a purchase – Who was the product for? What was the occasion? What did they think about the vendor? This data allows to enrich your customer records in Salesforce CRM.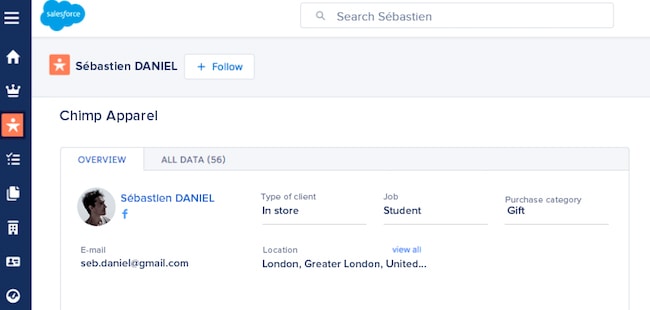 This information is particularly useful for better personalising your marketing actions. If you know what occasion the customer purchased a product for, you can personalise your communications more efficiently.
For example, if the analysis of your post-purchase surveys reveals that a sizeable portion of your customers are buying gifts, then it would be appropriate to include present ideas in any communications: on your website, in your emails, etc. By combining the analysis of surveys with the analysis of other CRM data, you can acquire an in-depth understanding of your customers, their attributes and their behaviour.