Customers love options. They want to buy from whichever channel they want and often select a product on one channel and buy it from another. Moreover, customer behavior is constantly changing, with the Gen Z and millennials buying online and older consumers still preferring physical stores. Thus, offering an omnichannel customer experience isn't an option...
Customers love options. They want to buy from whichever channel they want and often select a product on one channel and buy it from another. Moreover, customer behavior is constantly changing, with the Gen Z and millennials buying online and older consumers still preferring physical stores.
Thus, offering an omnichannel customer experience isn't an option anymore for businesses. It has become the cornerstone of modern-day retail, as those who implement omnichannel strategies enjoy higher customer retention and revenue.
But for businesses that have relied on a single-channel approach, providing omnichannel experiences can be daunting. Here's a step-by-step guide to creating an omnichannel experience for your customers.
An Introduction to Omnichannel Customer Experience
Providing an omnichannel experience is all about delivering a seamless and integrated purchase experience across all touchpoints.
Nowadays, brands sell on multiple channels, such as the website, online marketplaces, social media, and brick-and-mortar store.
However, selling on multiple channels isn't enough. Suppose a customer comes across an advertisement of your product on Instagram. They like the product, but they want to buy it in person. So, they visit your brick-and-mortar store, only to find out that the product isn't available.
This hurts your business in two ways:
The customer walks out of the store without making a purchase (loss of revenue).
The customer experience is awful (lost customer).
On the other hand, the omnichannel experience focuses on integrating all the sales channels, so the customer enjoys a seamless experience regardless of the channel. For example, if a customer selects a product on your website and visits your store to buy it, they should be able to buy it. Moreover, the product's features, specifications, and pricing should be exactly the same.
Why Does Omnichannel Experience Matter?
Now, why should you care about offering an omnichannel customer experience? Before delving in, let's look at some statistics that highlight the importance of omnichannel experience.
The above statistics clearly state that omnichannel customers are more valuable and can help you achieve better revenue and business growth.
Let's now discuss how providing omnichannel experiences can help you create more valuable customers.
Improved Personal Experience: When you offer an omnichannel shopping experience, customers can interact with your company and shop from their preferred channels. Furthermore, they can compare and finalize products online and then buy them in-store. This hyper-personalization and smooth transition between channels result in a superior quality customer experience and satisfaction.
Increased Customer Loyalty: When customers receive a stellar experience, they'll want to stay with your brand and continue shopping from you. This increases customer loyalty, resulting in customer retention. And since loyal customers spend three to five times more than other customers, providing omnichannel experiences can directly influence your revenue.
How to Create a Customer-Centric Omnichannel Experience for Your Product?
Every omnichannel customer engagement strategy should focus on providing a consistent customer experience across channels. This means you need to identify all customer touchpoints and integrate them to deliver a seamless and unified experience.
If this sounds tricky, follow this step-by-step process to create an omnichannel experience for your customers.
Research Your Customers and Create Buyer Personas
Creating an omnichannel experience is all about providing your customers what they need on their preferred channel. Hence, it's essential to understand your customers and their requirements. Conduct in-depth research to determine who your customers are, which channels they readily use, and how they prefer to interact with your brand.
For instance, younger customers (Gen Z and millennials) may be more inclined towards online channels, mainly social media. Older customers, on the other hand, may prefer brick-and-mortar stores. You'll need to strike a perfect balance between online and offline channels based on your customers' needs.
Next, compile customer information to create accurate buyer personas. These personas can streamline your target audience, customer segments, and marketing campaigns. You can use them to run behaviorally targeted ads, which are twice as effective as regular ads.
Identify Customer Touchpoints and Map Customer Journey
If you want to optimize the experience across channels, you need to first determine which channels your customers use to connect with your brand. These could be organic content, search engine ads, mobile app, social media, third-party marketplaces, offline advertisements, in-store, and more.
Brands have a common misconception that the more touchpoints they offer, the more sales they'll make. This isn't entirely true. While more touchpoints can attract more customers, it's not mandatory to be present on every available channel. Instead, brands should focus on mastering a few channels.
Once you've identified all the major touchpoints, you need to map the journey your customers follow to make a purchase.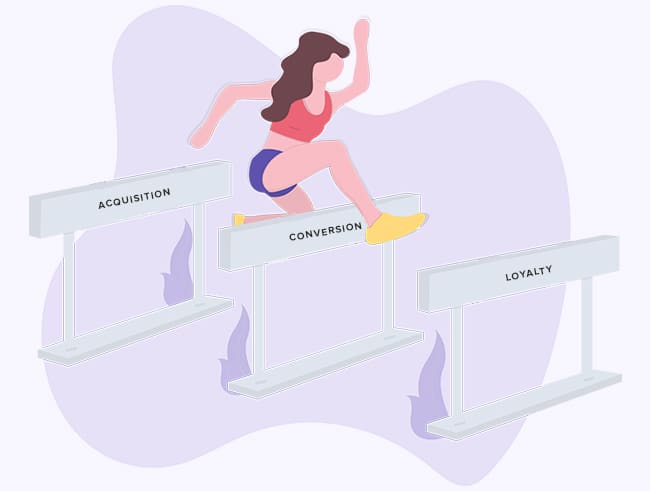 In fact, 92% of people visiting a retailer's website for the first time aren't there to buy.
Most consumers take a zig-zag journey which involves jumping from one channel and touchpoint to another. By mapping out your customers' journeys, you can identify opportunities to deliver omnichannel experiences and engage them.
Leverage the Right Tools and Technologies
Thanks to the rise of technology, offering an omnichannel customer experience is easier than ever. However, there's a lot of chaos when it comes to tools and technologies. Brands need to choose the right tools that enable a seamless flow of data between multiple channels and touchpoints.
Some essential tools needed to provide omnichannel customer experience are:
Live help tools (chatbots, live chat, etc.) like Podium Webchat and HubSpot Live Chat, for 24/7 communication across all channels
Customer relationship management (CRM) tools, like Keap and Salesforce, to collect and unify customer data
Operations management tools, like Stitch Labs and Ordoro, for inventory management and order management, and fulfillment
Social media management tools, like Buffer and Hootsuite, to manage customer interactions across all social channels
Helpdesk support tools, such as Freshdesk and Zendesk, to provide high-quality, multichannel customer support
Ad combinator tools, like BounceX and AdEspresso, to manage all your advertisements across channels
Lastly, don't forget to integrate your online and offline experiences using QR codes. You can use a QR code generator to create custom QR codes and put them up on your offline marketing materials like newspaper ads and brochures. Link the QR code to the product page on your website. People can scan the code and reach your website and buy the product. This way, you can bridge the online-offline gap. Similarly, you can link QR codes to different web pages and social media accounts.
Recognize Elements that Impact Customer Experience
Several elements can affect the customer experience. If a user visits your website, the ease of navigation, loading time, and the content will determine their overall experience. If they shop in-store, product availability and service will impact their experience. Similarly, each channel has certain components that influence the experience of customers.
As an omnichannel brand, you need to identify and optimize all these elements. And it boils down to monitoring your customers' behavior. If the majority of customers are bouncing back from the checkout page, you might need to revamp that page. If people are coming to your store but not buying, you may need to hire new sales representatives.
Collect and Analyze Customer Feedback
Mapping your customers' journey and monitoring their behavior will help you get insights into how they feel about shopping from you. However, it may not be enough. If you want to know how your customers really think and feel, you'll need to collect feedback at every customer touchpoint.
There are numerous ways to gather customer feedback. When customers make a purchase, you can redirect them to a feedback form and ask them to share their feedback. You can also send emails and social media messages asking customers to share their experiences. Other ways to collect feedback include running polls and conducting surveys.
Here's how you can use customer feedback to improve the omnichannel customer experience.
Develop a thorough understanding of your customers and their requirements
Determine what your customers like and dislike about your brand
Identify and resolve your customers' unique challenges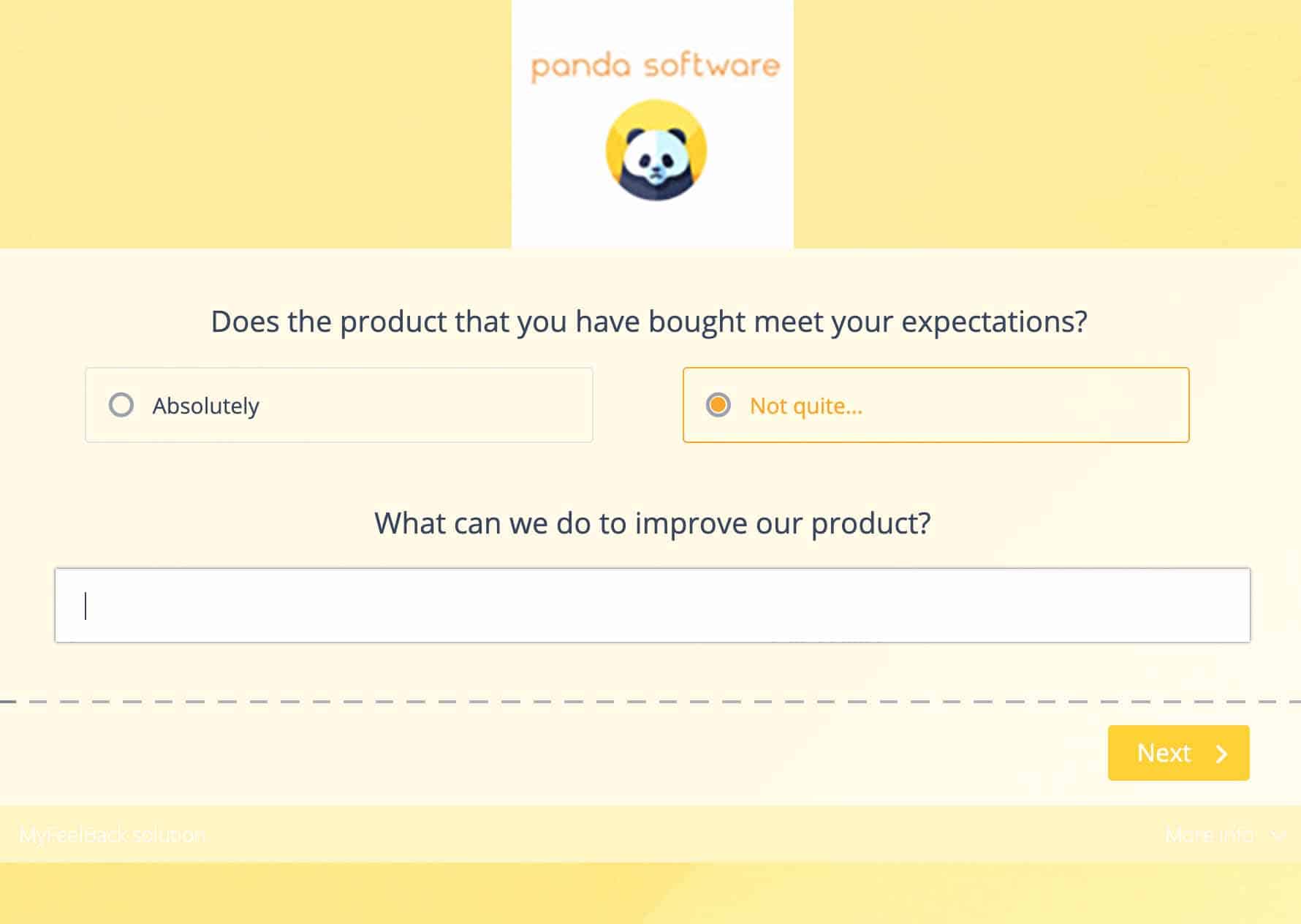 Prioritize Omnichannel Experience Across the Buyer Journey
The customer journey never ends, which is why delivering a post-sale omnichannel customer experience is crucial. Most companies ensure a seamless experience during the initial stages of the customer journey and overlook the later stages.
While acquiring new customers is important, retaining existing customers is absolutely critical. These two stats highlight the importance of customer retention:
Getting a new customer is five times costlier than retaining an existing customer.
Existing customers are 50% likely to try new products and spend 31% more compared to new consumers.
Retaining a customer is not only cheaper, but repeat customers also tend to spend more. Customer retention is more profitable than acquisition. Therefore, brands need to ensure that they provide an omnichannel experience to customers after they have completed the purchase.
Pay Extra Attention to Your Brick-and-Mortar Store
Digital commerce is on the rise, so focusing the majority of your attention on online retail channels is only normal. But that said, physical retail is here to stay, and if you want to provide an authentic omnichannel customer experience, you can't overlook brick-and-mortar stores. Therefore, ensure that your physical stores are in sync with your online channels when it comes to providing an omnichannel customer experience. Improving the in-store customer experience by seamlessly integrating your store with digital interfaces such as a digital kiosk and contactless technologies like QR codes and NFC tags can improve customer satisfaction and create a better omnichannel experience.
Business Benefits of Providing Omnichannel Experience
In the end, it's all about the bottom line. Implementing an omnichannel retail strategy can be a significant investment, so you should know how it can add value to your business.
Let's look at the key benefits of providing an omnichannel experience to your customers.
Enjoy an increase in customer retention
Generate 40% greater revenue
Witness a massive surge in-store footfall
Increase customer satisfaction
Spread the good word and leverage word-of-mouth marketing
Wrapping Up
If you're not offering an omnichannel experience to your customers in 2021, you're missing out on potential customer retention and revenue opportunities. In this customer-centric era, brands need to hand over the power to customers, and omnichannel CX is an effective way to do that. It gives customers the luxury to interact with your brand on their preferred channel whenever they want.
This results in an improved customer experience and customer satisfaction, which leads to more sales and revenue.