To build or improve your customer experience strategy, you need to start with the customer journey. Journey mapping is a valuable tool for designing and improving the customer experience, as this article will demonstrate.  We will also focus on one of today's biggest customer journey trends, the growing importance of social media as a powerful...
To build or improve your customer experience strategy, you need to start with the customer journey. Journey mapping is a valuable tool for designing and improving the customer experience, as this article will demonstrate. 
We will also focus on one of today's biggest customer journey trends, the growing importance of social media as a powerful sales channel, and how it has restructured the buying process, particularly in B2C.
Brands' Secret to Success? A Focus on the Customer Journey
What do brands such as Apple, SNCF, Maisons du Monde and Nature & Découverte have in common? The customer journey. These companies map their customer journeys and use the insights to build or optimise their customer experience strategy.
The Customer Journey: Where Customer Experience Stages and Channels Meet
The customer journey refers to the customer's path in their relationship with a brand. These paths are made up of milestones, stages, touch points and channels. The customer goes through different stages (discovery, activation, first purchase, re-purchase, loyalty, etc.) using channels (websites, stores, social media, mobile apps, etc.). The intersection of these stages and channels constitute touch points.
Using the Customer Journey as an Indicator of CX Maturity
Some companies aren't familiar with the concept of the "customer journey", although it is becoming more and more widespread. A lot of companies also don't use customer journey mapping in their strategy. Yet all companies have customer journeys! They simply need to be mapped and leveraged.
The ability to use customer journeys is what sets companies with a mature customer experience strategy apart from the others.
Understanding customer journeys enables to identify and improve key touch points, as well as important stages in the journey, areas of delight and friction, touch points to leverage in relationship programmes, and opportunities to enrich the customer experience. Customer journey mapping is not an end in itself, it is a "tool" to help companies reach their objectives.
Customer Journeys: Unique yet Universal
Each company has its own unique customer journey that reflects the uniqueness of their customers and customer experience. But there are invariants, standards shared by all companies in the same sector.
Which is why referring to the "B2B e-commerce customer journey" isn't an empty generalisation. The stages and channels are similar from one company to another… as are the evolutions.
Customer journey has undergone a lot of general transformations in recent years, which have impacted many companies. The term phygital is often used, i.e. the interweaving of digital and physical channels in modern customer journeys. There is also a lot of talk of omnichannel customer journeys, which offer customers a seamless experience across all channels… and poses a challenge in terms of unifying customer data.
[Illustration de l'omnicanalité ?]
Let's now focus on what we believe to be one of this year's major trends: the transformation of social media into a sales channel.
Social Media Is Becoming a Sales Channel
The key for communicating with customers and communities of users, fans, etc. is social media. Social networks have become communication channels, just like email. Most brands now have their own Facebook page, Instagram account, TikTok, etc.
That's nothing new. The real revolution is the transformation of social networks into a sales channel. Social media increasingly provides brands, as well as influencers, with functionalities to sell products directly via a network, without leaving the platform. This new shopping experience is becoming more widespread, especially among the younger generations. This transformation of online shopping habits overlaps with the concept of "shoppable content".
A Focus on Shoppable Content, or the Art of Reducing the Distance Between the Consumption of Content and the Act of Buying
Shoppable content includes videos, live sessions, images or posts that enable consumers to buy products directly, whilst consuming the content. Consumers can buy the products featured in the content via a system of tags and buttons, in just a few clicks.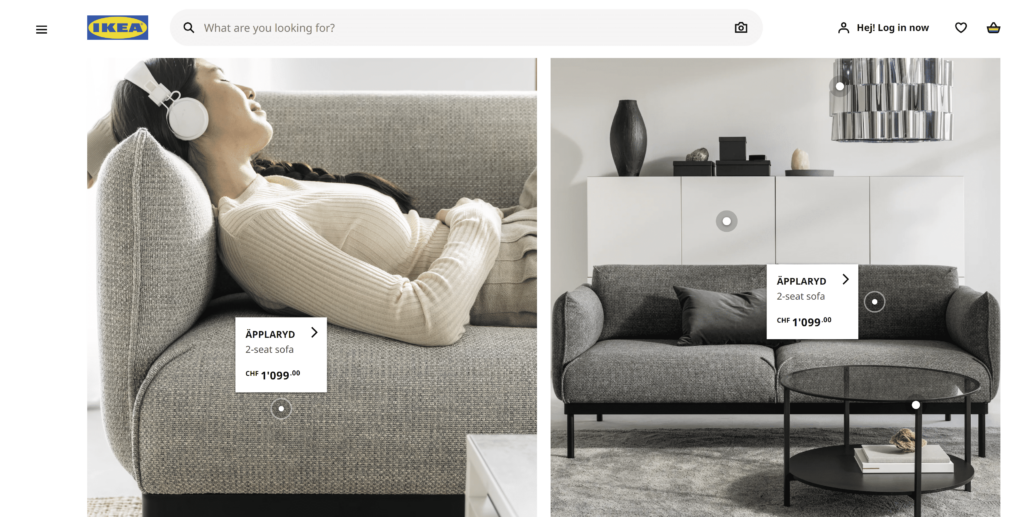 The concept of live shopping is basically a reinvention of "teleshopping". Channels and technologies have changed, but the principle is the same.
The 3 Stages of Social Media Use
There are three stages in the way brands use social media:
To communicate with customers about news and new products. Social media is used purely as a communication channel.
Interconnected with the brand's ecommerce site. The brand publishes promotional content with buttons linking to their site, product pages, etc.
To sell products directly on social media, via native platform functionalities.
This progression clearly shows that social media is becoming an increasingly autonomous and well-established sales channel.
A Few Examples of Platforms that Enable Direct Shopping
Instagram is the main social media network used to publish "shoppable content". Since 2018, brands can tag products in posts but also in stories. Instagram has also developed a payment system that enables to buy products without leaving the platform.
Pinterest allows to integrate calls to action in idea pins. The "inspiration" social media platform is gradually transforming into a sales channel.
TikTok has teamed up with Shopify to enable brands to publish shoppable content on the platform.
Finally, YouTube is planning to roll out features to make integrated purchases possible. This will enable users to buy products featured in videos without leaving the platform.
Social media is moving into the heart of the buying process, resulting in a reorganisation of the customer journey. We believe that this is one of today's biggest customer journey trends, particularly in retail.
The Moral of the Story?
More generally, this trend illustrates the way in which the customer journey is evolving and the steps a company wishing to improve their customer journey needs to take.
Changes to the customer journey are largely linked to technological developments. Brands actually have little control over these changes, which translate into new consumer behaviours.
A company that wishes to optimise and improve its customer journey should:
Monitor technological developments in communication and sales channels.
Monitor the evolution of consumption patterns.
Ask its own customers for their perception of the customer journey to identify areas for improvement and meet customer expectations. Hence the importance of implementing a Voice of the Customer programme.
Which leads us to the moral of this article: companies must build their customer experience strategy with a customer-centric approach. To do this, two complementary tools are available: journey mapping and listening to the Voice of the Customer.
<!–[if lte IE 8]><![endif]–>

hbspt.cta.load(20304540, '727d804a-fb95-47a9-a298-b82319cfe7e9', {"useNewLoader":"true","region":"na1″});