History has shown that Starbucks is invested in serving customers and exceeding their expectations.
In 2008, the company launched its ideation site, My Starbucks Idea, turning every customer into a vested stakeholder.
In June 2018, after almost a decade, the company retired the My Starbucks Idea platform. Starbucks still encourages its customers and fans to submit their suggestions on Twitter, of course, as well as via its website.
Although at the time of its initial launch some critics saw it as nothing more than a thinly veiled public relations ploy, the site has continued to grow into a valuable place for the company to build community with its customers which has, in turn, helped make Starbucks an increasingly profitable business.
My Starbucks Idea has created a robust customer engagement
From its inception, My Starbucks Idea has been a hit. The continued success of the site rests on its simplicity. It provides customers a place to dialogue while simultaneously helping the company improve products and services.
My Starbucks Idea has taken on a global reach and allowed customers to directly communicate with top decision makers.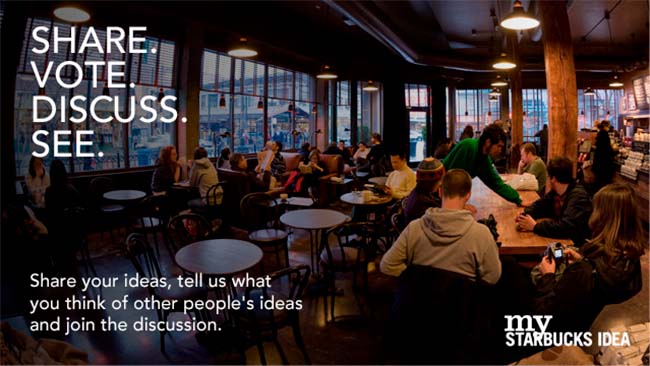 According to the company's website, from 2008 – 2013, Starbucks used over 275 customer ideas, ideas which ranged from suggestions about new products and services to ways in which it could improve corporate responsibility.
The company's ability to successfully use technology to engage with customers has added value to the company.
It has created a robust and loyal consumer following, giving customers a place to voice ideas and the company a place to directly respond.
Reaching out to dissatisfied customers
But in 2015 Starbucks' satisfaction ranking fell 3%, placing the company at #10 in the list of top 10 major fast-food chains on the American Customer Satisfaction Index.
Customers praised the company's commitment to providing quality, but complained about changes to the morning menu.
Many analysts agree this is due, in part, to the company's 2012 buyout of San Francisco-based gourmet-baking company La Boulange.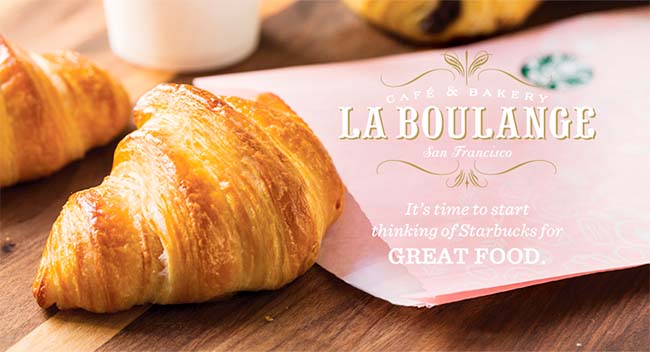 This acquisition led to changes in the menu that just didn't appeal to the average Starbucks consumer who felt Starbucks had moved too far away from its branded product line.
In fact, consumer dissatisfaction on My Starbucks Idea with the new food offerings was so great, Starbucks had no choice but to listen or risk alienating loyal customers.
" We've got a few products that we are going to bring back from the old menu. Some customers missed a few things."

Troy Alstead, Starbucks' COO for Bloomberg, 2015
Customer satisfaction drives massive profits
The company responded immediately to its customers' complaints, the most recent example of the company's commitment to providing consumers with the best possible customer experience.
Previously, consumers helped introduce new flavors (Frappuccino Blended drinks and Pumpkin Spiced flavor coffees) and more "small" food options (Cake pops).
Starbucks has developed a mobile order and pay app service, thanks to suggestions made by customers, which now drive nearly 20% of its transactions.
If past successes are any key to its future prospects, Starbucks will undoubtedly continue to improve its customer satisfaction ranking.
Soaring profits linked to customer satisfaction
Starbucks' ongoing loyalty to its customers show how a company can rebound and grow by directly connecting with the consumer, an important lesson for any business in today's consumer-centric market.
Not surprisingly, the financial report in 2016 shows that total net profits have exceeded all expectations: profits jumped 22%.
Analysts agree that this company commitment to customer loyalty and feedback is responsible.
"Consumer feedback continues to be our most important business driver"

Howard Schultz, Starbucks' Chief Executive, 2016

The bottom line
Customer-centered business model is an inspiration for any company.
Like this company, every business must understand that in order to be successful it has to openly and objectively evaluate every aspect of itself in order to drive necessary change.
However, it also recognizes that customer experience is crucial to creating the right kind of change, change which continues to strengthen customer loyalty and increase revenue.