For several years now, we've heard that email marketing is a thing of the past. Dead, even.  But email marketing still has many years ahead and remains the n°1 communication channel for most companies. Why? Because an email marketing campaign is cheap, with a high ROI, as long as the best practices are applied.  In...
For several years now, we've heard that email marketing is a thing of the past. Dead, even.
But email marketing still has many years ahead and remains the n°1 communication channel for most companies. Why? Because an email marketing campaign is cheap, with a high ROI, as long as the best practices are applied.
In this article, we'll go over the basics, with a few key figures which show that email marketing is doing well. Very well, even. We'll then share some tips on how to become an email marketing pro. Because, as always, having a good tool is not enough, you have to know how to use it. Implementing good practices will allow you to significantly increase your email marketing performance.
No, Email Marketing Is not Dead and the Figures Prove it
There are hundreds of figures on email marketing. We've decided to select those that best illustrate the success of email marketing:
The unbeatable Return on Investment. Email marketing is estimated to generate 42 euros for each euro spent, which is an ROI of 4,200%! Source: Litmus.
300 billion emails are sent each day throughout the world. Source: Statista.
4 billion people check their emails every day. Source: Statista.
Revenues from emails are ever-increasing and will reach 17.9 billion dollars in 2027. Source: Statista.
4 marketers out of 5 say that they would rather give up social media than email marketing. Source: Litmus.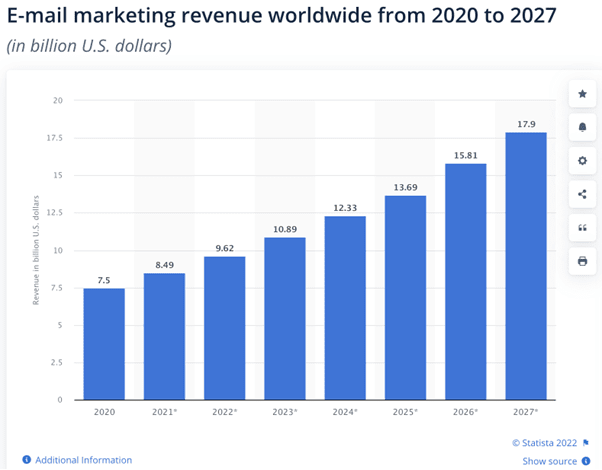 64% of small businesses use email marketing to talk to their customers. Source: Campaign Monitor.
78% of marketers think that emails contribute to a company's success. Source: Litmus.
Key Indicators to Measure Email Marketing Performance
We'll give you some advice later about how to improve the performance of your email marketing campaigns and scenarios. But first, let's talk about indicators. We recommend combining classic engagement indicators (open and click rates, etc.) with business indicators. The combination of the two will enable you to effectively measure the performance of your email marketing.
Indicators Measuring Your Contacts' Engagement
These indicators allow to measure how receptive your recipients are to the messages you send them. Anyone in the business is familiar with these indicators:
Delivery rate: the percentage of emails delivered to your recipients' inbox, out of the total emails sent. This rate should be more than 98%. Any lower and you have a problem. Probably due to addresses that no longer exist. In this case, you need to clean your addresses. Unless some of your emails are being blocked by internet service providers (ISP)…
Open rate: the percentage of emails opened out of the total emails delivered. This rate largely depends on the quality of your subject. We'll come back to that later.
Response rate: the percentage of clickers among the openers. Out of 100 recipients who open the email, how many click on a link in the email? This rate reflects your recipients' interest in your email's content… and therefore how relevant your email marketing is.
Click rate: the number of recipients who click on the email compared to the number of emails delivered. The click rate reveals how many people clicked on one of the email links, among all those who received the email in their inbox. The click rate is not an easy KPI to analyse because it depends on a lot of factors. Marketing teams tend to focus on the open rate and response rate.
Unsubscribe rate: the number of recipients who received the email and decided to unsubscribe from the mailing list. It is generally agreed that the unsubscribe rate should not exceed 1%. Beyond that, it's probably a sign of poor marketing pressure management and a lack of relevant / targeted campaigns.
Indicators Measuring Email Marketing Performance
The engagement indicators listed above aren't really Key Performance Indicators, or KPIs.
A 40% open rate doesn't necessarily mean that your email marketing campaign was successful. The real "KPIs", in the strict sense of the term, are those that measure the campaign's "business" performance. E.g.: sales on an ecommerce site generated by a campaign.
These indicators are more difficult to build because they require the implementation of tracking systems. They measure performance after the email has been clicked on. This is not available in traditional emailing software. Which is why not many companies use these business-centric indicators, despite them being the only ones that can measure ROI.
It's important to note that a business indicator isn't necessarily a financial indicator. It's basically any indicator that measures how well your campaign has met your email marketing objectives.
Let's take a specific example: you deploy a satisfaction survey by email. Your objective is to get as many responses as possible. The key indicator (KPI) will be the survey participation rate.
Another example: you send an email invitation to a webinar. In this case, the right KPI will be the number of people who sign up to the webinar, generated by email marketing.
Find out how to write the perfect customer survey invitation email.
A Few Tips on Increasing Your Email Marketing Performance
Although email remains a key marketing channel, that generates ROI, lots of companies have poor results, low opening rates, insignificant click rates and, ultimately, unsatisfactory business indicators.
Email marketing is an art and just like any art, there are rules. We'll present them in more detail in another article, but here are a few tips to take your email marketing to the next level. 
#1 Measure Performance
This tip links back to the first part of this article. Before trying to increase your performance, you need to measure it by building a monitoring system in your email software, office tool or BI tool… You can only improve what you measure. Incidentally, with BI tools, you can measure omnichannel performance.
Of course, your reports should include the engagement indicators above, but also business indicators whenever possible. Once again, business indicators are the true measure of email performance.
#2 Segment Your Email Campaigns
Don't send all your emails to all your contacts. Design your campaigns for specific segments. A contact segment is a group of contacts who share the same socio-demographic characteristics, buying behaviour, interests, etc.
Segmenting contacts will enable you to target your campaigns on one or more specific segments. According to Campaign Monitor, marketers who segment their marketing campaigns see, on average, a 760% increase in revenue.
#3 Create Mobile-Friendly Emails
Remember these two figures:
1 out of 5 email campaigns are not optimised for mobile devices. Source: Super Office.
Nearly 55% of global web traffic is generated by mobile devices. Source: Statista.
It's important to provide an enjoyable reading experience on mobile devices as well as computers. More than half of your emails will probably be opened on a mobile device (smartphone or tablet).
2 tips:
Use "responsive design" email templates. All those provided by modern emailing software are, in theory, responsive.
Run tests to preview your emails on several different screen sizes. You can use software like Litmus to carry out these checks.
#4 Think Carefully About Your Email Subject
The subject is the first thing your recipients see. Take your time to find an engaging subject, it's worth it. A poor subject = an email that isn't opened = an email that isn't read. Companies often don't spend long enough on the subject.
#5 Do A/B Tests
This links to the previous tip. We recommend testing different subjects. The idea is to send your email with subject A to half your list and an email with subject B to the other half. This enables to identify the best-performing subjects and to discover what gets the most reaction out of your audience.
You can then go one step further and extend these tests to other email parameters. For example, send-out times and email content. However, we recommend limiting your tests to one variable to facilitate the analysis of your results.
#6 Make Use of the Pre-Header
The pre-header is the text that's displayed to the right of the subject in your inbox. The pre-header also impact the open rate. We recommend personalising it. You could write it as a continuation of the subject, like in the example below.

The pre-header should encourage recipients to click, like the subject, and give an idea of the email's content and value proposition.
#7 Aim for Hyper-Customisation
Hyper-customisation is the ability to personalise all email parameters:
Greetings, by using the contact's first name and/or last name. E.g.: "Hi Lena".
The content of the message, and in particular what you're offering. This customisation parameter is based on your campaign segmentation or behavioural variables in Marketing Automation scenarios (e.g. sending an abandoned cart reminder, presenting abandoned or similar products).
Email send-out time.
Customisation is based on customer knowledge. Which leads to our last tip: invest in customer knowledge! Skeepers has several customer knowledge solutions for you to discover.
In conclusion, we can absolutely confirm that email marketing is not dead. In fact, it's more alive than ever. But to create email campaigns and scenarios that perform well, you need to apply a series of best practices. They're well-known and documented, but it's important to put them into practice. We've mentioned a few which, we hope, will help you boost your performance.