Just a few weeks after releasing the new version of MyFeelBack, we're excited to announce our integration with the world leader in CRM software, Salesforce.
With this new Salesforce application available in the AppExchange, you'll be able to empower your sales and support teams with actionable real time insights, right from Salesforce.
A fluid and more open customer feedback management
Avoid having disruption in the processing of contacts information and ensure a more unified and open customer relationship.
Customer satisfaction, preferences, reasons of non-purchase… any information collected via your smart surveys throughout the customer journey are automatically enriching any record in Salesforce CRM, giving you an up-to-date 360° view of your customers, in a single interface. Encourage decision-making based on concrete indicators, and trigger marketing actions tailored to each of your Salesforce contacts.
Features offered by the new Salesforce Connector:
Send engaging surveys to your Salesforce contacts
Map any information collected into data fields on any Salesforce record
Get notifications on Salesforce Chatter with any new survey response
Create leads from survey responses or update existing Salesforce contacts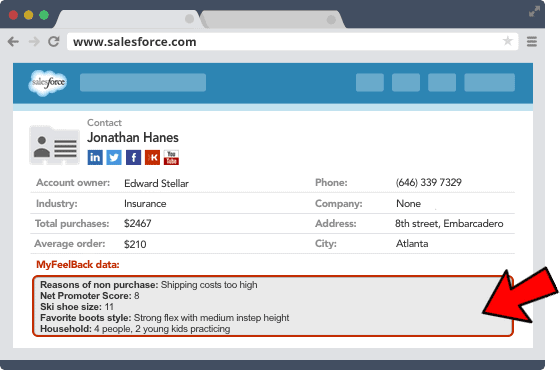 Testimony: Stéphane Contrepois, CEO, MyFeelBack
" Salesforce.com's customers can now benefit from a global and continuously up-to-date customer database, in a single interface, Salesforce CRM. This turns customer feedback into business opportunities instantly!  "
To learn more about the new connector, have a look at: