Live shopping can multiply e-commerce conversion rates by 10, according to a 2021 McKinsey study. The same study also predicts that direct shopping will account for 20% of online sales by 2026.  Direct shopping is a huge opportunity for brands, and more and more of them are adopting this marketing lever from China.   But how...
Live shopping can multiply e-commerce conversion rates by 10, according to a 2021 McKinsey study. The same study also predicts that direct shopping will account for 20% of online sales by 2026. 
Direct shopping is a huge opportunity for brands, and more and more of them are adopting this marketing lever from China.  
But how can you boost your sales with live shopping and turn it into a powerful sales channel for your company?
Here are 12 practical tips and key ingredients for success.
1 – Promote Your Sessions to Increase the Number of Participants
Live shopping revenue is calculated by multiplying the number of viewers by the conversion rate and average cart. The number of participants is therefore a variable of success. 
Use your communication channels to promote your live events and ensure that as many people as possible join in:
Website: e.g., Micromania, one of our live shopping solution clients, displays banners on its site with a countdown to the event. It also has a direct shopping page on its website. 
Social media: use social network platforms to engage your community.
Emails & SMS: send emails and SMS' to your contact base.
Stores.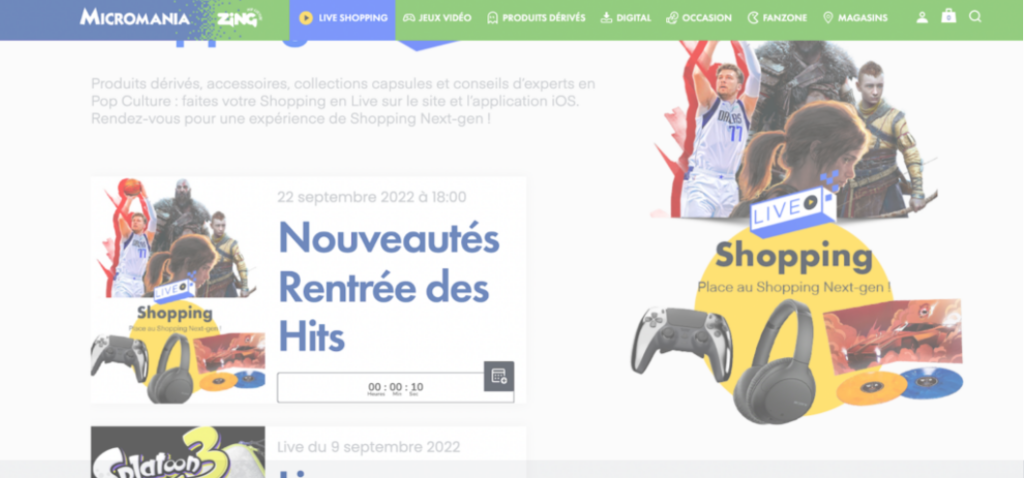 Monoprix, another of our clients, rolls out a 360 media plan to promote live events on social media: Instagram, Facebook, Twitter and LinkedIn. 
Monoprix also allocates a media budget to target people with an interest in its live event's theme: women, magazines, home and living magazines, etc. You can boost your events' visibility with sponsored articles and ads.
By promoting live events outside of organic channels, brands can capture new customers with an interest in your live shopping topics.
2 – Get the Timing Right
You need to identify the best time and day to host a direct shopping session. This can significantly impact the number of participants and conversion rate.  
For example, after trying out several time slots, Monoprix settled on Tuesday evenings as the best time to reach its target (urban upper socio-professional groups) and optimize participation and engagement.
We recommend trying a few different time slots, based on your target audience's characteristics, requirements and preferences, to quickly identify the best schedule. 
3 – Choose the Right Channels
A lot of our clients ask us which the best live shopping channels are. It depends on the brand but, generally speaking, there are 3 types of channels:
Your website. We recommend creating a live shopping page on your website. This page should include your live sessions, as well as all of your previous events (and those to come).
YouTube and Twitch. YouTube and Twitch are ideal for direct shopping. Twitch is becoming more and more well-known and brings together large communities with its video and live chat features. 
Social media. Not all platforms are suitable for direct shopping. TikTok, for example, encourages users to scroll through short videos, which isn't ideal for direct shopping. Instagram, on the other hand, is probably the best suited for live shopping with its Explore and Shop pages. 
4 – Foster Authenticity and Conviviality to Increase Retention Rates
Direct shopping retention rates are much higher than those in-store or on an e-commerce product page. A live shopping participant spends on average 10 minutes watching a product demo!  
So, how can you increase your viewer retention rate? By creating engaging direct shopping events. How can you maximize engagement? By fostering authenticity and conviviality. Live shopping should not be monotonous, like teleshopping, or a slick commercial.  
Direct shopping is all about community, conviviality, participation, and dialog. It can help achieve both relationship (bringing together a community of customers, enhancing the customer relationship) and transactional objectives. Live shopping humanizes the digital customer journey and adds a human touch to the act of purchasing online. 
5 – Use Gamification to Optimize Your Conversion Rate
It's great if participants watch your live session and share their enthusiasm with likes, but you want them to buy the products too!
One way to encourage participants to buy is gamification: limited time promo codes, exclusive deals, etc. You can also explore other mechanics, such as giveaways or lucky draws. Gamification makes live sessions more fun, improves the quality and increases retention.
Micromania organizes about 10 draws per live session with very good results! 
The brand also always offers promo codes, as you can see below: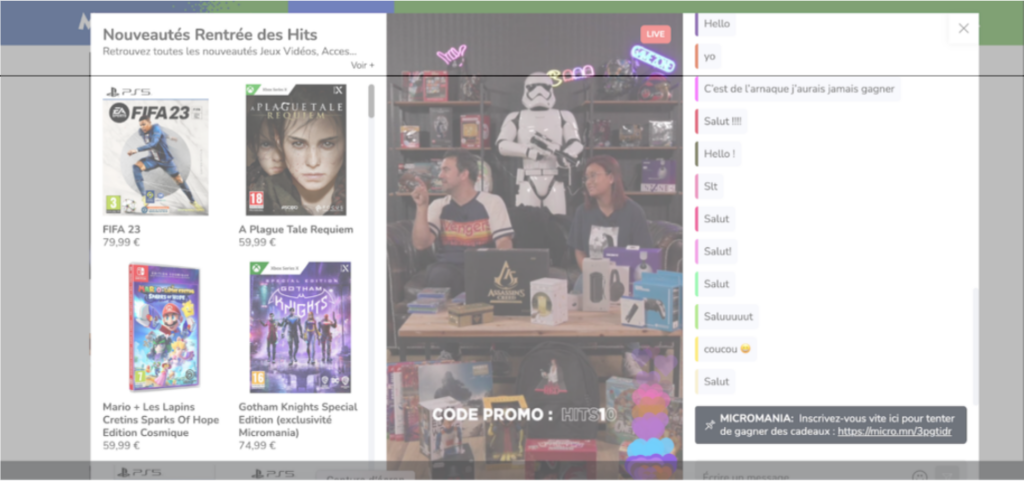 A banner on Micromania's website displays these promo codes to encourage visitors to join the live event. 

Presenting flagship products or new launches is also a good way to increase conversion.
Live Shopping: High Conversion Rates
Did you know that live shopping conversion rates in Europe average between 10 and 12%? And that they can go much higher? For example, Monoprix's conversion rates go up to 30%!
These rates remain lower than in Asia, of course, where direct shopping is more firmly entrenched and can reach up to 60%. But remember, the average conversion rate for a traditional online store is around 2%. 
6 – Use Live Shopping Video Replays
Use the magic of replay to extend your live shopping sessions, so that consumers can watch or rewatch past events anywhere, at any time.
We recommend creating a direct shopping page on your website, listing all of your past sessions. 
Monoprix's live shopping replay page has 10% more views than its Clothes or Home & Leisure pages. Some Monoprix replay videos have been viewed more than 10,000 times! It would be a shame to miss out on this extra exposure…
Here's an example of a direct shopping web page (belonging to one our clients, IKKS):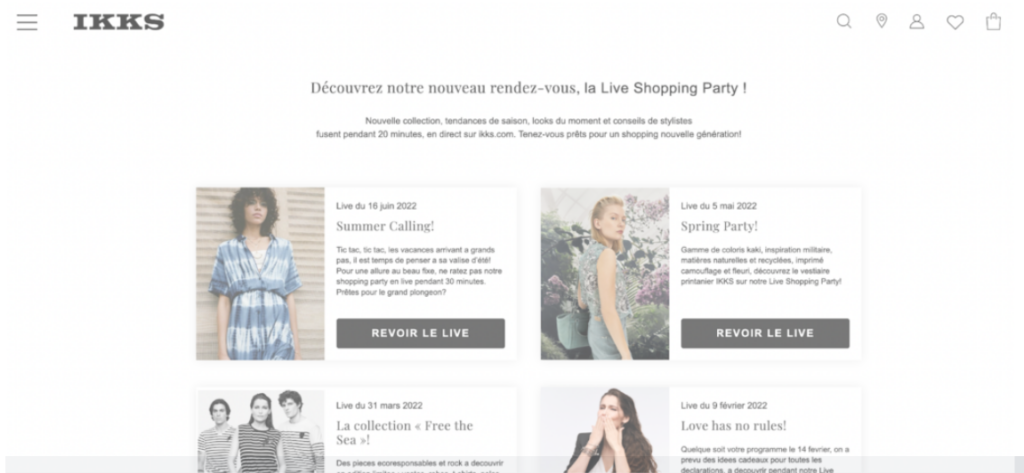 You can also add replay videos on your product pages to enhance them and boost conversion rates. 
7 – Invite Celebrity Guests to Appear in or Co-Host Your Live Shopping Sessions
A lot of brands use in-house hosts: employees, sales reps, product managers, marketing execs, etc.
Getting employees involved, as opposed to professional hosts, is often a great idea; it makes your sessions more authentic. Employees also have a good knowledge of your products.
But why not invite celebrity guests and experts? Monoprix's live shopping sessions are hosted by specialist journalists.
We strongly recommend co-hosting live shopping sessions with influencers. You will attract communities who don't necessarily know or buy from you and increase the number of participants.
For example, Micromania has teamed up with TV host Alex Goude, who is also a gamer, to present its new products and deals. Each live attracts on average 30,000 viewers (including replays).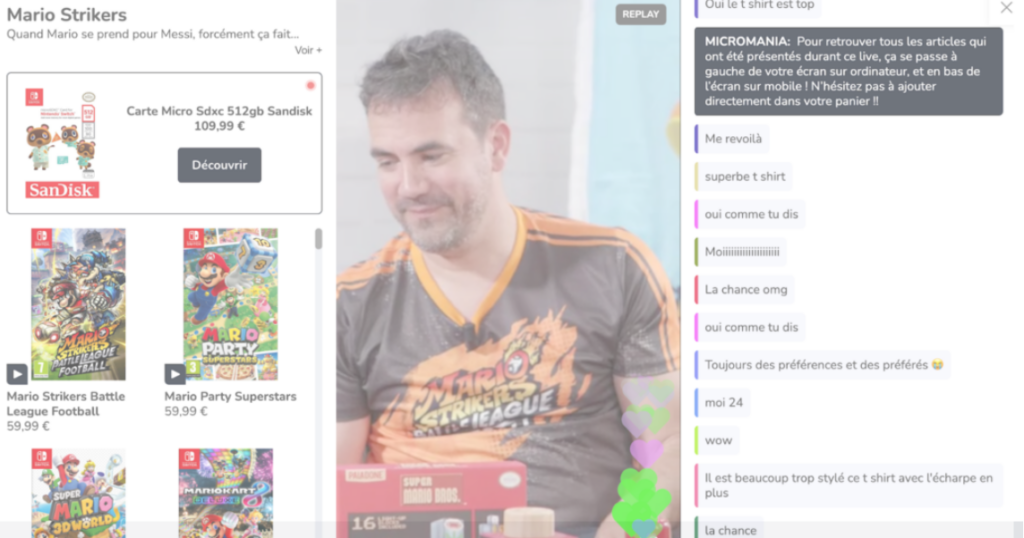 8 – Optimize Your Mobile Device Experience
This might sound a bit technical, but it's worth a mention. It's no surprise that a lot of people watch direct shopping events on their phones. Approximately 80% of viewers, in fact. It is paramount that you display your live sessions properly on mobile devices. 
When Monoprix first began live shopping in 2021, it tried out a direct shopping solution that couldn't stream vertically. Which is why Monoprix chose our live shopping solution, which is adapted to mobile devices. 
This feature is far more than a gimmick…
9 – Make Live Shopping a Regular Event
This tip will help you increase the number of participants in the long-term.
Adding an element of recurrence is the best way to turn your live shopping sessions into shared, regular, unmissable events.
Most of our clients announce the date of their next sessions at the end of each live, which we highly recommend.
10 – Leverage Strong Sales Periods
Organizing live shopping sessions at key times of the year (sales, holidays, events, etc.) is a great way to boost sales.
Micromania, for example, organizes live sessions to coincide with product launches, video game trade shows (e.g., Paris Game Week), holiday seasons, etc. These sessions always generate more sales.
11 – Analyze Your Performance
This tip applies to any marketing action: always measure the success of your operations and campaigns.
Our live shopping solution provides a detailed overview of your participation, engagement and conversion stats: number of viewers, messages, likes, items added to cart, average view duration (retention), etc.
Take the time to analyze your previous live sessions too, to identify any areas for improvement.
Remember that your conversion rate should never dip below 5%. If it does, there are probably things you can improve.
12 – Retarget Live Shopping Participants
Direct shopping participants tend to be intentional shoppers who are more likely to make purchases. 
So why not retarget these participants with promotional campaigns?
You could create a triggered marketing automation campaign based on your direct shopping participation. 
Or take things one step further and send ads to participants who didn't buy anything.
Conclusion
As you can see, there are lots of ways to boost your sales with live shopping. These tips can help you reach your transactional goals, as well as enhance your customer relationship and improve your brand awareness. 
Live shopping is an effective sales channel and a new, powerful and engaging communication channel. Which is why it is such a great opportunity for brands. So, why not give it a try?