Trends in influencer marketing have exploded in the last quarter of 2021: TikTok, social commerce, live shopping, video format… The influencer platform by SKEEPERS has compiled for you 14 key figures to know and take into account to build a solid influencer marketing strategy in 2022. Let's get started! Influencer marketing, customer reviews and e-commerce:...
Trends in influencer marketing have exploded in the last quarter of 2021: TikTok, social commerce, live shopping, video format… The influencer platform by SKEEPERS has compiled for you 14 key figures to know and take into account to build a solid influencer marketing strategy in 2022. Let's get started!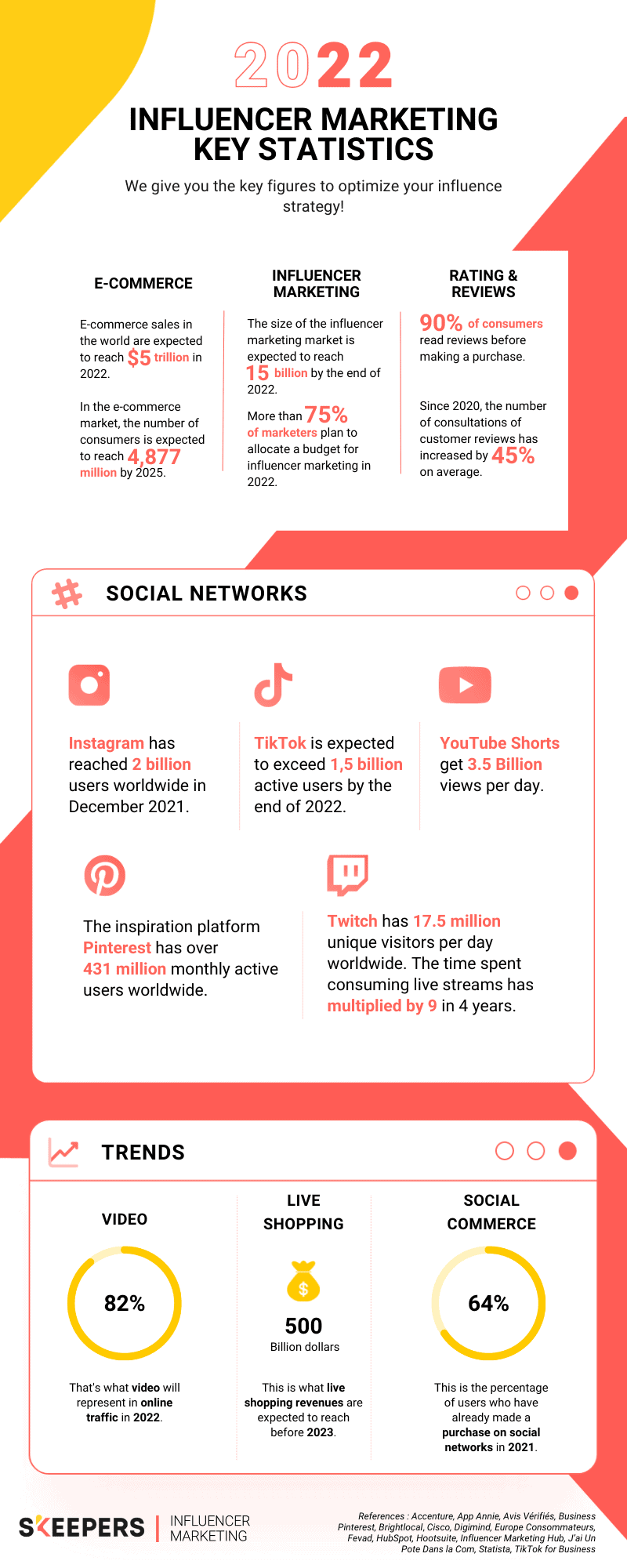 Influencer marketing, customer reviews and e-commerce: what you should know
Influencer marketing in 2022
Currently, the size of the influencer marketing market is $13.8 billion, and is expected to reach $15 billion by the end of 2022 (source: HubSpot). This strategy has seduced many brands by its ROI efficiency. It can also meet various objectives:
visibility,
brand awareness,
engagement,
conversion…
As a result, by 2022, more than 75% of marketers plan to allocate a budget for influencer marketing (source: Influencer Marketing Hub).
Customer reviews, a purchase factor
Consumer reviews feed product and service sheets on various sites, reassure and influence purchasing decisions. Indeed, 90% of consumers read reviews on the brand's website or on a dedicated platform before making a purchase (source: Europe Consommateurs). On the one hand, with the strong growth of e-commerce, consumers need to know if the product they find on e-shops will suit them. The information written by a consumer under a product about its use, quality, texture will enlighten their peers but also enhance the product, thus stimulating sales.
On the other hand, since 2020, consultations of reviews have increased by 45%. Consumer reviews reassure people about their choice of service. A restaurant that has more than 4 out of 5 stars with thousands of reviews will be a guarantee of quality for consumers.
E-commerce keeps growing
One of the consequences of the health crisis has been the explosion of e-commerce. Buying online is part of the daily life of many consumers as a wide variety of products are at their fingertips through e-commerce. Global e-commerce sales are expected to reach $5 trillion by the end of 2022 (source: Statista). Beside, its number of consumers is expected to reach 4,877 million by 2025 (source: Statista).
What is in store for social networks in 2022?
TikTok or the must-have application
TikTok is overshadowing the biggest social networks such as Instagram or YouTube. It is expected that by 2022, TikTok will exceed 1.5 billion active users (source: App Annie). This app created in 2016 has everything to seduce users: originality, video and short content, dynamism… Moreover, 52% of the internet audience wants brands to be authentic (source: TikTok for Business). Thanks to these trends and the light-hearted tone used on the platform, users find this type of content.
Instagram is still successful
Instagram reached 2 billion users worldwide in December 2021 (source: Digimind). It is the leading social network for influencer marketing and is constantly innovating, especially to compete with its biggest competitor: TikTok. In France, Instagram is the preferred social network of Gen-Z (source: App Annie). In order to target this generation, so prized by brands, it is strategic to collaborate with nano-influencers and micro-influencers who are real influencers. Thanks to their creation of quality content, on the one hand your products are highlighted to a niche community, on the other hand you collect UGC that you can reuse in other communication media.
Our suggestion: to maintain your relationship with influencers on Instagram, don't hesitate to create an ambassador program that will humanise and strengthen your relationship in the long term.
YouTube, the massive platform
As the second most used platform in the world after Google, YouTube has a huge global audience. In order to remain attractive, the social network has developed a feature with a video format of less than 60 seconds, inspired by TikTok: YouTube Shorts. These very short videos achieve 3.5 billion views per day (source: Hootsuite).
Easy to consume and produce, this feature has a lot going for it. As a brand that collaborates on YouTube through long videos, this is an opportunity for you to vary the type of content and stand out. In 60 seconds, influencers can easily show your products in all their forms as well as its use in the form of a very short tutorial, and thus capture the attention of users.
Pinterest: positivity and creativity on display
The inspiration platform Pinterest has 431 million monthly active users worldwide (source: Business Pinterest). This platform is a showcase for your products and a creative workshop for influencers. A positive atmosphere, authentic content and aesthetics are all there. In addition, Pinterest develops unique features like Versions to increase engagement between influencers and their community. By collaborating with influencers on Pinterest, you will meet visibility and conversion goals.
Twitch, the rising livestream platform
Twitch, the live streaming platform initially used for e-gaming, now has 17.5 million unique visitors per day worldwide (source: J'ai Un Pote Dans la Com). This large audience reflects the importance of live streaming today. In 4 years, the time spent consuming live streaming videos has multiplied by 9 (source: App Annie)! Collaborations with influencers on this trendy platform are gradually developing, allowing brands to stand out and reach a large audience. Moreover, the content offered on the platform seduces by its spontaneity and authenticity: could this be the next perfect platform to develop your brand awareness?
Social commerce, video and live shopping: key figures for 2022
Social commerce, a winning strategy
Social commerce is an e-commerce practice that consists of selling through social media. In 2021, 64% of users have already made a purchase on social networks. This practice is a real success: today, social commerce generates 429 billion dollars and this figure is growing exponentially (source: Accenture). Social networks are doing everything possible to develop social commerce thanks to various recommendation features, links to the e-shop, etc.
Video: the leading brand content format in 2022
Video is the format that seduces consumers and brands alike! The creative possibilities are almost infinite: duration, form (TikTok, YouTube video, Reels, live, webinar…), music, filter. This preference for this format is visible when we know that video will represent 82% of online traffic by 2022 (source: Cisco).
Live shopping is one of the trendy forms of video. It is also one of the channels of social commerce. Live shopping has developed in China and is coming to the West in force as brands have realised its benefits:
increase conversion rate,
increase in sales,
improve brand awareness…
As a result, live shopping sales are expected to reach $500 billion by 2023 (source: Influencer Marketing Hub).
Thanks to the infographic that summarises the 14 figures you need to know about influencer marketing this year, you know which trends and social networks to monitor and capitalise on!
Photo credits: SKEEPERS