Did you know that 70 % of European consumers are interested in live shopping? For brands, it's a key solution to promote their products. But you need to understand how it works and how to use it. Read on to discover our 6 best practices and 5 things to avoid at all costs!  Live Shopping:...
Did you know that 70 % of European consumers are interested in live shopping? For brands, it's a key solution to promote their products. But you need to understand how it works and how to use it. Read on to discover our 6 best practices and 5 things to avoid at all costs!
Live Shopping: What Not to Do
1. Don't Forget to Define Your Live Shopping Goals Beforehand
Remember to define goals for each live session! Why? Because it maps out the steps to follow, so that you know exactly what you are working towards. With clear objectives, you can also measure the impact of your event and identify any areas for improvement, or actions to implement next time. Don't forget to identify the KPIs (Key Performance Indicators) you want to analyze either.
Here are a few examples of live shopping KPIs:
Number of people who joined the live
Maximum number of users (viewer peak)
Number of logins / IP addresses
Number of participants who watched the live for more than X minutes
Number of viewers on mobile devices
Average cart value
2. Never Improvise During a Live Shopping Event
Any good live shopping event needs a bit of spontaneity. But don't confuse "spontaneity" with "improvisation"! If you improvise, you may end up jumping from one subject to another and losing your audience. Your live event will still feel authentic with a pre-defined structure and you are more likely to achieve your objectives.
3. Don't Underestimate the Importance of Chat
Live shopping, unlike TV shopping networks, allows viewers to converse with brands in real time. Consumers watch live sessions to discover products, but also to get advice and answers to their questions. Remember that an answer to one consumer's question could help other viewers too.
We also recommend interacting with the chat to engage your viewers and relay important information, links or special offers, as well as to moderate it. You can call on your own employees as moderators.
4. Don't Forget About Replays
Don't forget to promote your replay video after a live shopping event! Replays can enhance your product pages or showcase upcoming events and your online store. They enable you to reach a wider audience and consumers who couldn't make the live session. After all, live shopping continues to convert sales long after the original session is over!
5. Forget One Shots… Regular Live Shopping Events Are the Key to Success!
Let's take the example of a weekly prime-time TV show: viewers know that every Friday at 9 p.m., their favorite show will air. They wouldn't miss it for the world. Live shopping is the same. Try to create regular conversational moments to:

– Keep your brand at the top of customers' minds
– Maintain a long-lasting relationship of trust with your customers
One-off lives will only boost your sales for a short period of time.
6 Good Practices for Successful Live Shopping
1. Create a Reusable and Adaptable Structure
We recommend a consistent structure that can be adapted to the themes or objectives of each live shopping event. This will not only save time, but also boost your confidence because you have a plan and know how it will unfold, which will in turn reassure your audience.

For example:
Introduce your brand
Present a product
Explain its benefits
Show how to use the product
Answer questions about the product
Once you've created your outline, you can use it whenever possible.
2. Invite an Industry Expert or Influencer
Experts add credibility to your message and products. They promote trust in your brand and can provide key information about your products. Influencers, on the other hand, bring a fresh energy to the table, and you can target their community as well as your own.
Make sure you invite influencers who are a good fit for your products. Your live session should appeal to your audience as well as theirs.
3. Leverage Sales Seasons and Holidays
The idea is simple: viewers will relate to your content and your products and services will be useful at that given time.
For example, you could take advantage of Black Friday to promote Christmas gifts: coats, games, beauty products, etc.
Then during the summer, highlight summery products that are useful for that season. For example, Easypara streamed a live session about sunscreen on the 1st day of summer in 2022.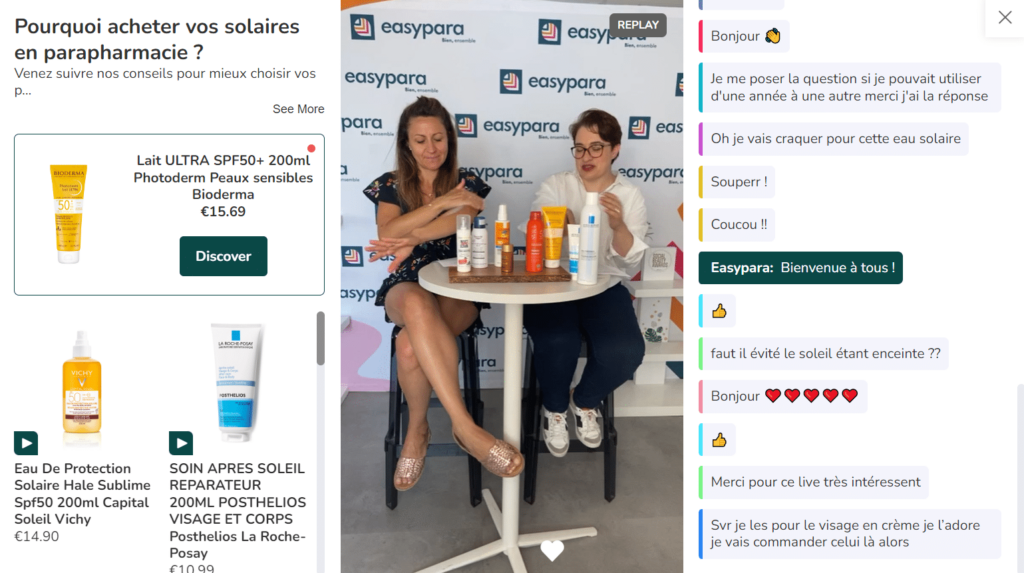 4. Offer Live Shopping Giveaways and Promotions
Make your viewers feel special by offering giveaways or promo codes during live shopping events. This adds a gamification element which will make your audience want to join other sessions, to benefit from exclusive deals.
Micromania uses this technique to engage its community and build loyalty. During live sessions, viewers can benefit from promotional codes and enter giveaways. The winners are announced during the live event!
5. Diversify Your Content
Diversifying your content means inviting experts, building partnerships, changing your location, switching up your theme, not promoting products you've already featured in previous live shopping events, etc. The idea is to create retailtainment (combine retail and entertainment) which is key to retaining customers during and after the live. Viewers don't get bored, so they're more likely to come back.
6. Partner Up to Renew Your Content
Collaborate with one of your partners during a live session to promote never-before-seen products for your viewers, as well as a new brand or company that shares your values. As mentioned above, this is another way to diversify your content. Not to mention that you will benefit from the partner brand's visibility and audience. Take Monoprix, for example, and its live shopping event with Barilla, one of its partner brands. Their combined knowledge and tips created an effective and dynamic live shopping session.
CONCLUSION
Now you know how to make your next live shopping event a success! With the emergence of social shopping, this channel is set to grow in France and around the world.