The idea behind longitudinal customer studies is simple: a customer of group of customers' preference, opinions and satisfaction evolve over time. The world is constantly changing, and so are your customers!
Longitudinal customer studies enable you to monitor the changes in responses from one month to the next, or year, and incidentally to measure the effectiveness of any measures taken to improve customer satisfaction and experience.
Let's start with a quick reminder of what longitudinal customer sturdies are and the two ways you can deploy them in your company.
What Is a Longitudinal Customer Study? [Definition]
A longitudinal study consists in observing a sample of individuals' opinions and/or behaviour over an extended period of time. A longitudinal customer study therefore consists in monitoring the evolution of your customers' behaviour, preferences, feedback or satisfaction over time… Or that of a specific customer segment, defined by:
Their characteristics: age, gender, etc.
Their lifetime value.
Product/service they bought.
Where they live.
Membership to a retention programme (e.g., a loyalty programme).
Two Approaches: Regular Monitoring vs Continuous Monitoring
Longitudinal studies were first used in demographics, sociology or psychology before being used in marketing.
Longitudinal customer studies are different to one-off studies conducted at a specific point in time, sometimes called "cross-sectional studies".
A longitudinal customer study is a study conducted:
At regular intervals. For example, sending your customers a survey every 3 months to update their information, preferences and to monitor their satisfaction compared to the last study.
Or on a continuous basis. Continuous customer studies refer to scenario-based surveys that are constantly active and triggered according to temporal and/or behavioural variables. We'll come back to this in a moment.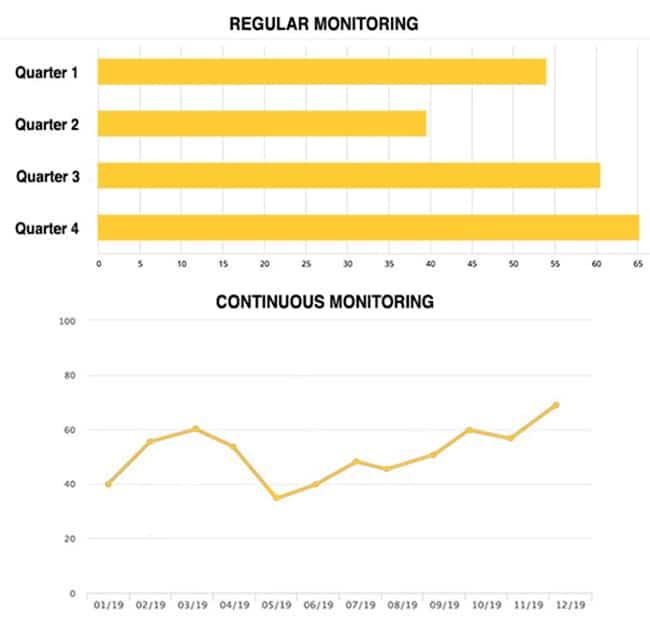 Why You Should Deploy Longitudinal Customer Studies
Let's take a customer satisfaction study as an example. You want to measure your customers' satisfaction. There are 3 options:
Create a one-off survey, for example a survey sent to all your customers on the same day as part of an email campaign.
Deploy a one-off survey every X months, for example a survey sent to your customer base in January, April, September, etc.
Create a scenario-based satisfaction survey that is triggered every time a customer completes a specific action. For example, when a customer places an order on your website, they receive an automatic email asking them to complete a satisfaction survey. In which case it is also important to put in place pressure management rules so you don't send customers who buy something every other day a survey invitation each time!
The first two cases are part of a one-off campaign. The third case involves building a permanent survey scenario. The survey is not sent to all your customers (or a specific target group of customers) at a given time but is triggered according to events and trigger options set up beforehand. This is the principle of Marketing Automation. It is also referred to as a scenario-based survey or a Marketing Automation scenario.
Whether via a regular or scenario-based survey, a longitudinal customer study enables to:
Monitor the evolution over time of your customers' responses – primarily those relating to customer satisfaction and experience.
Measure the effectiveness of actions taken to improve customer satisfaction and experience.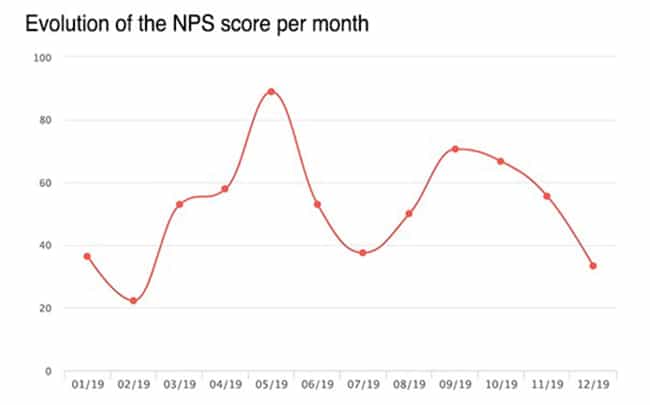 What are the Benefits of Scenario-Based Surveys for Longitudinal Customer Research?
A longitudinal customer study can be produced using:
One-off surveys sent out periodically.
Or scenario-based surveys.
We recommend the last option. This enables you to send surveys continuously and at the right time. For example, if you want to measure customer satisfaction with a service, it's best to send the survey automatically as soon as the customer signs up or X days later, rather than send a campaign to all subscribers indiscriminately.
Scenario-based surveys provide the best response rates because they allow the customer to rate:
A product soon after it has been used/consumed.
A service soon after it has been used.
An interaction soon after it has occurred. E.g.: measuring customer satisfaction with a customer service by sending an automatic survey after each interaction.
Scenario-based surveys take classic longitudinal customer studies to the next level. They are a modern way of measuring customer experience and satisfaction. We hope that this article has convinced you of the value of longitudinal customer research and, above all, of the value of scenario-based surveys. Over to you!