Norauto has perfectly understood the benefits of customer knowledge. Getting to know your customers better and measuring their satisfaction enables you to better serve them and build loyalty.
Norauto chose Skeepers CX Management to deploy its customer knowledge strategy. Let's take a look back at their objectives, experience and future projects.
Norauto Decides to Focus on Customer Knowledge
Norauto is the European leader in car maintenance and equipment and is an emblematic example of a major brand that has decided to focus on customer experience to enrich its customer relationship and experience. Norauto called on Skeepers CX Management in 2017 to assist it in implementing a customer experience and satisfaction management programme.
Norauto – Some Key Figures:
Company founded in 1970 in Lille.
More than 650 car centres in the world, including 408 in France.
6,500 employees in France and nearly 11,200 in the world.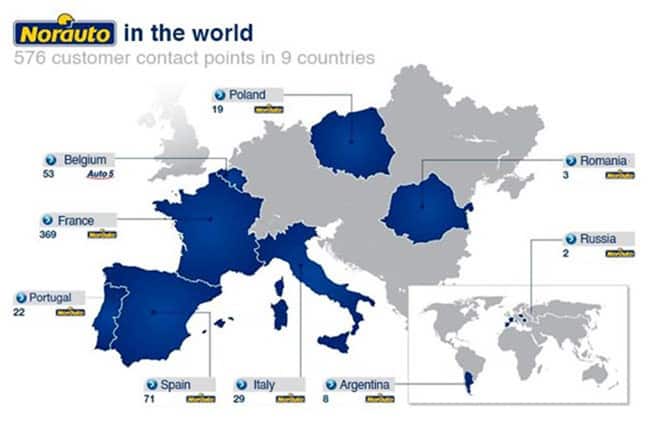 3 Concrete Needs for Norauto
When the company initially contacted us, they shared 3 concrete needs with us:
To adminster customer satisfaction surveys by email and on the Norauto website.
To create surveys with complex scenarios: targets, triggers, number of messages, etc.
To be autonomous and flexible when creating surveys.
This last point is key. It was important to Norauto that its internal teams could manage survey campaigns independently, from their creation to the targeting, results analysis and reporting. Before discovering Skeepers CX Management, Norauto had a customer data collection solution that was complex and not adapted to employee use. Flexibility and ease-of-use were two key criteria for Norauto when selecting their future customer knowledge solution.
Empowering our clients is at the heart of Skeepers CX Management's value proposition. We have developed a comprehensive, easy-to-use solution, with a user interface and features that are easy to understand. We provide our clients with support as the implement the service and a dedicated Customer Success Manager is available if needed. But our ultimate objective is to make our clients as autonomous as possible.
Helping Norauto implement a Voice of the Client listening programme was particularly rewarding for us, given the challenges of this project.
The Skeepers CX Management solution was very easy to implement from an IT standpoint and our teams quickly learned how to use it, thanks to the support provided.
Gaëlle MBODJ – Customer Experience and Business Intelligence Manager.
The 3 Norauto Challenges in Terms of Customer Experience and Satisfaction Management
The challenge underlying the project was to improve the relevance of the solutions offered to customers, to further align Norauto products and services with customer needs and expectations. Norauto has fully understood that the sustainable improvement of customer satisfaction requires an enrichment of the knowledge of its customers and their personal needs.
The underlying challenge of this project was to improve the relevance of the customer solutions, to better align Norauto's products and services with its customers' needs and expectations. As Norauto fully understands, the sustainable improvement of customer satisfaction requires a better knowledge of customers and their personal needs.
The first challenge was to deploy surveys by email and on the brand's website to better understand the customers.
Norauto also wanted to deploy solutions to measure awareness of their customer services. This was the second challenge.
And finally, the third was to build customer loyalty by encouraging customers to sign up to local Norauto events.
Greater customer knowledge, greater product satisfaction knowledge, greater customer loyalty… These are all ambitious goals! So, how did Norauto successfully overcome these challenges? By deploying 3 types of survey campaigns.
3 Types of Campaigns to Meet These Challenges
Norauto has deployed 3 types of campaigns to meet these challenges:
Product surveys, commissioned by product managers or the marketing department. These surveys aim to measure customer satisfaction with Norauto products. The surveys are sent by email on a one-off basis after a customer makes a purchase online or at a car centre.
Customer knowledge surveys. As the name suggests, these surveys aim to enrich Norauto's customer knowledge. The questions are based on:

Customer satisfaction with regards to Norauto services.
Shopping habits: e.g., preferred visiting times.
The connection with the brand, with "psychographic" questions about customers' values. The aim is to use these questions to highlight Norauto's own values, particularly those relating to sustainable development.

Registration campaigns for private Norauto events ("auto malin" courses, opening of a new centre, etc.) followed by surveys to measure post-event customer satisfaction. These event invitation campaigns meet the third challenge: building customer loyalty. Post-event surveys are used to measure the effectiveness of these offline campaigns.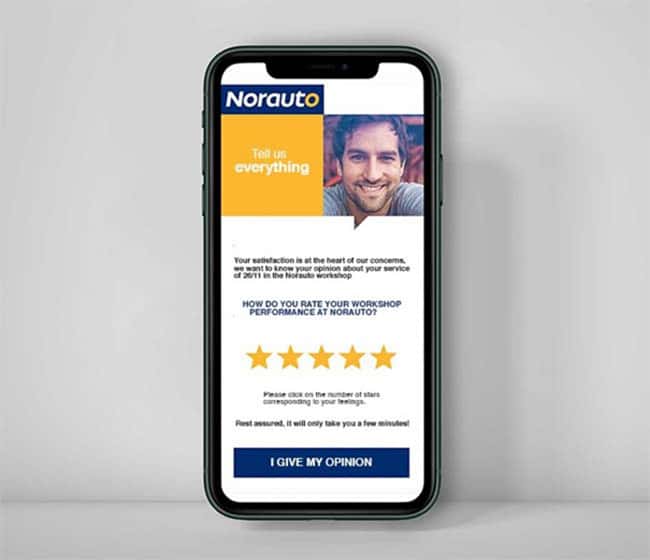 Norauto's Strategy Has Paid Off
Since implementing the surveys in 2017 and early 2020, Norauto has collected 34,000 customer responses via the Skeepers CX Management platform. This feedback and its analysis has enabled Norauto to:
Rethink its products at all levels: packaging, design, use, etc. Online surveys have made it possible to identify any flaws in its product communication and to better understand its customers' purchasing behaviour: choice criteria, product use, etc.
Optimise its merchandising policy through customer feedback following an in-store experience. Customer reviews have enabled Norauto to refocus its car centre staff's efforts on essential parts of the shopping journey, the moments of truth in the customer relationship. Resulting in significant time savings and increased efficiency.
How Norauto measures Employee Satisfaction
We've often talked about the importance of measuring employee satisfaction on our blog. There is a parallel between employee and customer satisfaction. This is known as the symmetry of attention.
The Skeepers CX Management solution enables to measure both customer and employee satisfaction. Norauto seized this opportunity and decided to collect feedback from its 6,500 employees in France.
These employee reviews enabled the brand to identify and deploy areas for improvement in the employee experience.
Conclusion
And that's not all! Norauto has several projects in the pipeline for the near future:
Deploying surveys on their website to reach leads and identify the reasons for basket abandonment. In retail, handling shopping cart abandonment is key to improving conversion rates and increasing the number of online orders. Several of our clients use Skeepers CX Management surveys as online basket reminders (deployed in the form of an exit pop-up, for example).
Translating existing campaigns into other languages in order to deploy them abroad. Skeepers CX Management has an automatic translation module for campaigns which saves a lot of time and other features to simplify the translation of surveys.
Connecting CX Management and Adobe Campaign to enrich its CRM – Marketing Automation solution with the collected answers, to then better segment its customer base (age groups, personas, etc.) and better target its marketing communications. Skeepers CX Management provides a native connector with Adobe Campaign to facilitate the interconnection of both systems and make Skeepers a CRM data source.
We're delighted and proud to have helped Norauto successfully implement this transformation.