Do you sell on Amazon? Well, Amazon now lets you add videos to your product pages. If you're looking to boost conversion on your Amazon product pages and up your e-commerce game, this is something you should seriously consider! Why add videos to Amazon product pages? What types of videos? How do you upload the...
Do you sell on Amazon? Well, Amazon now lets you add videos to your product pages. If you're looking to boost conversion on your Amazon product pages and up your e-commerce game, this is something you should seriously consider!
Why add videos to Amazon product pages? What types of videos? How do you upload the videos? Do you have to pay? How do you make the videos? If you're asking yourself these questions, this article is for you.
Discover the 6 questions to ask yourself before adding videos to your Amazon product pages.
1 – Why add videos to your Amazon product pages ? What are the benefits ?
The popularity of the video format is soaring for 2 reasons
You just can't beat video for communicating with your customers and presenting your products.
There are two reasons for this:
First, it's the most efficient format: video allows you to communicate a maximum of information in the shortest time. Video is also the easiest content to consume: there isn't a person out there who wouldn't rather watch a video than read a long text description! With a video, you get straight to the point.
Second, it's the most engaging format:Videos feature real people, sometimes users of the product, and this adds a human dimension to your content. Video conveys emotions and allows you to tell a story. Video is a great way to humanize digital customer relations.
There's a good reason why the popularity of video is skyrocketing. Video content has become the primary fuel of social media platforms. Facebook, Instagram, LinkedIn: they've all added video. Some socials, like TikTok, are even focused exclusively on this format.
There was no way Amazon was going to fall behind on this major trend: since 2017, the e-commerce giant's Marketplace customers have the ability to enrich their product pages with video content.
Why add videos to your Amazon product pages?
Video allows you to give your product pages a new dimension, to make them more dynamic, to add a human touch that generates customer engagement, and to present the main benefits of your product in just a few seconds. In short, video allows you to impress your potential customers in every sense of the word!
Amazon lets you add videos directly to the image carousel showing your product images, so the video can be seen above the fold as soon as the web shopper loads the page. This guarantees your videos maximum visibility. Amazon gives you the possibility of putting your videos in prime position!
To learn more about the impact of videos on e-commerce and on product pages, we invite you to read through our earlier blog posts on this topic.
If you're still on the fence, here are a few statistics that should convince you to use videos on your Amazon product pages
Video marketing has a direct impact on your product pages' performance, as you can see by these telling numbers:
96% of consumers find videos helpful for making a buying decision.
79% of online shoppers prefer to watch a video to get information about a product rather than reading a text description of the product.
A relevant product video can increase conversions by up to 80%.
2 – What types of videos should you be adding to your Amazon product pages?
You now know why video is a particularly worthwhile format to use on your Amazon product pages. The format enhances the content. Which brings us logically to the next question: what types of videos can be added on Amazon?
Tutorial or how-to videos
Tutorials or how-tos are the first use case for marketing videos.
A tutorial video aims to:
Highlight the main benefits of the product, to answer the question: "Why buy this product?"
Explain how to use the product correctly, to answer the question: "How does it work?" Tutorial videos are supposed to be instructional.
Set the customer's mind at ease about the quality of the product and the trustworthiness of the seller. Generally speaking, videos are reassuring.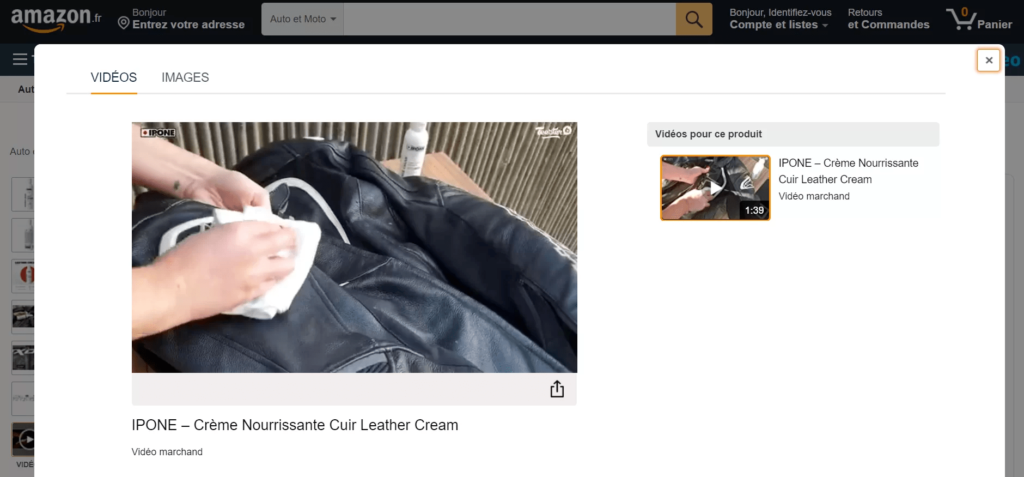 360 videos
These videos show all aspects of the product from all angles to give the prospective customer an accurate idea of what the item looks like. In a brick-and-mortar store, the customer can circle the product, touch it, and turn it every which way to examine every detail of it. That's not possible online. 360 videos are the alternative! They provide a virtual overall view of the product.
User-generated videos
These videos are very valuable because they feature a user of the product, often your average Joe (this isn't meant to be derogatory in any way – quite the opposite actually, since it's the key to authenticity).
It's not the brand addressing their potential customer vertically. It's a customer addressing a potential customer, using a horizontal mode of communication. As a result, the online shopper can relate to the star of the video, to the customer who had the same need as they had, and the same expectations, and who, thanks to the product they're testing, has found a solution to their need. User-generated videos act as "social proof", just like customer reviews but a thousand times more powerful.
Comparison videos
Here's another interesting way to use video to enhance your Amazon product pages: comparison videos. There are two approaches possible:
Compare your product to competing products to highlight your product's strengths.
Compare the life of the customer without the product to the life of the customer with the product, to really emphasize the benefits of the product and the specific ways in which it can be life-changing.
This use case for marketing videos is a great fit for you if you're selling a product that has a lot of competitors but has specific features that set it apart from the others.
Those are the 4 main use cases for marketing videos applied to product pages. You'll no doubt come up with others!
3 – How do you add videos to your Amazon product pages ?
We recommend using high-definition videos whenever you can (you can go up to 1080 px), with a 16:9 format. Note that:
The video file size should not exceed 5 Gb.
Amazon supports two formats: .mp4 and .mov.
Once you've made your video, uploading it to your product page is pretty simple. Sign in to your Amazon Seller Central interface and go to the "Upload & Manage Videos" page. You'll see an "Upload Video" button in the top right. Click on it, then drag & drop your video into the window that opens up.
You'll then be asked to enter some information in the required fields:
Thumbnail image, i.e. the preview image people see before the video is played. If you leave this field blank, a thumbnail will be generated automatically. It will be a still from the video. We recommend personalizing the thumbnail and choosing a high-quality, relevant image in the .jpg or .png format.
Video title. This is the title displayed next to your video. We recommend choosing a title with no more than 60 characters.
Associated ASINs. These are the products associated with your video. Your video will be shown on all associated product pages.
Good to know: If you want your video to show up in the image carousel, you'll have to keep the number of images to no more than 6.
Before being published, your video is moderated to check that its content meets Amazon's community guidelines. It typically takes a few hours for a video to be published on a product listing once it's been uploaded. It's a good idea to read through the Amazon guidelines: while most are obvious (no hate content, etc.), others are more unexpected. For example, you can't use the words "cheap" or "affordable" in your video! Keep that in mind!
4 – Who can add videos? And how much does it cost ?
Amazon distinguishes between two categories of sellers: individual sellers, and professional sellers registered on the marketplace. If you're in the first category, adding videos to product pages is a premium feature. It'll cost you around $1,500 per product page, including product variations. In other words, if you want to add your video to several product pages presenting variations of a same product, the associated cost is that mentioned above.If you're a professional seller registered on the marketplace, adding videos to product pages is completely free. If you're a company, you should normally be in this category.
5 – How do you make videos ?
We've looked at the benefits of adding videos to your Amazon product pages. We've gone over the different types of videos you can use and the "technical" requirements (in reality, as we saw, you don't need any technical skill) for adding your videos to your pages. But one question remains: how do you make the videos? Before you can add them to your product pages, you actually have to make them!
There are several options available to you:
Make your videos in-house, using a camera and video editing software. You need some degree of technical skill for this. Producing a professional quality video isn't something you can just improvise. If you don't have the skills in-house, it's complicated…
Outsource your video production to a professional agency or a freelancer.
Automate your video creation with some help from your customers. With User Generated Videos, it's your users and customers who make the videos. The platform allows you to identify the best video ambassadors in your communities, to engage them in making videos of themselves sharing their experience. These videos are edited and optimized automatically by our post-processing engine. The result? You generate a large volume of more relatable and more authentic videos to talk about your products. Thanks to the social proof element, this type of content helps online shoppers feel confident about their purchases. On average, the conversion rate of product pages featuring user-generated videos increases by 68%.
6 – How can you track the performance of your videos ?
The Amazon interface gives you access to a dashboard from which you can track your videos' views and view rate. This is a first step for measuring how well your videos are performing. You can take this further by plugging in third-party tools to set up A/B testing. With A/B testing you can measure the performance of the product page with and without the video, then compare the two. This is the best way to accurately measure the impact of your videos on your conversion rates.
There you have it. You're now fully equipped to optimize your sales on Amazon using video. To find out more, don't hesitate to get in touch!