You have one of two choices to make when deciding what customers want from your product. Either you engage in guesswork or reach out to them to find out what they need. As it turns out, it looks like many companies are still engaging in guesswork. A recent Hubspot study found that a full 42%...
You have one of two choices to make when deciding what customers want from your product. Either you engage in guesswork or reach out to them to find out what they need.
As it turns out, it looks like many companies are still engaging in guesswork. A recent Hubspot study found that a full 42% of companies don't survey their customers or collect feedback.
Once you understand what customers need, it becomes relatively easy to provide those features in your product. It also becomes relatively easy to retain customers — since they won't have to go elsewhere when you're doing what they expect from you.
So yes, feedback is crucial. But the question is how do you get it? For answers, I've collated how ten top brands effectively get customer feedback so you can learn from them.
1- SiteGround
SiteGround is one of the most popular webhost providers on the Internet. They've won several awards, from Best Hosting Support to Hosting Uptime Award to Best Shared Hosting.
But the brand doesn't seem to let its success go to its head. It prioritizes the value of customer feedback. SiteGround provides three different channels through which customers leave feedback 24/7: tickets, live chat and phone.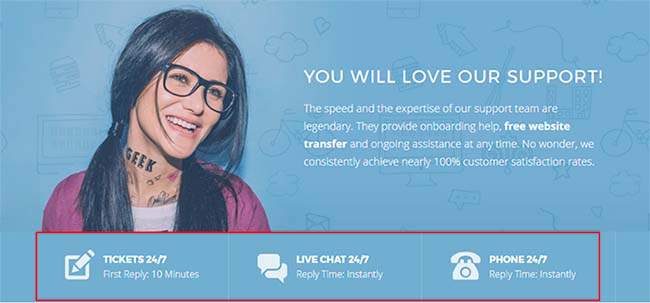 On top of these three customer feedback channels, the hosting service takes it further by asking users to rate each customer service rep that attends to them after a live chat. Once you finish chatting with a SiteGround rep and close the chat window, you'll be automatically redirected to a new window where you're asked rate your experience with the rep.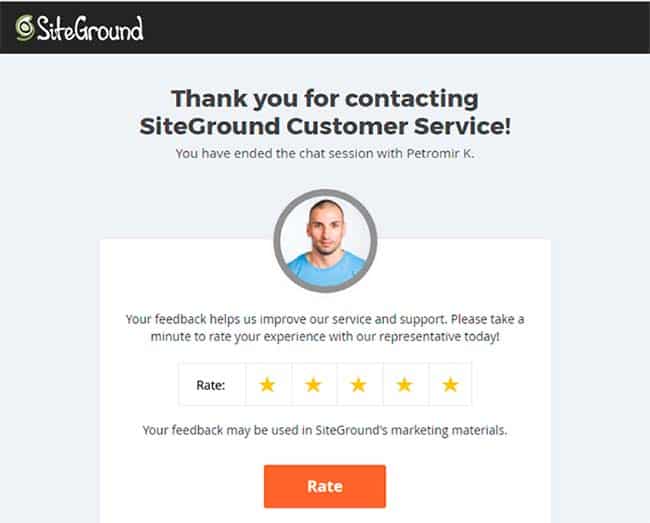 Once you rate the agent by tapping anywhere from one to five stars and clicking the Rate button, you're redirected to another window where you're asked to leave a review.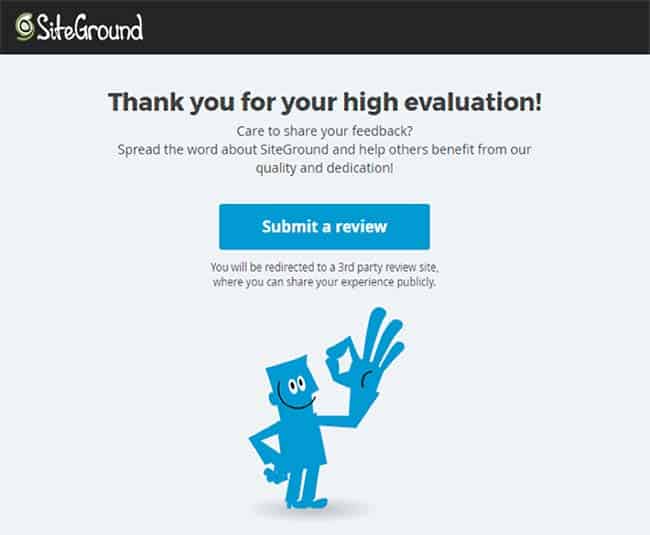 After clicking the Submit a review button, you'll be redirected to Yelp — a third party site where the feedback you submit is seen by other people looking for reviews about the brand.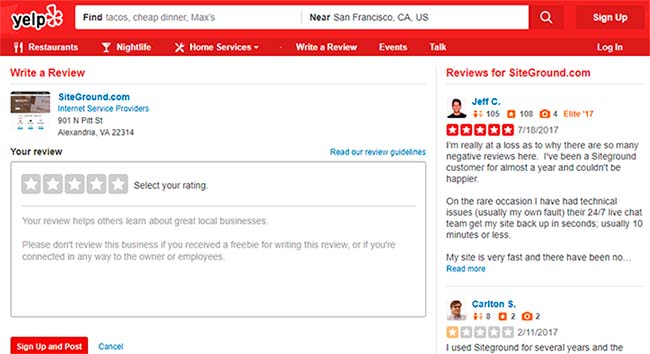 SiteGround is one of those businesses who see that customer feedback is as important as the business itself. And this is why they've made it super easy for their users to leave reviews about their brand and service.
2- Hyatt
Hyatt is a hotel that is well-known for delivering great customer experiences. They seem to always know what their users want when they want it. How do they do this? They've built their entire brand around customer feedback. Virtually every company that's been able to figure out most of their customer needs has a great feedback gathering process. And Hyatt is no different.
The multinational franchiser of hotels uses two main channels to collect feedback from customers:
Social media (Twitter and Instagram hashtags).
A feedback form on target pages on their site.
For (1) social media, they encourage customers to share their experiences with their hotels, resorts or vacation properties on Twitter and Instagram using any of their two hashtags — #WorldOfHyatt and #WorldOfunderstanding.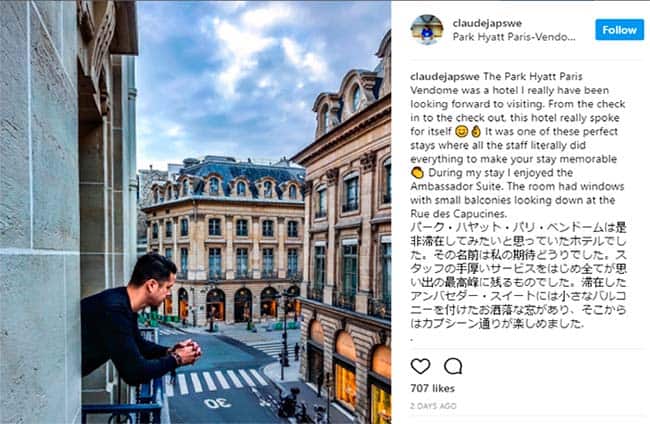 This is one easy way to get feedback because users already want to share their experiences with friends on social media when they visit interesting places like Hyatt hotels and resorts.
So it's a win-win for the brand and its consumers: customers share beautiful pictures of themselves in Hyatt's properties with their friends on social media and Hyatt gets the feedback (and publicity, too).
For (2) feedback forms on target pages on their site, Hyatt adds a special "feedback" button on their hotel reservation page (and even some other pages, too):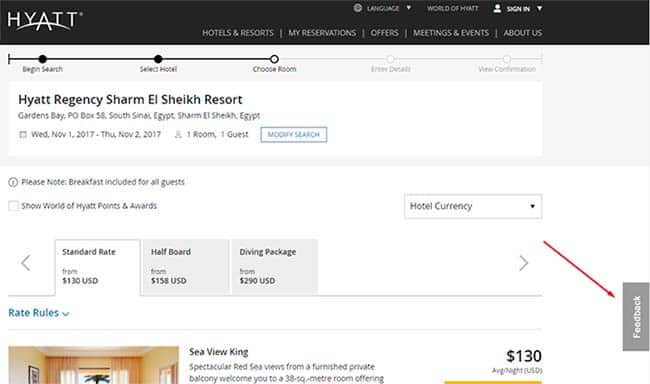 Once that button is clicked through, you get this box below (in the red square) where you can leave feedback about your experience with the brand: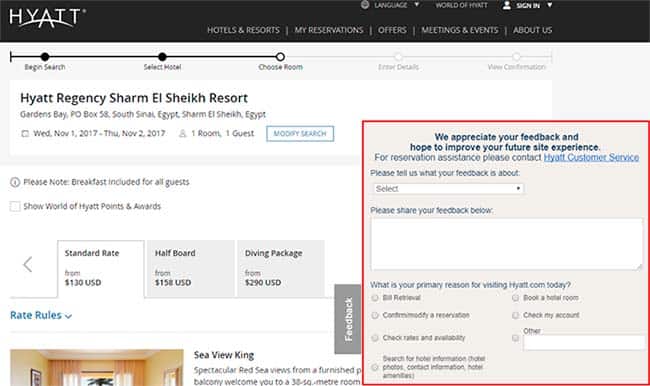 This way, Hyatt is collecting feedback from multiple sources and that plays a major role in how they seem to always be able to "figure out" who their customers are and what they want.
Read more on How Hyatt rebranded their business with customer feedback here.
3- UBER
One of the things Uber drivers are known for these days is how much they care about their ratings. This is because, if users (riders) keep rating them poorly, they get in trouble with the car sharing service.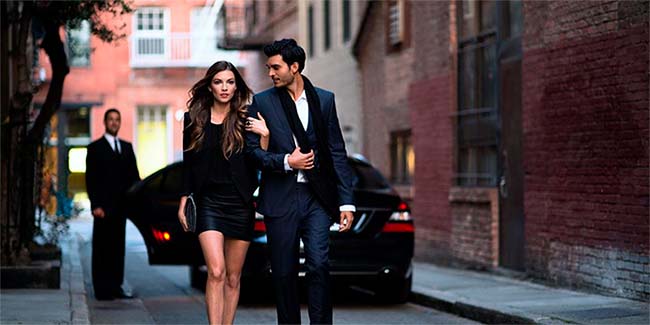 Uber has this on their website:
"Real-time feedback about drivers means Uber can correct for issues big and small – while ensuring that only the best drivers stay on the road. We take this feedback seriously – depending on the circumstances, rider feedback may lead to deactivating a partner from the system or serve as validation that the driver is providing great service."
So once Uber notices a certain driver has been getting too many downvotes from users, it penalizes the driver. In other words, feedback pretty much determines who drives (makes money) on Uber and who doesn't.
And they made it so easy for riders to leave the feedback: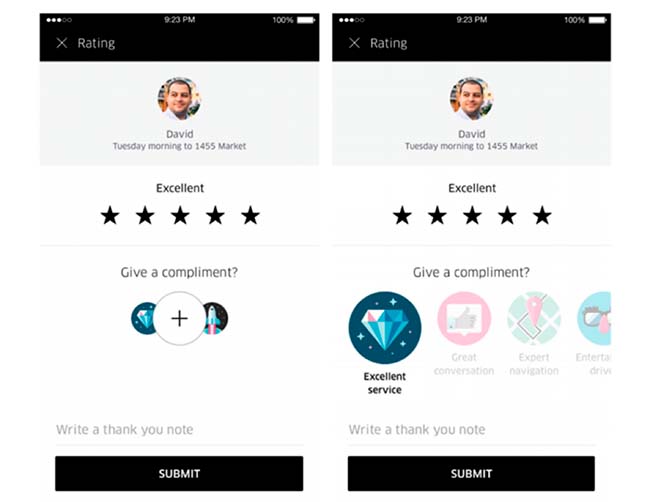 Image source: Techcrunch
With simple taps on the mobile app, you can rate a driver anywhere from zero to five stars, and even add comments if you have anything to say.
Like what you read? We've written a full post on How Uber delivers an excellent customer experience.
4- Dell
If there's a brand that once suffered majorly from a backlash due to the lack of gathering customer feedback, it's Dell.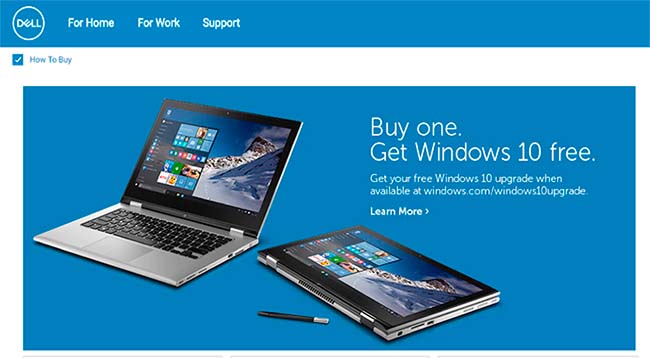 This giant computer brand had the whole internet against it when a dear user was dissatisfied by a Dell product. If they'd been listening to customers before they had an unhappy user turn on them, maybe they'd have been able avoid the unfortunate flack they received.
But of course, Dell learned from the situation.
Former Vice President of Global Services at Dell, Jan Uhrich, said: "We believe that through customer feedback, we are able to grow and evolve our solutions for increased efficiency and ever-better customer satisfaction. Consistent results across multiple categories exemplify Dell's dedication to putting customers first."
So how does Dell now collect feedback? IdeaStorm.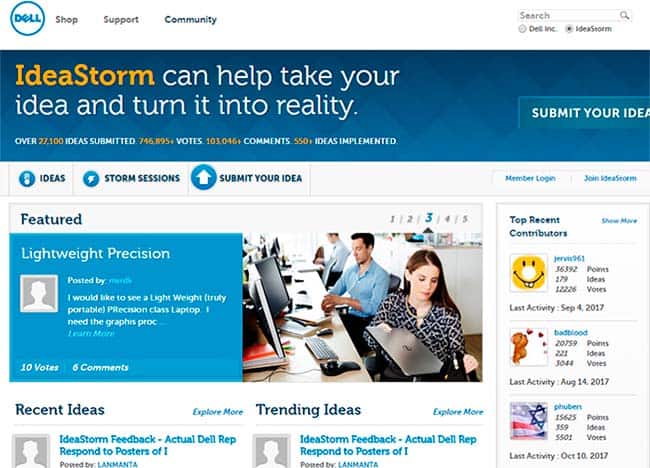 The computer giant began to take feedback so seriously that they built a separate website (IdeaStorm) just for Dell users to leave reviews and complaints. And reviews that get the most comments and votes from other Dell users on the forum become prioritized and taken more seriously by the company.
Read more on How Listening to Customers Helped Dell Leap from Worst to First.
5- Apple
Whether it's their watches, phones, desktops or laptops, Apple marketers operate like mind readers of their target audience. They keep releasing new versions of their products and customers don't seem to get tired of buying them. Why? Apple makes collecting feedback a major priority.
Steve Jobs once said:
"And one of the things I've always found is that — you've got to start with the customer experience and work backwards to the technology. You can't start with the technology and try to figure out where you're going to try to sell it. And I've made this mistake probably more than anybody else in this room. And I've got the scar tissue to prove it. And I know that it's the case."
So how does Apple collect feedback? One of their most visible customer feedback channels is the Net Promoter Score (NPS) system: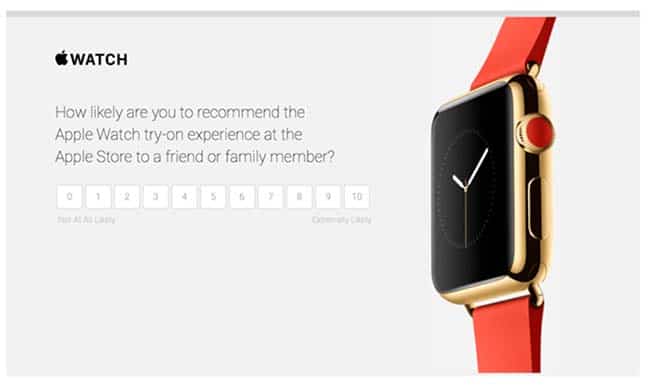 Image source: Hiver.
The NPS helps you ask customers the simple "How likely are you to recommend this business to a friend or colleague?" question. On the scale of one to ten, users who rate you anywhere from zero to six are not so likely to recommend you; they're called detractors. Those who rate you between seven to ten are more likely to recommend your business — these users are known as promoters.

Image source: Atlassian
If you get more promoters than detractors, your Net Promoter Score will be positive. And if your detractors are greater than promoters, you'll get a negative score. A positive NPS simply means most of your customers are happy with your business. But a negative score means you'll need to dig deeper and find out what you need to do to improve customer satisfaction.
You can read more about How Customer Feedback Surveys Helps Apple Maintains Industry Leadership here.
6- Timberland
Timberland is a huge footwear brand in the fashion industry.
There was a time the brand felt all they needed to know about their customers is that they are shoe lovers (and they are!). But after long years of a blurred product roadmap and unfocused marketing efforts, Timberland finally realized they needed to get closer to their customers and find out who they really were, above and beyond their adoration of shoes.
Former Brand President at Timberland, Stewart Whitney, said: "When you go after lots of consumers, with lots of messages, the odds are higher for a misfire…The fact that we didn't stand for anything distinctly meant we didn't really resonate."
So the brand decided customer feedback had to be a priority for them if they were ever going to be able to target a specific audience and boost revenue. Timberland then teamed up with global retailer VF Corp and collected customer feedback from 18,000 buyers in eight countries.
Now if you shop on the Timberland site, you're encouraged to write a review.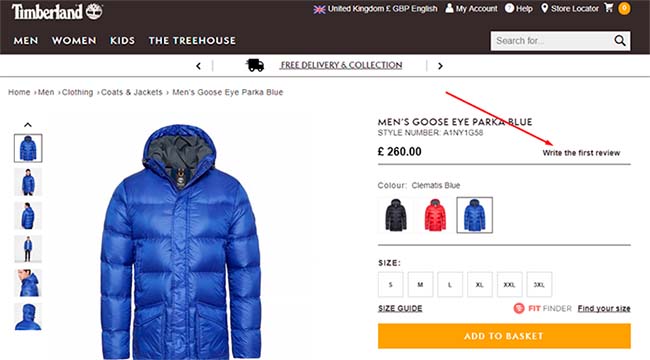 On top of that, Timberland also encourages customers to leave feedback via a button on the right side of most of their webpages: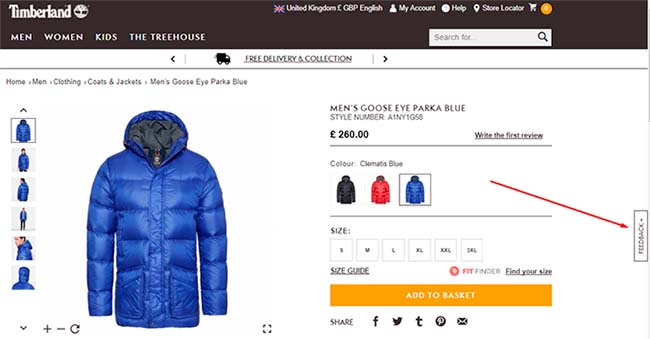 Once that button is clicked, you get redirected to a page where you're asked to submit customer feedback: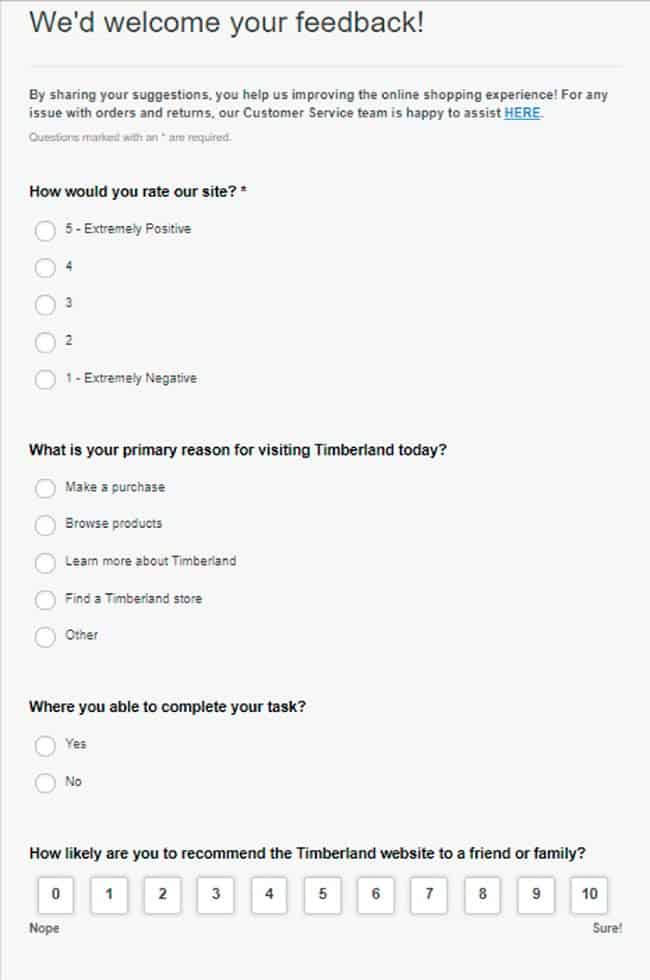 This way, Timberland has moved on from guessing what their customers need from their brand to actually finding out what they need by asking them.
Read more on How Customer Knowledge Got Timberland Back on Track.
7- Nordstrom
Top fashion retailer Nordstrom is another brand that is well-known for being up-to-date with the expectations of customers. And what's their secret formula for knowing what their customers need and when they need it?
You guessed right: customer feedback. Nordstrom uses quite a lot of their resources to gather data from their customers. One of the most notable customer feedback generation efforts for the brand is Innovation Lab.
They established this lab as a means for their employees to see what information their customers have provided so far, and encourage employee input on how Nordstrom can serve the public better using that information.
Data Scientist at Nordstrom Innovation Lab, Erin Shellman, puts it this way: "The goal of the Nordstrom Data Lab is to deliver data-driven products to inform business decisions internally, and to enhance customer experience externally."
Another notable feedback tool Nordstrom uses is a form that pops out right in the middle of your screen after you've spent some time on their site.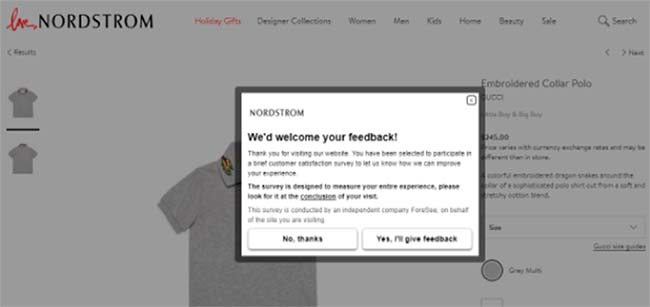 Through these means, the fashion brand is able to seamlessly collect information from customers and react accordingly to keep satisfying them.
Learn more on How Customer Satisfaction ranks Nordstrom at the top of its industry.
8- Deezer
After Spotify, Deezer is arguably the most popular music streaming site today. The company launched in 2007 and now has over 16 million active listeners, about 5 million of whom pay for access to an impressive catalog of over 35 million songs.
But as virtually every brand out there has started catching up with the customer feedback trend — seeing the value in it, Deezer has also launched the Deezer Community to always be updated on what consumers are saying about them.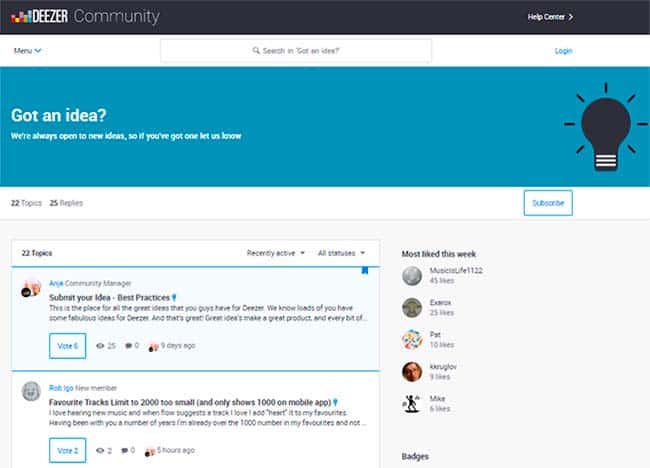 They created this community with the aim of having their users talk to one another about music and Deezer. It's a new development in their company that just launched about a week ago — October 30, 2017. In the news on their site, Deezer says:
"There's no better way to discover music than through other people. As the saying goes, the more we share the more we have. Whether you've first discovered music through your older brother's rap tapes, your mother's favorite radio station or your father's vinyls, the fact remains that music has so much more meaning when it is shared. This is why we've created the Deezer Community, so you can share your thoughts on music and find music lovers like you."
So for Deezer, starting a community where users and customers talk to one another is the way to go to keep up-to-date and savvy about what consumers are saying and thinking.
More info here: How customer centricity allows Deezer to boost subscriptions.
9- Best Buy
Best Buy is a giant consumer electronics company in America.
The uses a number of channels to collect feedback, but one that's really notable is how it rewards customers to write reviews about its brand and products. Once you purchase an item on their site and leave a review, you get rewarded with bonus points.

Every customer who writes a review scores 25 bonus points which can be redeemed when they're next making purchases on Best Buy. The concept works for customers who think, "Why don't I just write the review and earn free money?" And who doesn't like freebies?
Want more info? Read more on How Customer Feedback Helped Best Buy Reinvent Itself
10- Starbucks
American Coffeehouse chain Starbucks launched My Starbucks Idea back in 2008 — when the company decided they needed to really start listening to customers. In that year alone, they got over 70,000 responses from customers and over 190,000 by 2015 (according to Waterloo).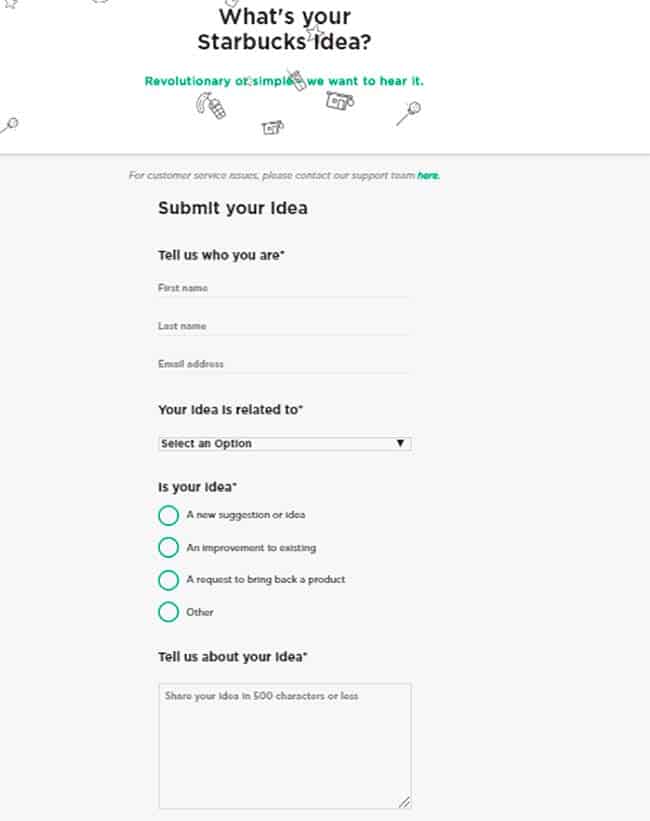 The company's ability to successfully use technology to engage with customers has added value to the company. It has created a robust and loyal consumer following, giving customers a place to voice ideas and the company a place to directly respond.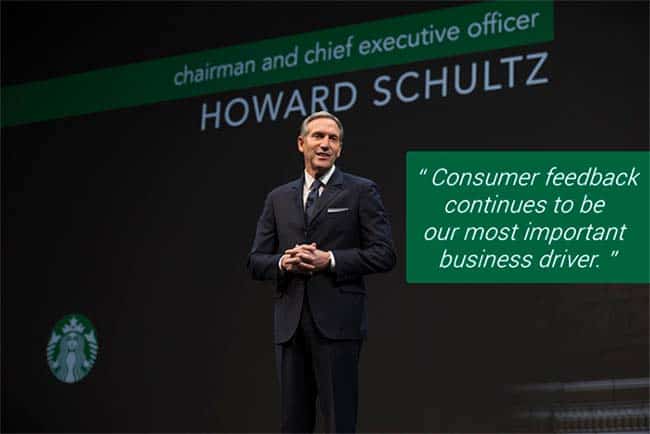 This way, Starbucks collects ideas and feedback from its customers and act on the ones that really matter.
Now let's put them all together
What customers want more than anything is total convenience.
That's one lesson you should draw from all the brands above. Make your feedback collection process as easy as pie. You've seen how every brand above uses the following tools to make it easy for users to leave feedback:
Feedback buttons on specific pages
Pop-up customer feedback forms
Loyalty programs
Net Promoter Score (NPS)
Social media hashtags
Automatic redirects to new windows encouraging customers to leave feedback
Automatic redirects to Yelp (the third party review site) asking for feedback
Communities/forums and dedicated customer feedback sites
All these are about making it easy for the customer to leave feedback. And a tool like Skeepers can be a great help here. It has features in place to help you easily collect customer feedback and turn them into business opportunities for your organization. Feel free to get a demo and see how it works here.