UGC (User-Generated Content) and influencer marketing are the new fields of expression for brands today.  But should brands start creating all kinds of UGC in 2022? And how can UGC complement influencer marketing? 92% of marketers believe that the majority of brand content they create is perceived as authentic by their audience… Yet, 51% of...
UGC (User-Generated Content) and influencer marketing are the new fields of expression for brands today.
But should brands start creating all kinds of UGC in 2022? And how can UGC complement influencer marketing?
92% of marketers believe that the majority of brand content they create is perceived as authentic by their audience… Yet, 51% of consumers believe that less than half of brand content is authentic. (source: Stackla UGC Report 2021)
There is a real gap between marketers' and consumers' perceptions. UGC can bridge this gap by offering authenticity, which is essential in the brand-consumer relationship.
Customers want brands to be more transparent and authentic. And 85% of consumers report that User Generated Content influences their decision more than brand content.
The data for influencer marketing speaks volumes too: 88% of consumers have already been inspired by an influencer to make a purchase, and 90% of marketers believe that influence is an extraordinary lever for brand awareness. (Sources: Rakuten and Influencer Marketing Hub)
It's important to differentiate between different types of influencers when discussing influencer marketing:
>100k subscribers: macro influencers
Between 5k and 100k subscribers: micro influencers
<5k subscribers: nano influencers
Macro influencers are useful for quick visibility in a one-off campaign, for example. Micro and nano influencers, on the other hand, are recognized for their authenticity and genuineness.
UGC and influencer marketing guarantee credibility and reassurance and are a source of valuable marketing insights.
Influencers and UGC are often discussed separately, but they are actually complementary in terms of traffic generation, visibility and conversion on product pages.
Which is something to think about for your content strategy!
In this article, we'll take a look at two concrete examples to explore the use of UGC in terms of influencer marketing and UGV (User Generated Videos).

Photoweb Case Study
Context
The brand primarily targets moms between 30 and 45 years old, who like lifestyle products, such as photo books, decorative objects, mugs, trays, etc.
The brand has collected more than 800 UGC in 3 years thanks to influencer marketing, focusing its strategy on generating qualitative and inspiring content.
This authentic content is a real growth driver and appreciated by consumers. It is also a guarantee of inspiration and credibility.
Results
Between January and April 2021, Photoweb conducted 14 marketing campaigns, resulting in over 130 posts.
These posts reached 874,000 Instagram followers and achieved an engagement rate of 7%.
Good to know: the engagement rate is used to measure the customer commitment to a brand on social media, blogs and videos.
The two posts with the best statistics during this campaign were both made by micro-influencers. Record engagement rates were recorded: 26% for the first and 17% for the second, with more than 1,400 likes for each one.
The Best Practices Put in Place
1 – Focus on authenticity: the photo needs to look good but, above all else, it should be natural, with a background setting. The idea is to make the product come alive through the content. For example, the brand asks influencers to hang frames and pictures, in order to present the product as an everyday object that fits into the decor.
2 – Enhance the human and emotional aspect in posts: people interacting with the product (a child, a father for Father's Day) enables users to identify with the influencer. This adds an emotional aspect to the staging that makes the post more genuine.
3 – It is in a company's best interest to create campaigns with influencers who share the company's values. They carry the brand's message and must therefore reflect the company's identity. It's better to activate influencers with small, committed communities that reflect the brand, rather than influencers with lots of followers that you don't recognize yourself in. (Note that collaborating with macro-influencers can be worthwhile, but again, this depends on the brand's objectives.)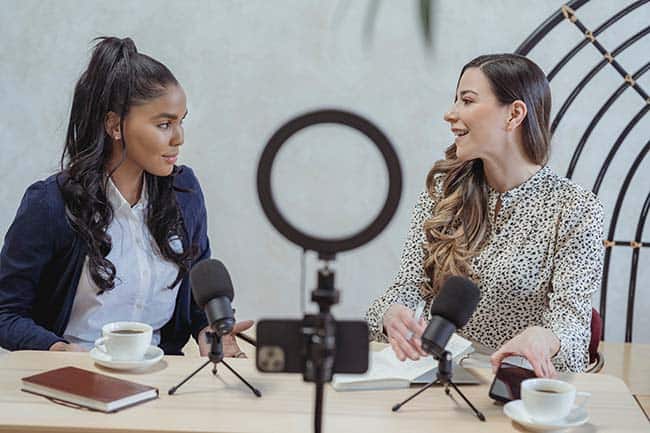 Carter Cash Case Study
Context
Carter Cash is a network of stores and an e-commerce site that offers car products and workshop maintenance services at competitive prices. In other words, a low cost company that defends three values: simple, nice and sincere.
The brand had three objectives:
1st objective: ROI – how to optimize the product pages to guide consumers in their purchases.
2nd objective: the e-commerce site is young, and the audience is not necessarily digital, so humanizing the experience, to make it similar to an in-store experience, was a key issue for Carter Cash.
3rd objective: accelerate on video to enrich their site, networks and newsletters. Video is expensive and time-consuming, and Carter Cash did not have the internal resources to industrialize it… hence the consumer videos.
Results
133 videos created
Carter Cash leveraged the videos created by customers on the product pages, as well as in its newsletter and social media
+27% conversion rate
The products sold by Carter Cash are not expensive. The brand assumed that customers wouldn't take the time to create content… But they did! Passionate customers – true ambassadors – went beyond the initial request (to present the product) and produced mini-tutorials themselves, which the brand was then able to reuse on YouTube.
The proof of this success: sales of products under 2 euros have boomed!
Moreover, customers creating videos and testing products are honest. If a product is average and needs to be improved, they say so.
Customers may also bring up issues that the brand hadn't identified, providing buyers with valuable insights.
To conclude, let's take a look at our best practices for UGC and Influencer Marketing.
Best Practices for Creating a UGC Video that Converts:
1/ Tell a story: humanize the content and the message, introduce the consumer by name, etc.
2/ Qualitative: pay attention to the light, stabilization, framing, etc.
3/ Answer real customer questions: for example, use the FAQ to determine the questions. Customers also appreciate user tips.
4/ Keep it short: if the video is going to be included on a product page, it must be short (1min30). This of course can be longer, or shorter, depending on the product being presented.
5/ Subtitled: in social shopping, 85% of content is viewed without sound. Customers must be able to watch the video without audio.
6/ Be authentic: at this stage of the buying process, Internet users do not want advertising, which is intended to generate interest and traffic. Once they reach the product page, you need to be reassuring and convincing. For example, by showing the product being used in real conditions.
7/ Call to action: Although this isn't necessary for product page videos, your social media videos should call to action and direct to e-commerce sites or include a "add to basket" button.
Best Practices: How to Value UGC Created by Influencers and Consumers
1 – Determine the type of content you're looking for: User Generated Content is produced by your users or customers. But it's up to you to organize and manage the production of this content and to therefore determine the type of content you want:
UGC format: Video? Photo? Text? If you choose video: a classic video? Instagram/Facebook story? TikTok?
UGC content: product tutorials? Product demos? Feedback? Idea sharing? Inspirational content?
2 – Set objectives and measure your results. As with any strategy, it is essential to identify your clear and concise objectives. During an influencer campaign, increase your changes of success by setting one objective per campaign. As for the results, analyze them at the beginning of the campaign to improve it as you go along.
3 – Let your influencers and consumers get creative: choose the right influencers, based their editorial style, and trust them. They know their followers inside out, how to reach them and what they expect.
Always ask for permission to use content. You need to obtain informed consent. There are copyright issues and image rights to consider, especially if your users appear in UGC photos or videos.
4 – Give Your Communities a Good Reason to Take Part
A financial reward, such as a voucher or discount on a product or range of products.
A product prize. You could give participants the products they try out for free.
Free access to a premium service.
An invitation to an event. Give them an experience!
Membership for a "VIP" loyalty program or an ambassador program.
Loyalty points for customers who are members of your loyalty program.
5 – Reach your audience. It is imperative to analyze your audience to know which network you can reach them on. For example, a young audience can mainly be found on TikTok, so invest in this network if you want to reach them.
7 – Thank your creators. This might seem obvious, but it's a sign of trust. To successfully run influencer campaigns or maintain a link with your consumers, it is essential to listen to them, take care of them and send personalized gifts to build a solid relationship. This is the first step towards turning consumers or influencers into brand ambassadors.
Want to take your content strategy to the next level and find out how SKEEPERS solutions can help you leverage UGC and influencer marketing?