Brands are more and more aware of the benefits of UGC – User Generated Content, i.e. content produced by customers or users (videos, reviews, photos, etc.). Which is great news! UGC is an excellent complement to content produced by brands themselves (brand content). Communicating is no longer enough, it's important that brands give their communities a voice...
Brands are more and more aware of the benefits of UGC – User Generated Content, i.e. content produced by customers or users (videos, reviews, photos, etc.).
Which is great news! UGC is an excellent complement to content produced by brands themselves (brand content). Communicating is no longer enough, it's important that brands give their communities a voice too.
Do you want to encourage your communities to produce content about your brands and products? To give your communication strategy a new dimension by deploying UGC? Then, read on for our 7 golden rules for a well-defined and successful user-generated content programme.
1 – User Generated Content: Determine the Type of Content You Want
User-generated content is content produced by your users or customers. But you are still the one to organise and manage the production of this content. You therefore need to determine the type of content you're looking for.
UGC is always directly or indirectly about the brand, its products and services. It is content in which users share their experience and relationship with the brand and its products.
This opens up a huge range of possibilities! The next step is therefore to determine:
UGC format: Video? Photo? Text? If you opt for video: classic videos? Instagram/Facebook stories? Tiktok videos?
UGC content: product tutorials? Product demos? Feedback? Ideas? Inspiring content?
UGC can be anything from a user-produced video with a product review, or a photo of a customer wearing an item of clothing and shared on the brand's website. Or even a comment posted on your product pages or social media!
There are lots of different formats and contents to explore… The first golden rule is to define the type of content you want and to frame your goals. This is the starting point for any project… And it also applies to UGC.
2 – User Generated Content: Always Ask for Permission to Use Content
Let's take an example. You manage an e-commerce site, and you want your customers to create videos in which they share reviews about your products. To ensure that you get positive feedback, you get your best customers involved.
Once the videos have been made, you publish them directly on your website's product page, YouTube channel or social media. Well done, that's a great initiative!
You could also use a solution such as Teester, that enables you to manage this entire process, from enlisting customers to take part, to deploying the videos, as well as step-by-step customer support and post-production video editing.
The UGC production process as described above is the result of a collaborative effort, a co-production. The brand provides support and helps its users create the content.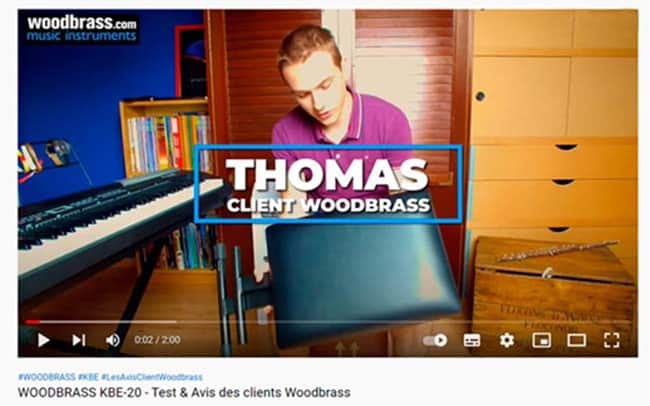 But don't forget that your customers are the real content creators. This is true for all UGC formats: video, photo, text, etc.
So, don't forget to ask your users for permission to publish their content. Make sure to obtain their informed consent. There are copyright issues to consider. If your users appear in UGC photos or videos, you also need to take image rights into account.
We recommend being very open with your user-participants and to explain what you plan on doing with the content they create. This information should be provided during the recruitment phase. Don't wait for your users to create the content before asking for permission to deploy it.
3 – User Generated Content: Give Your Communities a Good Reason to Take Part
Customers need a good reason to create content. You're asking them for their time and personal investment. What do you plan on giving them for taking part in your UGC programme? You need to offer something in return.
There are several ways to reward users, as you would for a classic ambassador programme:
A financial incentive, such as a voucher or discount on a product or range of products.
A product prize. You could give participants the products they try out for free, like Petit Bateau (see below).
Free access to a premium service.
An invitation to an event.
Membership for a "VIP" loyalty programme.
Loyalty points for customers who are members of your loyalty programme.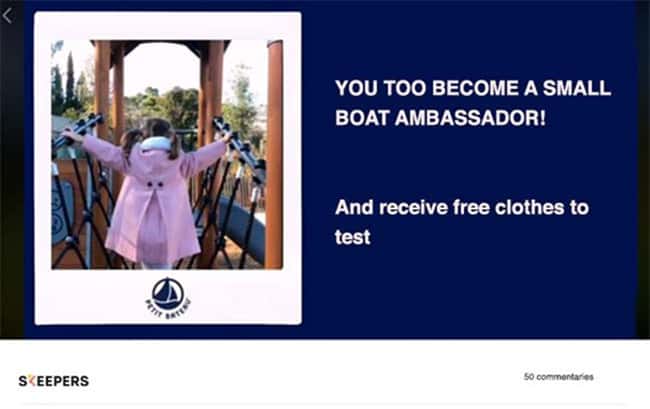 You could also offer and promote non-tangible rewards. Taking part in User Generated Content allows users to gain visibility, whether on the brand's website or social media networks. This may appeal to some customers, particularly younger ones.
The tangible/non-tangible rewards on offer will influence the number of participants in your UGC programme and therefore the volume of quality content created by your users.
4 – User Generated Content: Provide a Framework but Allow Your Communities to Express Themselves
User-generated content is the fruit of a collaboration between a brand and its users and customers, as mentioned above with the UGC Video and Teester platform example, which allows to manage the coproduction of User Generated Content videos.
Although users have the leading role, the brand should be there to oversee and help with the content production process:
By sharing good advice.
By providing guidelines and briefing participants.
If you want photos of your customers using your products, then make sure to give them some guidance, because there are lots of ways to take a photo! The same goes for textual UGC. How many words should the reviews be?
These guidelines and tips will ensure that your UGC is consistent.
However, although it's important to brief your users and participating customers, you shouldn't stifle them. Let your users be creative and spontaneous. Afterall, that's what makes user-generated content so rich. Give good advice, but don't be pushy. Let your users express themselves. Provide them with the frame, the canvas, and why not the paint, but let your users do the painting.
5 – User Generated Content: Communicate With Your Audience
Where are you planning on releasing your User-Generated Content? We recommend thinking about this question at the project scoping phase. It's an important question with consequences. Why? Because the deployment channel often impacts the format, length and type of content you want to create.
The rule is simple: deploy your UGC on the channels used by your customers and target audience. We would even recommend activating all the channels available, which is the best way to engage with as many customers as possible!
If you want to start creating UGC videos for example, we recommend deploying them on your website, YouTube and any social media you have a presence on.
6 – Set Your Goals and Measure Your Results
It's important to measure the impact of any operations you implement. If you want to manage the production of user-generated content, you need to define the performance management indicators at the project scoping phase.
But you can only define the indicators after formulating your goals. So, we recommend taking the time to define your objectives and then building the KPIs associated with these goals.
Here are a few examples of objectives that a UGC production campaign can be used for:
Generate brand engagement. The KPI associated with this objective: visibility and engagement on social media.
Improve conversion and sales with community content. KPI: impact of UGC on conversion rates, additional sales, etc.
Accelerate the creation of content. In this case, the KPI could be the volume of UGC created.
7 – Thank Your Creators
Users who volunteer their time to produce content that you can use to engage your community and possibly acquire new customers, are creators. Remember to thank them, whether by tagging them on social media, sending a thank you email, etc. Make sure that your ambassadors feel valued, to keep them engaged over time. These customers or users have given you a lot, so nurture the relationship. This is the best way to build loyalty.
So, there you have it! Now you know the 7 golden rules for successfully engaging customers to create User-Generated Content. Have fun!
If you are interested in our solutions, contact us and improve your ecommerce!