MyFeelBack has recently launched a native connector with Trustpilot, the famous online customer review platform. What can be gained by connecting these two Feedback Management solutions? Discover the benefits of a MyFeelBack and Trustpilot integration. 
MyFeelBack & Truspilot: two different, yet complementary, customer feedback solutions
MyFeelBack and Trustpilot have one thing in common: they both provide a solution to collect customer feedback. Both are Feedback Management platforms.
Trustpilot, the online review leader 
You have probably already heard of Trustpilot. In fact, everyone knows Trustpilot… thanks to Google. When you are looking for a brand or company review, Trustpilot is always among the first results. For example, if you type "Dior reviews" in the Google search bar, this is what will appear: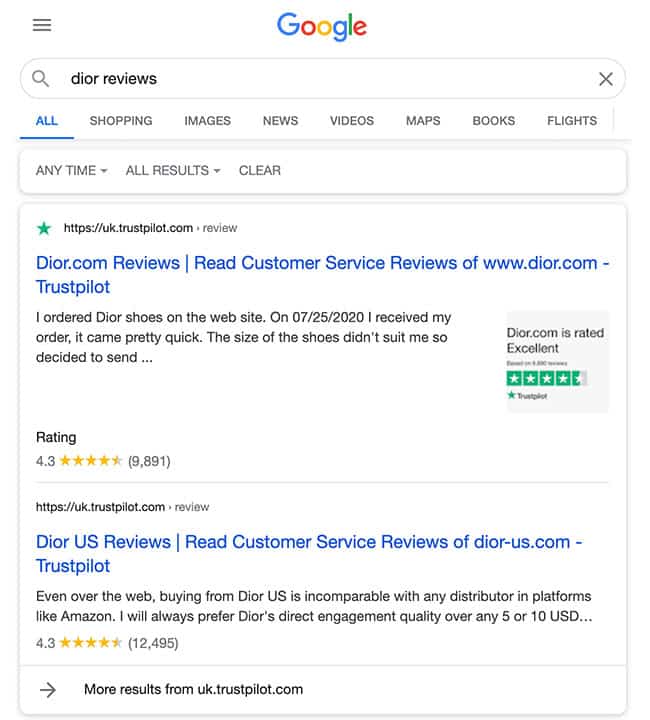 The Trustpilot review page is the first natural result offered by Google. This excellent SEO positioning makes Trustpilot a key player. The two following figures bear witness to the platform's overwhelming success: Trustpilot rates over 330 000 companies in the world and includes nearly 75 million reviews.
When you click on a Trustpilot link on Google, you are directed to a page that looks like this: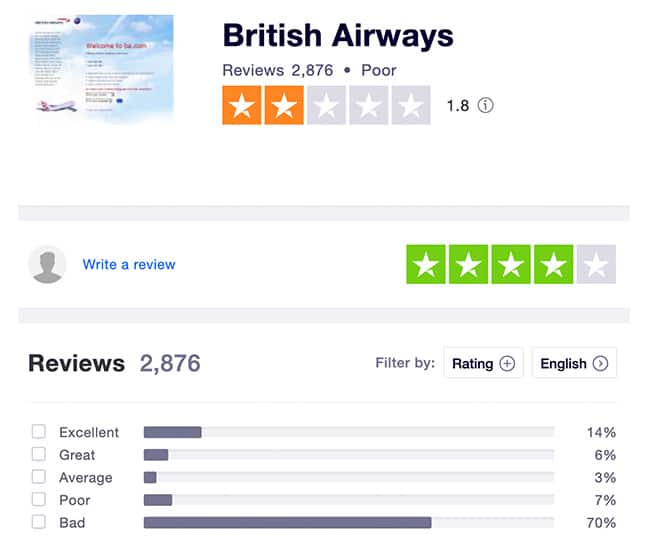 Trustpilot enables users to rate a brand by attributing a score from 1 to 5. An overall satisfaction score is calculated from the average of all these ratings. In marketing terms, this is what is referred to as the Customer Satisfaction Score or CSAT. Trustpilot reviews stem from two sources: organic reviews (written by anybody via their Facebook or Gmail account) and verified reviews (written by a company's customers). This allows to avoid fake reviews and also to collect verified reviews.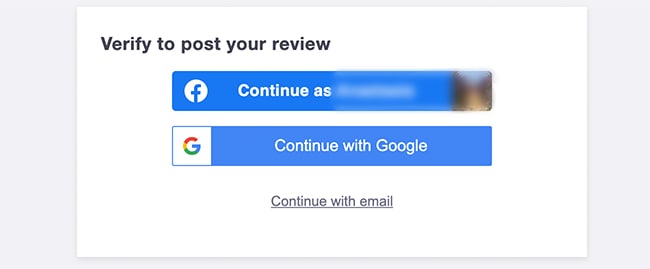 You may have noticed that Trustpilot users often post very critical reviews. The overall ratings are often poor, rarely exceeding 2 out of 5. Why? There is a very simple reason… Which leads us back to the object of this article; the powerful synergy between MyFeelBack and Trustpilot. But first, let's take a look at the impact of Trustpilot and e-reputation. 
Why are Trustpilot ratings often bad? 
For any brand, a bad rating on Trustpilot is problematic in terms of e-reputation and image. Everyone knows the importance of recommendations in the buying decision, and on the other hand, the dissuasive role played by negative reviews.
According to a famous Nielsen study:
92% of customers trust recommendations from friends and family.
70% of customers trust reviews posted online by users they do not know.
Lots of people choose to read online reviews before buying a product.
And most of these people use Google. We mentioned above that Trustpilot reviews generally appear at the top of the list of results. The reviews posted on a company's Trustpilot page can therefore considerably impact your e-reputation and, as a result, your revenue.
But let us come back to our earlier question: why do Trustpilot user ratings tend to be so poor? The answer is simple, as explained below:
Unhappy customers tend to be more vocal than satisfied customers
Several studies have showed that a dissatisfied customer is two to three times more likely to express their discontentment than their satisfaction. Which explains why ratings rarely exceed 3 out of 5!
Now let's take a look at how a MyFeelBack & Trustpilot integration can help solve this psychological bias. 
To take things further, discover how to deal with dissatisfied customers
The benefits of integrating MyFeelBack & Trustpilot 
Below are the main reasons to integrate the two platforms:
Give all customers a voice (critics, neutrals and promoters) 
MyFeelBack allows to create satisfaction surveys and deploy them, in a targeted manner, on multiple channels. The main difference between MyFeelBack and Trustpilot lies in the fact that:
When you use MyFeelBack, you ask the customer for their opinion, via a survey. You are the one contacting your customers to ask them for feedback.
On Trustpilot, online reviews are unsolicited, they are posted by users at their own initiative. The user is the one initiating the process.

Customers who write reviews on Trustpilot have generally not been contacted by the company beforehand. This is essential to bear in mind. A dissatisfied customer spontaneously posts a review on Trustpilot when:
The company has not listened to them.
The company has done nothing to remedy their dissatisfaction.
There is a direct link between these two points; a company's lack of initiative is the result of a lack of listening and customer knowledge. MyFeelBack helps companies implement active listening of the customer voice by:
Identifying different customer profiles: critics, neutrals or promoters. During the "cool down period", or, more importantly, immediately after an interaction (purchase, customer service contact, delivery, in-store presence, etc.), by sending the customer a survey.
Handling dissatisfied customers in a proactive manner. With MyFeelBack, for example, you can implement post-answer actions; if a customer expresses dissatisfaction on a survey, you can trigger a series of actions to deal with this dissatisfaction in real time (creating a support tool ticket, customer service call-back, etc.).
With MyFeelBack, you can therefore handle dissatisfaction and avoid any negative comments about your company. You can even generate satisfaction and positive comments about the quality of your customer service.
What can be achieved with a MyFeelBack and Trustpilot integration
Firstly, integrating these two platforms enables you to strengthen your customer voice strategy. The two solutions are complementary: 
MyFeelBack enables you to reach customers via various touchpoints – websites, email, SMS, social media, mobile apps, in store, etc. 
Trustpilot enables you to collect feedback from customers operating outside of your touchpoints, and who use Google.
This integration will enable you to collect a greater number of verified reviews from customers, thus widening your company's listening scope!
But this is not the most important reason. The two main advantages of combining MyFeelBack and Trustpilot are as follows: 
To encourage your customers to leave a review on Truspilot following a MyFeelBack survey. And more particularly satisfied customers… Integrating MyFeelBack & Trustpilot therefore allows incites your satisfied customers to express themselves and to correct the behavioural bias discussed above. Trustpilot reviews will then reflect a vision that is closer to reality. 
To reduce the number of negative reviews on Trustpilot by giving your customers a voice via surveys and treating the root of dissatisfaction.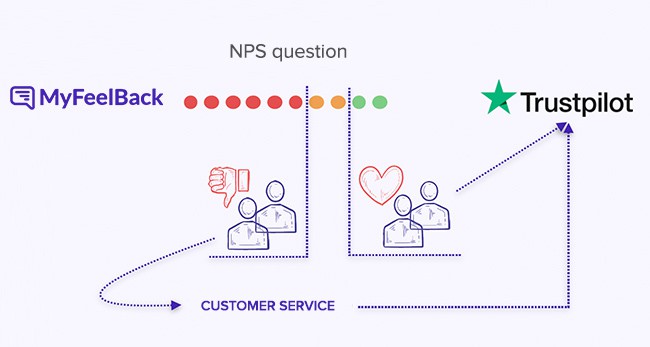 If your company already uses MyFeelBack and Trustpilot, all the more reason to connect the two platforms with our native connector! We hope to have convinced you of the benefits of this integration, both in terms of enriching your customer knowledge, and in terms of e-reputation.