When it comes to promoting a brand, Pinterest isn't the first channel that comes to mind. And yet, the platform is growing at an unprecedented rate and attracts users with a strong purchase intent. The good news is that it's possible to share videos on Pinterest. Pinterest offers a great opportunity to promote your brand...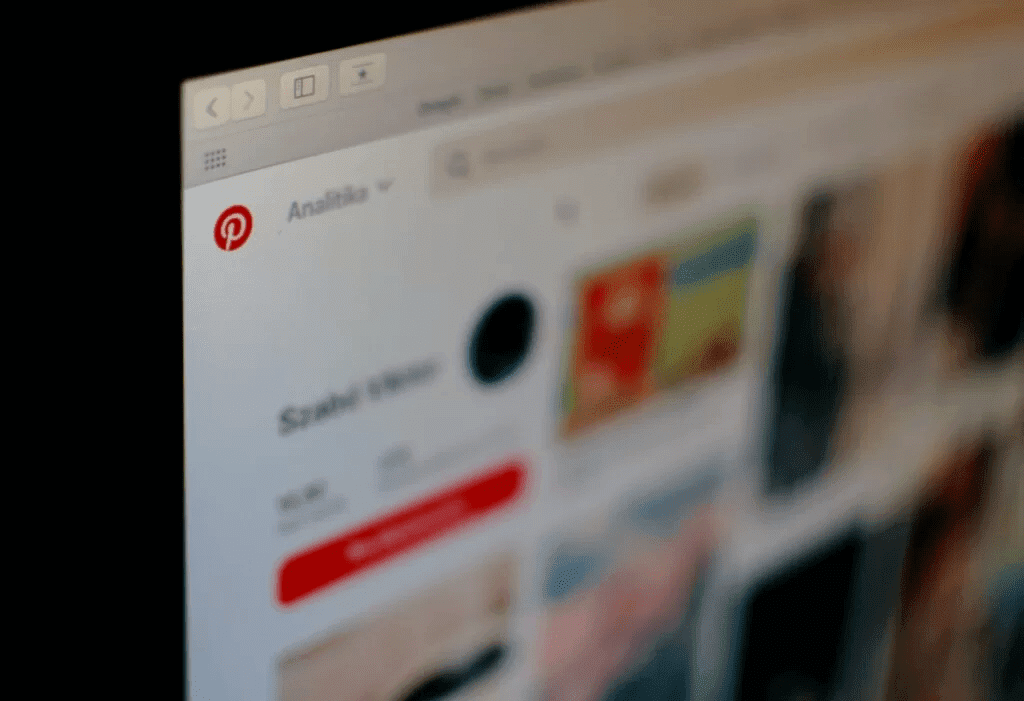 When it comes to promoting a brand, Pinterest isn't the first channel that comes to mind. And yet, the platform is growing at an unprecedented rate and attracts users with a strong purchase intent. The good news is that it's possible to share videos on Pinterest. Pinterest offers a great opportunity to promote your brand and products with user-generated videos.
In this article, we're going to look at:
Why now more than ever it's in your best interest to add Pinterest to your marketing strategy.
Why and how to create video pins.
A few examples of marketing videos shared on the platform.
— Why is Pinterest now a must for brands?
Numbers that speak for themselves
Pinterest isn't necessarily the first "social" brands think of for promoting user-generated videos or even just videos in general. But a few of the platform's statistics should make you sit up and take notice. First of all, Pinterest's audience. Made up of over 60% women, it is growing fast and now exceeds 400 million active users worldwide. At the moment, Gen Z and millennials are driving much of the user base growth. And more and more men are starting to use the platform.
But that's not all: Pinterest has also revealed some very interesting statistics on the profile of its French audience:
53% of French users report that Pinterest influences them when they're looking for a product.
58% of users in France have discovered new products or brands through Pinterest.
71% of users in mainland France use Pinterest to find inspiration for their next purchases.
Not only are there more and more Pinterest users, but these so-called "Pinners" also show strong buying intent. In most cases, people use Pinterest when they're actively searching for something. This makes Pinterest an important step in the buying journey for many French shoppers.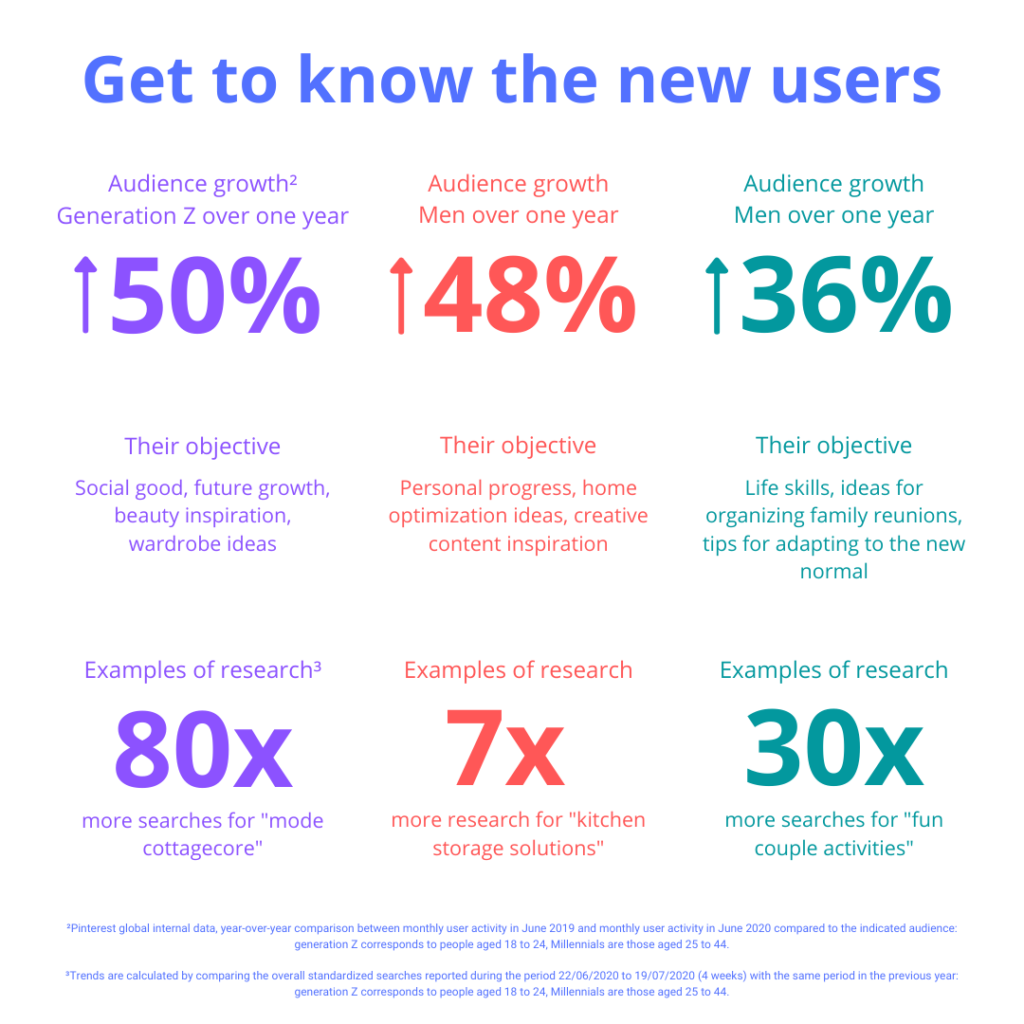 Here are two other interesting stats:
For all these reasons, Pinterest is increasingly becoming a go-to marketing channel. And more importantly, a great channel for getting user-generated video content out to a wide audience. But before we get to that, here's a quick refresher on how Pinterest works. If you're already a Pinterest wiz, you might want to skip over to the next part of the article.
Pinterest – social media for inspiration
Pinterest is often called a social media platform, but it's actually a search engine. It has more in common with Google than with Instagram, for example. Pinterest is a visual search engine. It allows its users to find answers to their questions… but visually, through pictures and videos, rather than textually.
Pinterest users visit the platform to find new ideas, new products, and new services. And actually, they don't always know exactly what they're looking for, so Pinterest is really there to offer inspiration. In a nutshell, let's say it's a search engine for visual inspiration. With Pinterest, you can connect (sometimes broad) ideas to images or videos, and discover trends, ideas or products you hadn't thought of.
Let's look at a very concrete example. Someone wants to create a disco atmosphere in their living room, but doesn't really have a clear idea of what that might look like, what furniture to use, what objects to buy, etc. This person will use Pinterest to find ideas for products and materials they could use to create what they're after. To do this, all they need to do is type "disco atmosphere" in the search bar.
Once you've found content that interests you, you can "pin" it to save it to a "board". Hence the name of the platform: Pinterest = Pin + interest. Boards allow you to organize your "pins" (pinned content) into themes.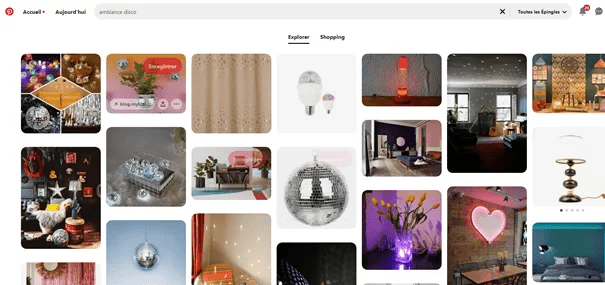 Pinterest is not just for finding, saving and organizing visual content into boards with different themes. On every pin there's a hyperlink for accessing the web page the image is from with one click. The destination page is very often a product page from which the product in question can be bought. So you can see how well Pinterest fits in to the shopping journey! As you can see, the hyperlink to the site is nice and visible. Unlike other socials, Pinterest doesn't try to make the user stay on the platform at any cost. This is a big plus for brands, because they can use Pinterest to drive more high-intent traffic to their website.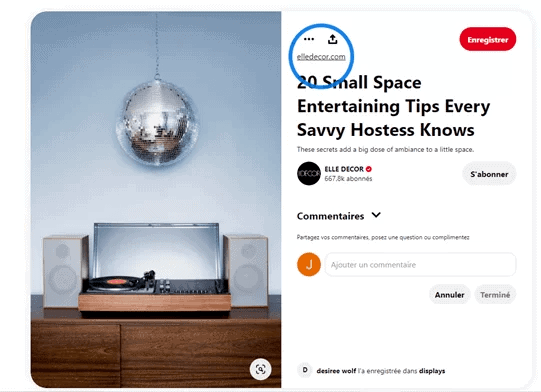 —  Great news: you can share your user-generated videos on Pinterest!
Social media marketing is relying more and more on video these days. Videos can now be posted on most social media platforms. Pinterest is no exception; there are more and more video pins popping up on there.
In fact, Pinterest is becoming a go-to platform for posting brand videos and user-generated videos.
But not just any videos, mind you. As we said earlier, Pinterest is a platform that helps its users find new ideas, inspiration and products. Videos shared on Pinterest have to tick those boxes. The best videos for Pinterest are:
Product videos, or in other words videos that present all aspects of a product, preferably in its environment and in context.
User-generated videos, where you can see people – your customers or employees, for example – using one of your products as part of a demo or tutorial. With these kinds of videos you can not only show off the product, but also explain how it works and what its features and benefits are.
In many cases, videos are more useful than photos for finding inspiration. There's a good reason why more and more users are actively searching for videos on search engines. Simply select the "video" parameter to filter the results and access the video pins associated with the search query.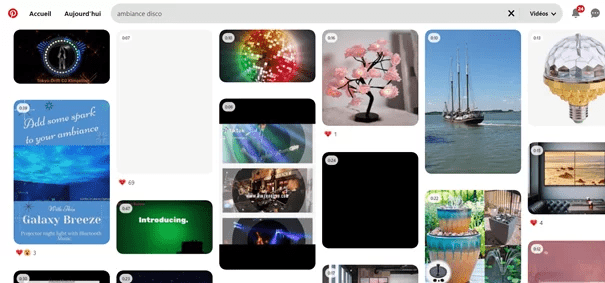 — A few rules and tips for uploading your user-generated videos on Pinterest
Here are Pinterest's main guidelines for video:
Three formats are supported: .mp4, .mov and .m4v.
The video file size should be no more than 2 Gb.
The video should be anywhere from 4 seconds to 15 minutes long.
The pin title should be no more than 100 characters long.
The text description for the video is limited to 500 characters.
And now, here are a few tips for successful video pins:
Choose an engaging cover image that immediately grabs your audience's attention and gives them an idea of what the video is about.
In terms of video length, the best performing videos are about 40 seconds long. People hardly ever watch really long videos all the way through.
Some users disable sound on videos. For this reason, you should focus on the visual aspect. In short: show, don't tell. Generally speaking, user-generated videos are great for this. Don't forget that you can add text into your videos.
Just a couple of final points before we present some examples of Pinterest videos:
As the name suggests, the "Pin scheduler" function lets you schedule the publication of your pins (images and videos). Pretty handy!
Video pins are eligible for sponsored content. That means you can use video to build your ad campaigns on Pinterest.
— Some examples of user-generated videos
To wrap up, here are some examples of video pins posted on Pinterest.
1 – Phildar
Phildar uses Teester to create and share the videos made by its sales teams and customers on Pinterest. For those of you who don't know, Phildar is a ready-to-wear and ready-to-knit brand selling yarn and knitting accessories among other things. It uses Pinterest to communicate with its customers and present its new collections.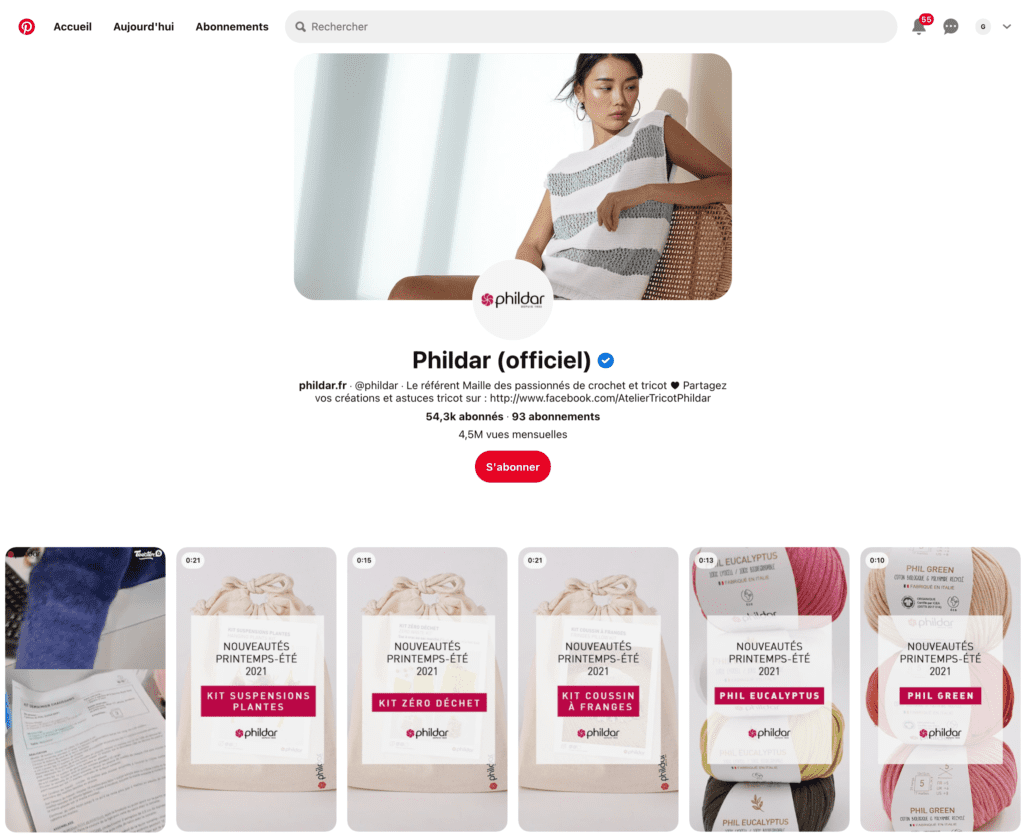 The videos are short; rarely more than 20 seconds long. It's easy, quick and effective. Even though Pinterest lets you share 15-minute long videos, we strongly recommend keeping them short. In this respect, Phildar's videos are inspiring. In a few seconds, they manage to successfully share information-rich content that makes people want to click through to the website.
2 – Chefclub
Chefclub shares recipes and cooking tips with a community that is now made up of tens of millions of people. Chefclub has banked on video from the start. On its Instagram account, the brand shares inspiring cooking-related content with high added value. This highly persuasive and contextualized content presents the products Chefclub sells in its online store. It's definitely worth taking a look at the many videos Chefclub shares on Pinterest, because they're very much a shining example of best practices for Pinterest videos.
3 – La Redoute
Some brands are more present on Pinterest than others. It really depends on each brand's marketing strategy, target audience… but also on the type of products being sold. Highly visual products are easier to share as a video or image. That's why brands selling home furnishings are usually on top of their game when it comes to video marketing. That's the case for La Redoute, for example, which publishes very professional videos to present and showcase its products. We invite you to take a look at this account and other major home decor brands, because the videos posted by players in this sector are often top-notch.
If we had to drill down to two take-aways, here they are:
Yes, Pinterest is a medium that should be used in marketing. Its growing influence and the quality of its users (high purchase intent) make Pinterest a channel you should seriously consider if you aren't already.
Yes, you can share your user-generated videos on Pinterest. Video pins are multiplying and users of the "visual search engine" that is Pinterest are particularly fond of them.
Teester can provide you with all the tools you need to produce all the great quality, professional-grade user-generated videos you need for Pinterest, with zero technical skill required on your end. If you're ready to get going with video on Pinterest, don't hesitate to contact us!