Consumer Videos
Turn your customers into brand ambassadors! With our SaaS solution, easily manage your consumer videos on a large scale, in an automated way. Collect, create and share authentic and high-quality videos, produced by your own community on a single platform.

An innovative solution that collects videos for you
Does creating videos sound complicated, expensive and time-consuming? Not anymore! Our solution enables you to automate the creation of brand ambassador videos and to share them. We adapt to your needs, and those of your customers, with a quick and easy online production process. 
We'll help you from the start of your campaign to choose the best video creators from your community.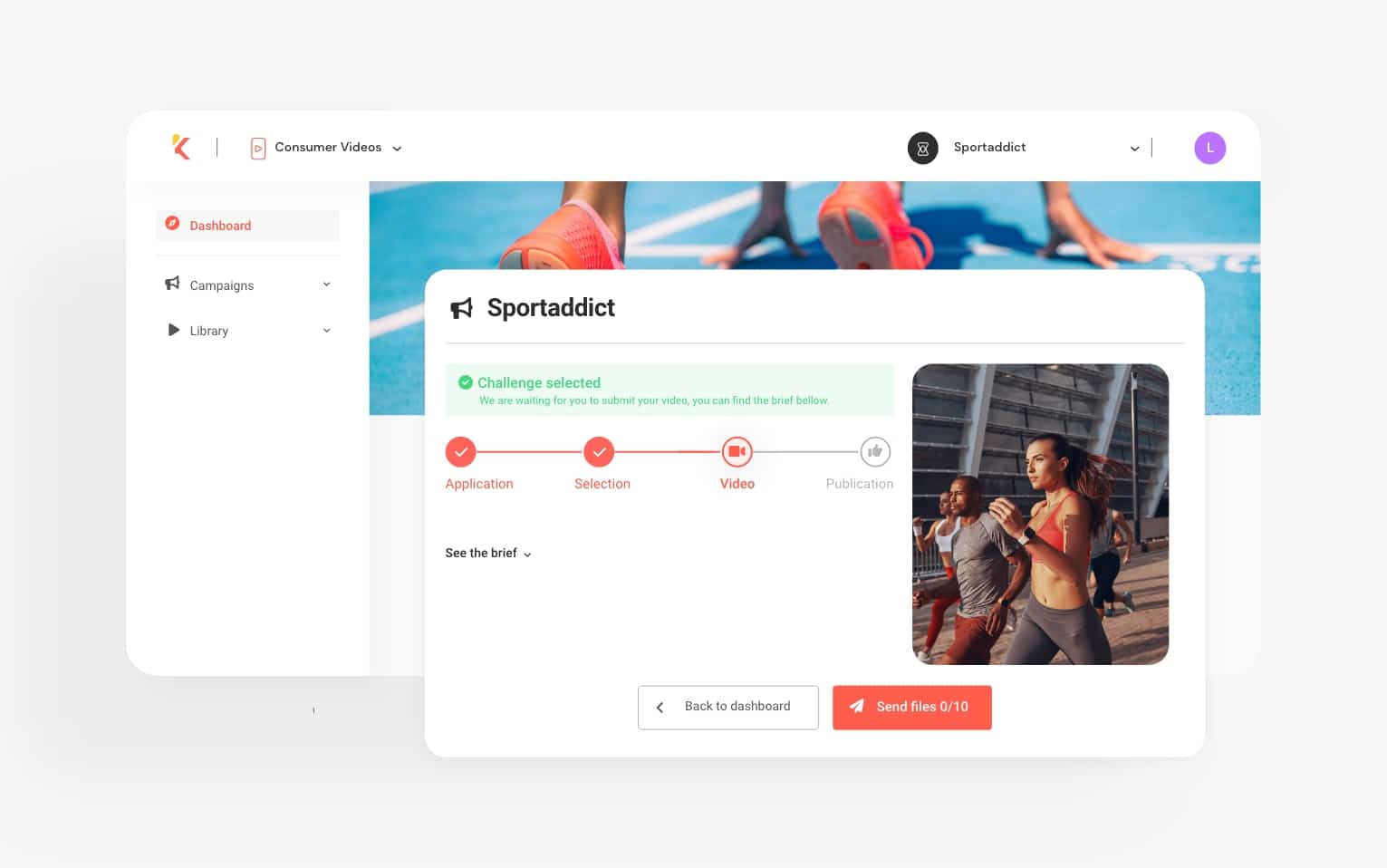 Tailor-made videos for your e-commerce site
Our video player was designed to boost engagement and sales, while improving the user experience, through engaging, authentic and personalized videos.  
Customize the design of your videos before adding them to your site to win over your visitors.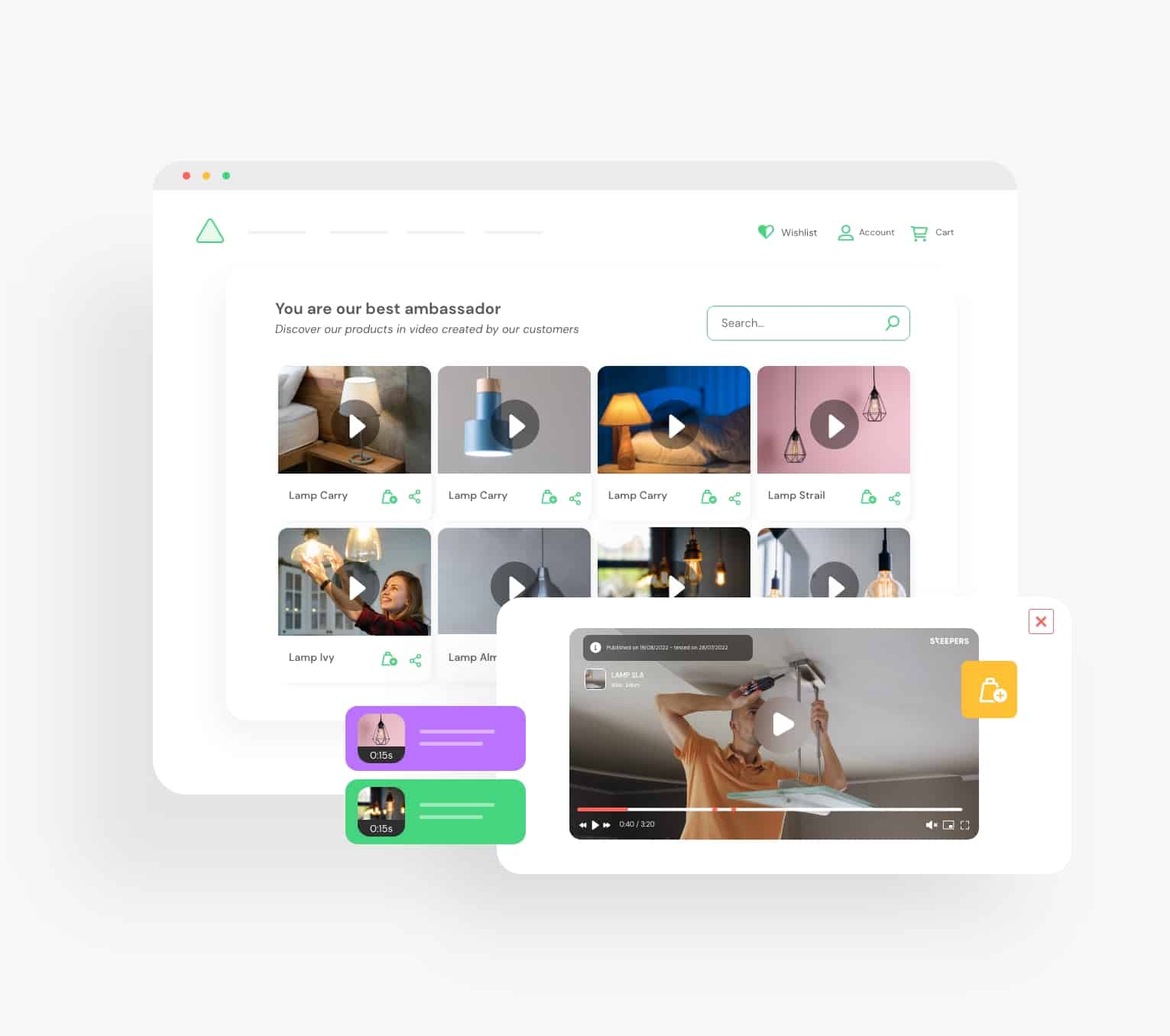 Automatically share on all communication channels
In addition to your e-commerce site, you can automatically share your consumer videos on all communication channels: social media, YouTube, newsletters, in-store screens, QR codes, etc. 
Want to inspire your customers and reinvent their shopping experience? Check out our interactive video gallery, integrated on your website, to immerse customers into your brand and product world!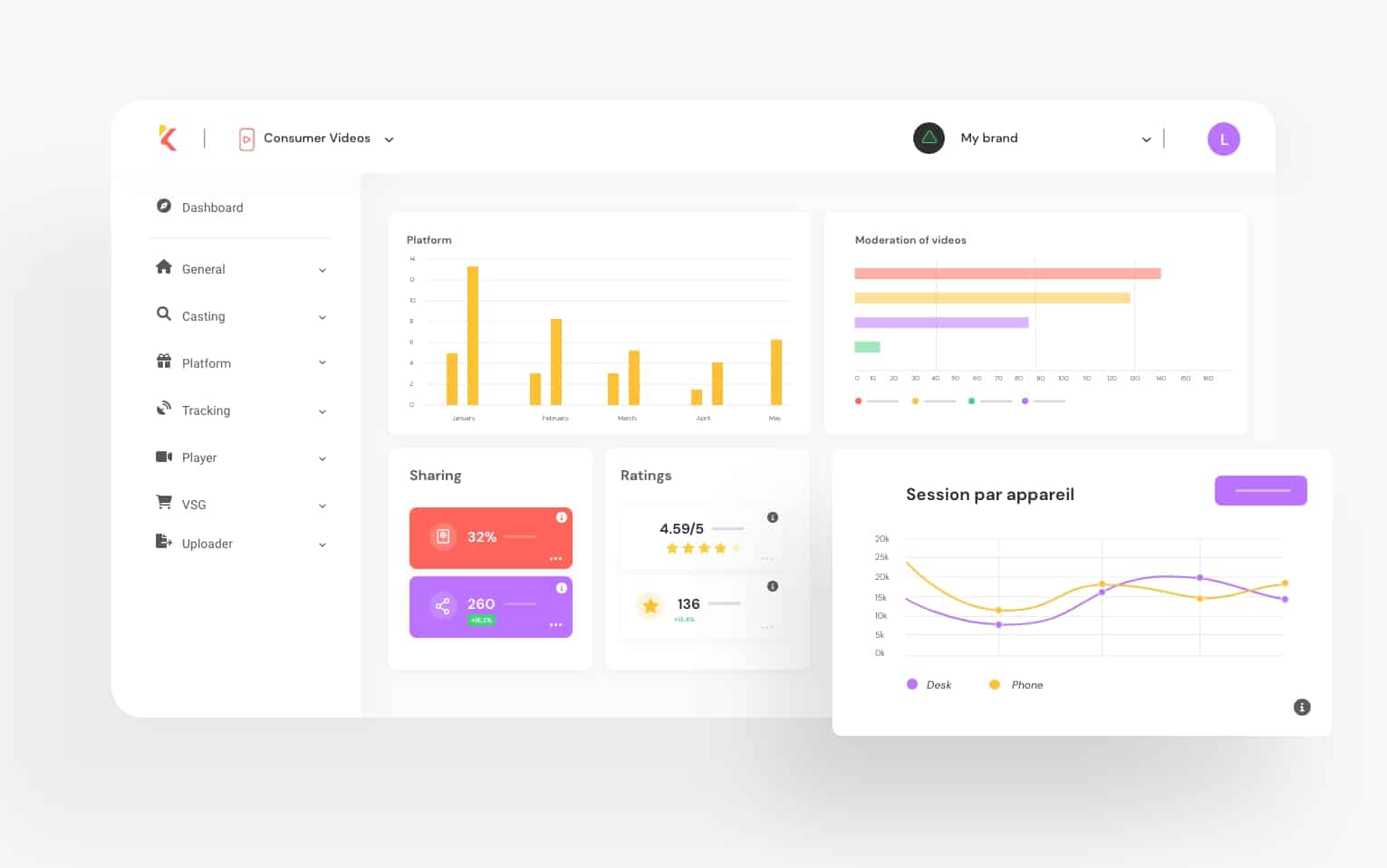 Automated reports tailored to your needs
Would you also like to analyze your campaign results? Our platform includes custom dashboards and reports: monitor your videos' conversion rates and impact on sales, as well as your video strategy's overall ROI!
Our solution explained in 1 minute!
The benefits of the platform
Increase sales by giving your community a voice

Our unique and innovative technology helps you boost your conversion rates. Consumer videos and customer testimonials improve your online reputation and visibility and have a positive impact on sales. They contribute directly to your company's success.

Reinvent your online shopping experience

Reassure customers by engaging your community to try out and show your products in real life. Consumer videos posted on product pages and e-commerce sites improve your user experience, automate the creation of large-scale videos and enable customers to share their experience.

Turn your customers into brand ambassadors

Consumers today are looking for authenticity, transparency and reassurance. Who better than your customers to highlight the uses and benefits of your products and/or services? Video also makes your communications more authentic and spontaneous. Encouraging your community to make videos for you generates User Generated Content (UGC), in line with your image and values, and turns your customers into ambassadors.
How does it work?
Step 1 :

We select video creators from your community and identify your best brand ambassadors. Users follow a step-by-step custom brief, created together, to make their videos.

Step 2 :

Once the video has been created, it is automatically optimized by our platform to obtain good-quality, ready-to-use content. Our player solution is adapted to your logo and colors and can be integrated on any type of site. Choose the tools, features and designs that best suit your brand.

Step 3 :

It's time to share your videos! Post them on your product pages, YouTube, e-commerce site, social media, etc. Your video's format is adapted for YouTube, using our YouTube Automation and Spread features, as well as Instagram, Facebook, TikTok or Pinterest, and made SEO compliant. You can also create QR codes to link them to your consumer videos or product pages. This will enable you to harmonize your offline strategy and online content.

Step 4 :

You can access your sales statistics associated with video views on our platform, whether on your product page or Video Shopping Gallery. Number of sales after viewing the video, number of overall sales, impacted sales rate, etc. Monitor the results with custom dashboards and reports.
Success stories
We work with nearly 8,000 clients to create strong connections with their communities, build deep and lasting relationships and achieve their marketing goals. Here is what they have to say… 
Give your customers a unique experience
Find out what your customers' experience can do for you. Today, more than ever, their voice and loyalty are key to your company's success. Ask for a demo!
Check out our other solutions!
Influencer Marketing

Our platform brings together influencers, consumers and brands around authentic experiences on social media and e-commerce product pages.

Discover the solution

Live Shopping

Our Live Shopping platform creates online shopping events to present and sell your products online, as well as support you with videos for your online stores and social media.

Discover the solution

Ratings & Reviews

A platform to collect, manage and leverage customer reviews to improve your online reputation and conversion rates.

Discover the solution
Want to find out more? Check out our articles
How to use user-generated videos to talk about your brand?

If you're reading this article, you're already sold on user-generated videos and their potential for marketing. At least we hope so! Now, you're looking for use cases and the best ways to leverage the videos made by your users and customers. E-commerce product pages, social media, newsletters… In this article, we look at some ideas...

Read more

6 reasons why you should use Employee Generated Content

What do Leroy Merlin, Petit Bateau and M·A·C Cosmetics have in common? All three of these retailers had the great idea of getting their employees to make videos showcasing their brand's products. This is what's called an employee-generated content (or EGC) strategy. And as you will see here, it gets results! But before we present...

Read more

How to convert your influencer into brand ambassador?

Tired of invasive promotional stunts, consumers now more than ever yearn for authenticity. It's the time for authentic and enthusiastic content creators to shine! They promote brands organically, beyond the margins of the mere marketing campaigns. However, how can we turn an influencer into a true brand ambassador? The burning question, answered in this article....

Read more