Feedback Management
Leverage your customer experience and grow your business! We help brands build deeper customer relationships by gathering feedback throughout their buying journey. Together, let's make every interaction an opportunity to delight your customers.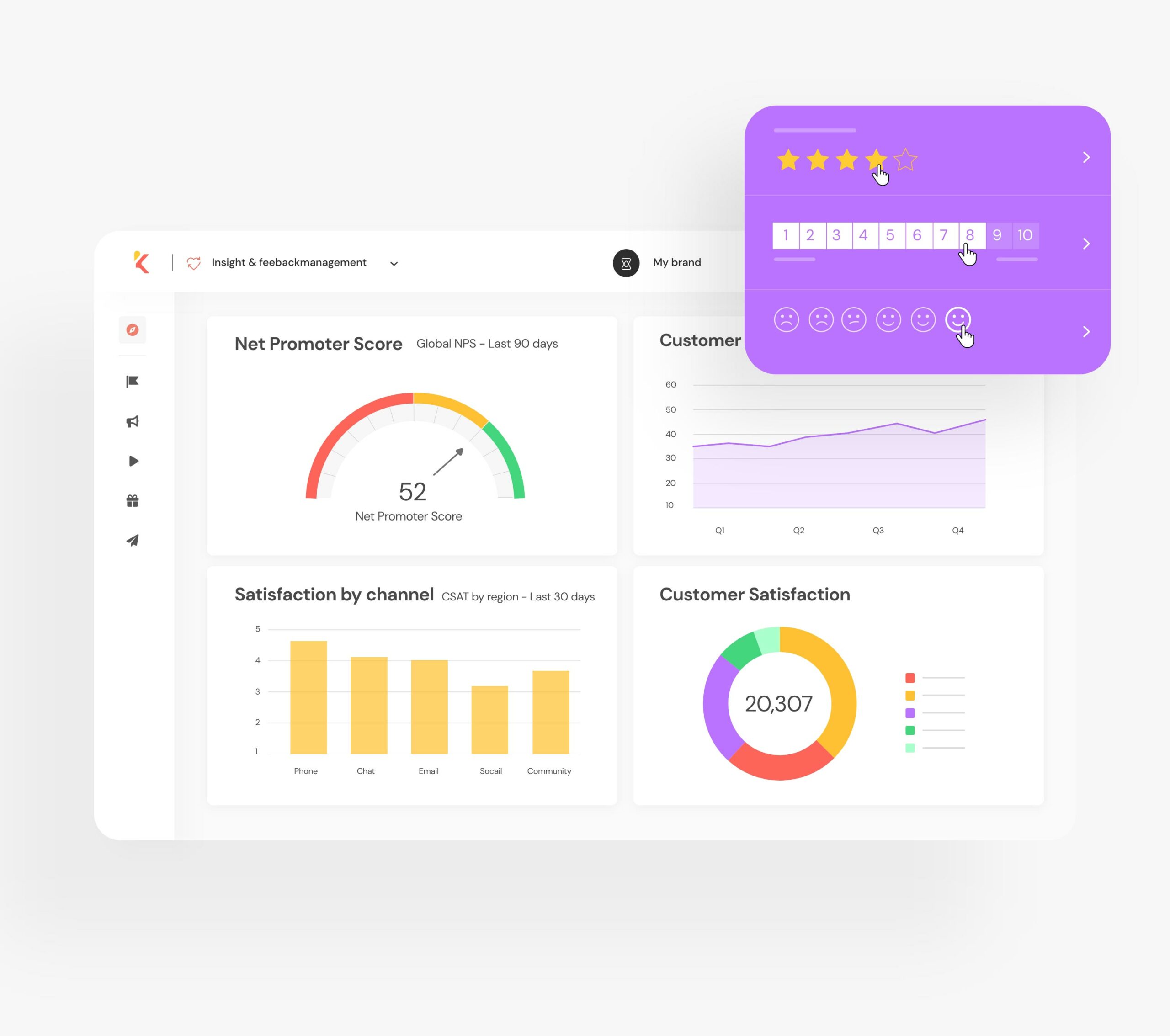 Customer Feedback is priceless
Digital transformation has led to more and diversified interactions between brands and consumers. Each of these touchpoints provide an opportunity to reconnect with your customers.
Collect feedback on these key moments to reinvent the customer experience, implement a customer-centric brand strategy and turn feedback into business opportunities.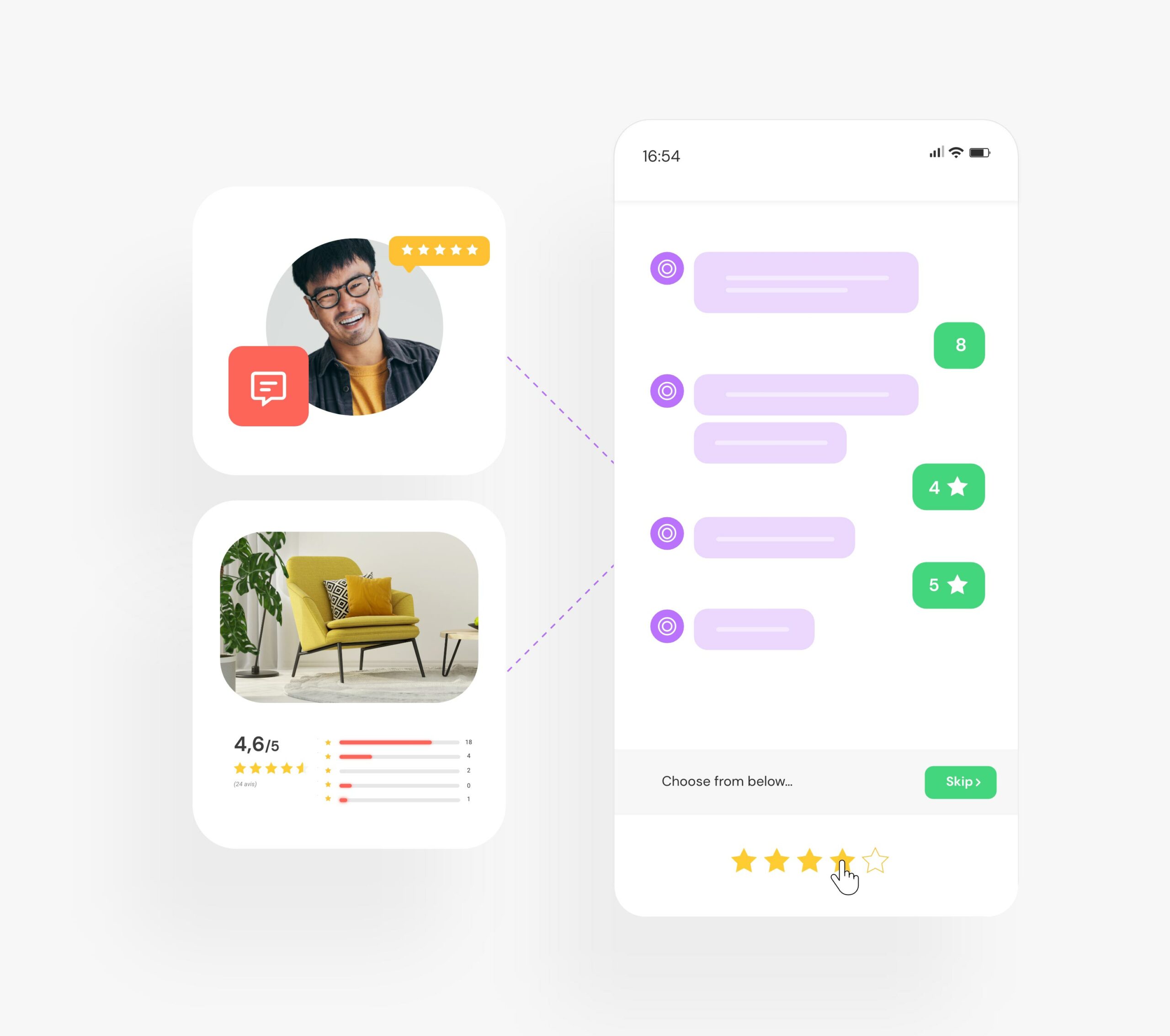 Reinvent the customer experience
What is the key to continually improving your customer journey and products? Gathering customer feedbacks. How? Firstly, by sending customers smart surveys throughout their relationship with your brand.
Then, by measuring and assess the impact of your optimization actions. This is a win-win strategy that strengthens your customer relationship and helps you develop your products to better satisfy them.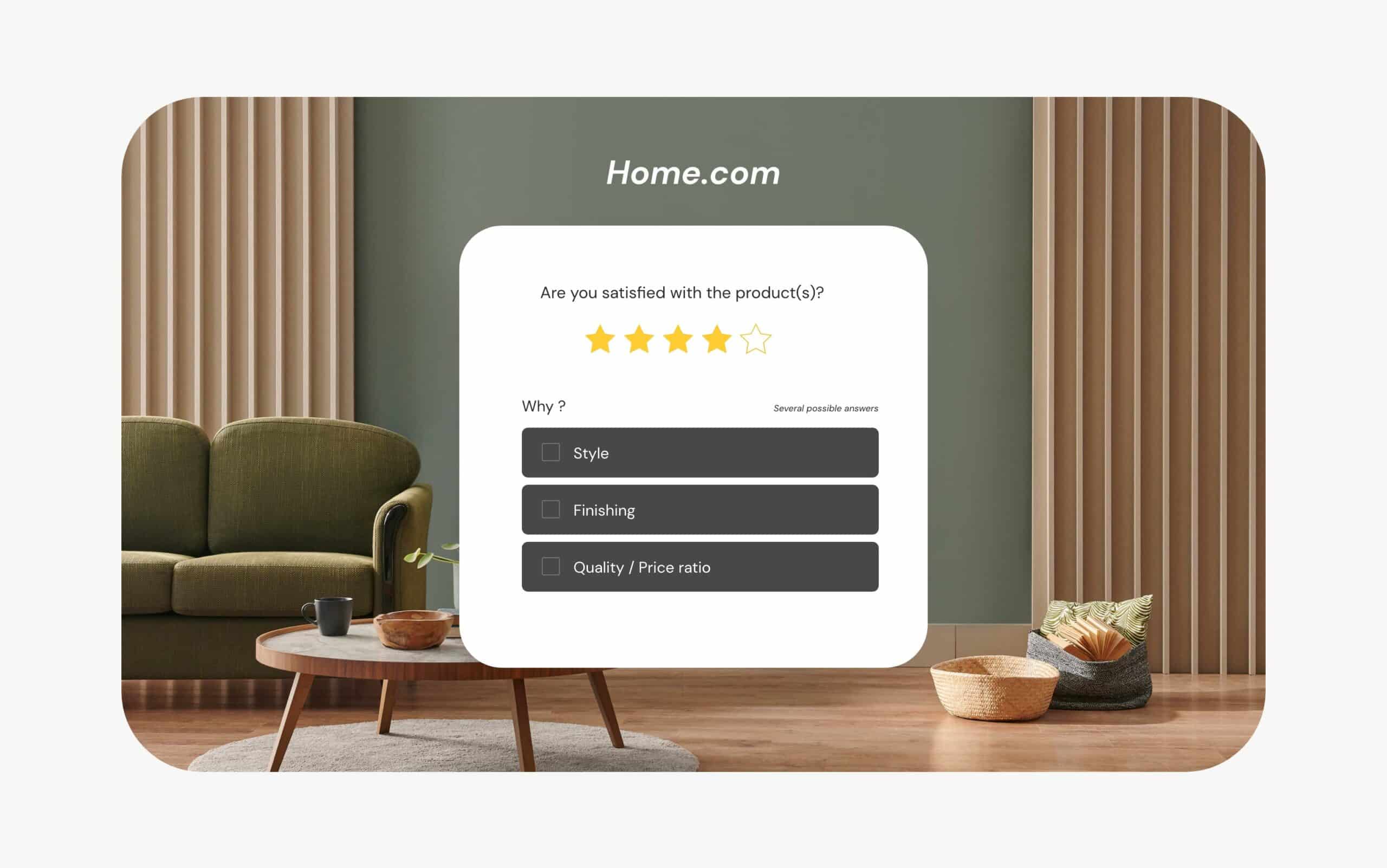 Implement a customer-centric brand strategy
How can you ensure that all your employees are committed to customer satisfaction? By using customer feedback as a lever! Share it with your teams and engage them.
Our Feedback Management solution helps reconnect your employees and customers and implement action plans based on their behavior and profiles. Leverage your customer feedback to turn your promoters into ambassadors, win back abandoners, instantly manage dissatisfaction and much more!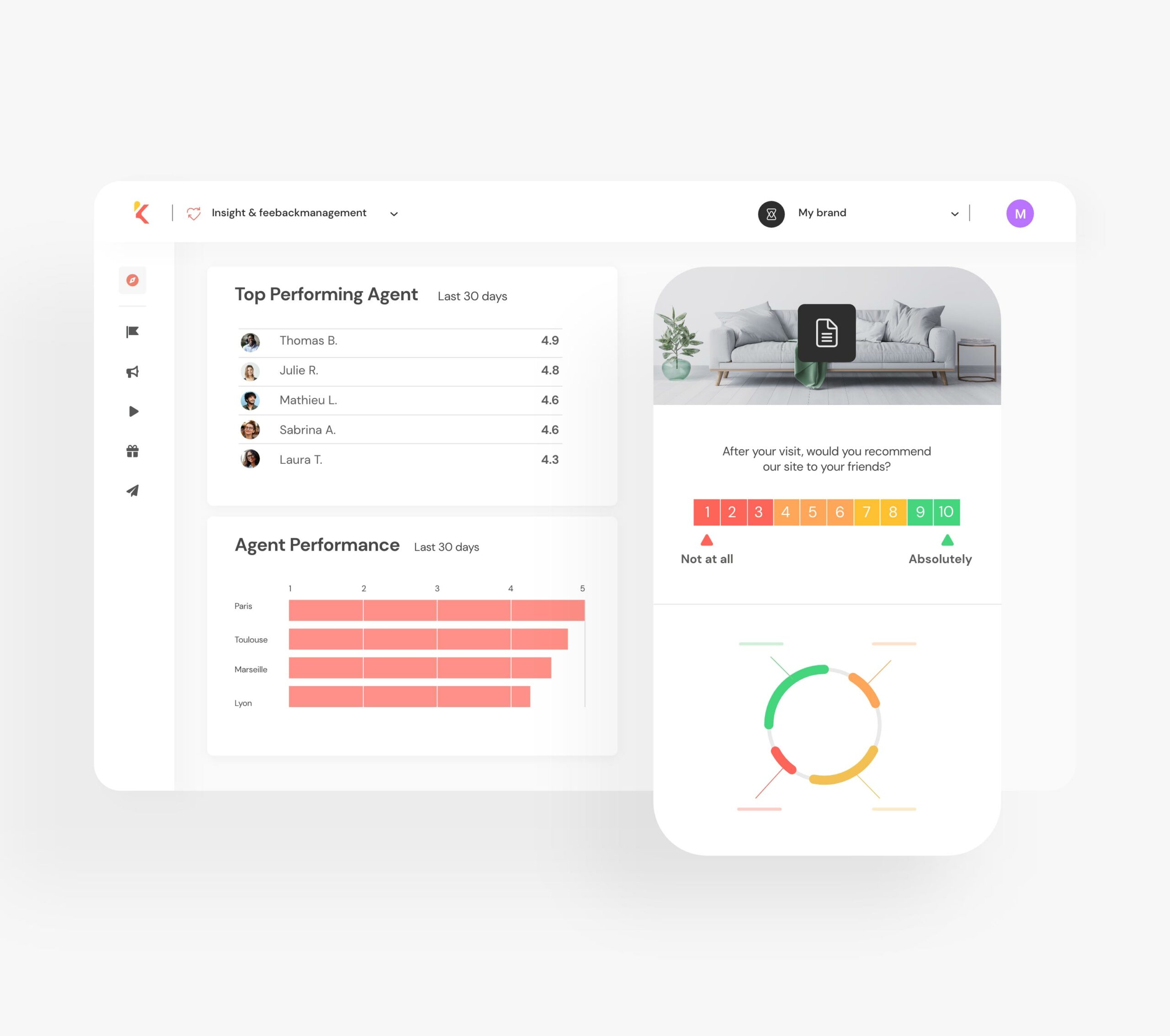 Leverage customer feedback
Our slogan is "From data to deep connection". It's easy to see why! You can get a full overview of each of your customers by collecting feedback and feeding data into your digital tools (CRM, e-ticketing, marketing automation, BI, Analytics, CDP, etc.).
Provide a personalized experience to delight customers and ensure conversion with the right product, at the right time, on the right channel.
The 4 benefits of the platform
Enrich your customer knowledge

To become (and remain!) a brand your customers love, you need to move at their pace. Understanding their needs, desires and expectations throughout their relationship with your brand is key to enriching your customer knowledge! Collect data and build a winning strategy based on what your customers expect from you.

Manage your network, customer service and business

Managing your customer experience means acting in their interest on a daily basis, as well as managing customer satisfaction. We provide analysis dashboards, barometers and indicator monitoring so that you can take action and improve your customer experience. Track the performance of each of your points of sale and compare them to each other and the rest of your network. Share this data with your employees through dashboards so that they can leverage it on a daily basis and monitor their performance.

Improve your customer experience

Strengthen your relationship with customer data! Purchasing preferences, favorite products, buying frequency, socio-demographic criteria, satisfaction levels... All these elements help improve your customers' experience with your brand! Customer experience is an essential lever to build loyalty and engage your community.

Implement a "close-the-loop" process

Leverage customer feedback to continually improve your products, processes and services. Dashboards, semantic analysis, dissatisfied customer call-backs… These are just some of the actions you can carry out with our platform to turn dissatisfaction into satisfaction.
How does it work?
Create smart surveys

Add contextual data to your surveys (email address, date of last purchase, name of sales assistant, order number, etc.) to personalize and get the most out of your responses.

Deploy omnichannel surveys

Surveys are part of your customer experience: trigger them on the right channel and at the right time to maximize your response rate!

Deploy conversational surveys

Choose between a classic or conversational ChatSurveyⓇ format for your surveys, for an even more instantaneous experience.
Success stories
We work with nearly 8,000 clients to create strong connections with their communities, build deep and lasting relationships and achieve their marketing goals. Here is what they have to say… 
Clarins

How Clarins uses the NPS to deliver an unforgettable shopping experience to its customers across all channels?

Learn more
Take control of your customer experience and grow your business!
Ask for a demo.
Vous allez aussi aimer nos autres solutions !
Ratings & Reviews

Take your customer experience to the next level with Ratings & Reviews by Skeepers, the exclusive distributor of Verified Review labels. Collect, manage and leverage customer reviews to improve your online reputation and conversion rate. Enjoy the synergy between our platforms to only contact your customers once and optimize your feedback costs.

Discover the solution

Customer Data Activation

A one-to-one marketing solution that reconciles and adds value to your data for fast-performing and sustainable omnichannel campaigns.

Discover the solution

Consumer Videos

Our consumer video platform helps you engage your communities to create video content for your product pages, social media and other communication channels.

Discover the solution
Want to find out more? Check out our articles
Is Email Marketing Dead? Key Figures & Best Practices 

For several years now, we've heard that email marketing is a thing of the past. Dead, even. But email marketing still has many years ahead and remains the n°1 communication channel for most companies. Why? Because an email marketing campaign is cheap, with a high ROI, as long as the best practices are applied. In...

Read more

Tourism Field: Customer Experience Is More Important Than Ever! 

Tourism has been hard-hit by the global pandemic. Today, industry players are gradually recovering and looking for ways to return to prosperity and growth. Some are doing better than others, particularly those who focused on customer experience.  The main way to bounce back and stand out from the competition is to improve customer experience (CX)....

Read more

Customer First: A Focus on the U.S. Government's Strategy

Late last year, the U.S. government announced its commitment to improving the customer experience for all U.S. citizens who use government services. "The President will sign an Executive Order, Transforming Federal Customer Experience and Service Delivery to Rebuild Trust in Government, directing that Government leaders account for the experiences of the public in seeking Government...

Read more