Your organisation uses Selligent to centralise customer interaction management, and you are looking for ways to improve your CRM practices… You are looking for ideas to take your software use to the next level… Then you clicked on the right link! This article was written just for you. How can you maximise your Selligent CRM...
Your organisation uses Selligent to centralise customer interaction management, and you are looking for ways to improve your CRM practices… You are looking for ideas to take your software use to the next level… Then you clicked on the right link! This article was written just for you.
How can you maximise your Selligent CRM use? As you may have guessed, part of the answer to this question lies in one word: data. Data is the fuel for your CRM software. It allows you to better personalise and target your marketing actions.
Below are 3 data-centric areas for action to improve your Selligent software use.
1 – Measuring customer satisfaction to improve the Customer Experience
Just like any good CRM software, Selligent enables you to centralise a lot of information about your customers; in particular, personal data, contact information, relationship history or even transaction history. There is one category of data that is not used to its full potential in CRM software, particularly in Selligent: data relating to the customer perception of your brand, products, services and customer journey. This is sometimes referred to as "attitudinal" data. We prefer to talk about "customer satisfaction".
Customer satisfaction data reveals what your customers think of your company. It helps you identify the strong points of your customer relationship, but also the irritants on your customer journey. It is essential to collect and analyse this information. More than any other kind of data, it can help you improve your customer relationship, products and services. In short, optimise your Customer Experience.
Discover Why Customer Experience is the New Marketing Eldorado
By measuring customer satisfaction, you can identify priority areas for improvement and take a customer-centric approach to your continual improvement process. Modern feedback management solutions allow you to collect mass customer satisfaction data and feed it into your CRM via integrations. You can for example, use our MyFeelBack solution to collect your customers' Net Promoter Score and integrate it into your Selligent CRM customer files via a webhook.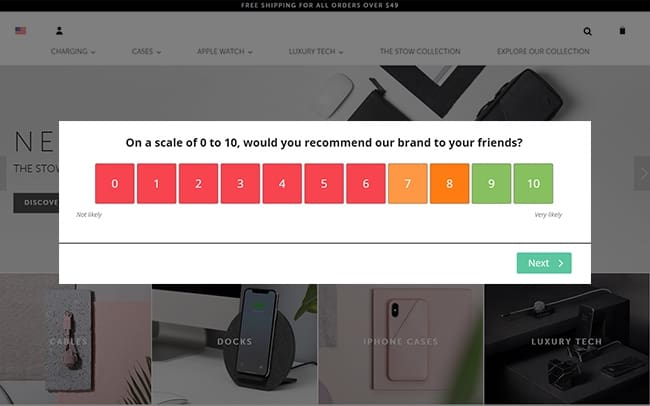 Example of Net Promoter Score survey
More generally, integrating satisfaction data into your CRM delivers benefits on two levels:
On a micro level, it reveals an individual customer's level of satisfaction, thus enriching their customer profile. If an agent or salesperson then interacts with that customer, they can find out at a glance whether they are satisfied or dissatisfied.
On a macro level, it enables you to monitor the overall evolution of your satisfaction indicators over time: the Net Promoter Score, Customer Satisfaction Score, etc. Indeed, you can build a customer satisfaction management dashboard with your satisfaction data. Monitoring the overall evolution of satisfaction indicators is a must for any customer-centric company.
Discover CSAT, NPS, CES: Get the Right KPIs Now for a Superior Customer Satisfaction!
2 – Enriching your Selligent CRM with psychographic data (interests, customer preferences, etc.)
Knowing your customer's name, age, gender or place of residence is important but… Knowing what your customers think of your brand, measuring their satisfaction, is essential. We have already shown why. There is a third family of data that can be integrated to your Selligent CRM: psychographic data. The word sounds jargony, but it is actually very simple. It refers to all the data that informs you what your customers like: their interests, their favourite products or product categories, their favourite channels, and other preferences.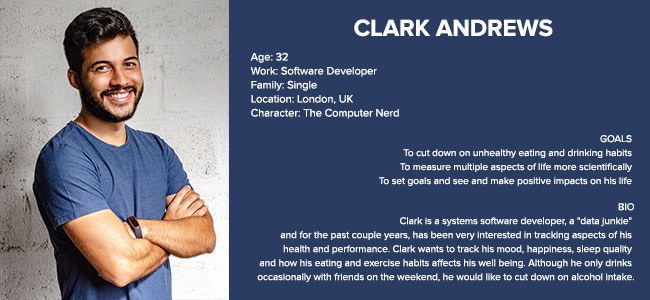 Example of a marketing persona with psychographic data
This data will help you take your target marketing strategies to the next level. Customer segmentation based on psychographic criteria allows you to significantly improve the performance of your campaigns and marketing scenarios. Which makes sense. If you offer your customers products that match their interests and preferences, your sales will increase. This applies to most sectors, and not just e-commerce.
Satisfaction data and psychographic data complement "basic" customer data. Collecting and integrating this data into your Selligent CRM will enable you to substantially enrich your Customer Knowledge. Selligent is fully designed to integrate these families of data.
Discover What are socio-demographic characteristics used for in marketing?
But before you integrate the data into your CRM, you have to collect it. There are several techniques for gathering customer psychographic information. Some use analytical data, meaning data related to their web behaviour (typically, data from Google Analytics). However, we believe that most practical and effective technique is the use of surveys. The easiest way to find out more about your customers' interests is to simply ask them.
3 – Improving your Lead Generation in Selligent through surveys
A CRM tool like Selligent not only enables you to centralise your customer interaction management, but also to manage your lead generation; collection of leads via collection points (Landing pages, forms), their qualification, and processing by marketing teams. CRM is first and foremost a customer retention tool, but it is also a customer acquisition tool.
We would like to end with this. You can improve your use of Selligent on a Customer Loyalty level. But you can also take your Selligent use further in terms of Lead Generation.
There are different techniques available to enrich your Selligent CRM Lead Data, and some of which are based on surveys.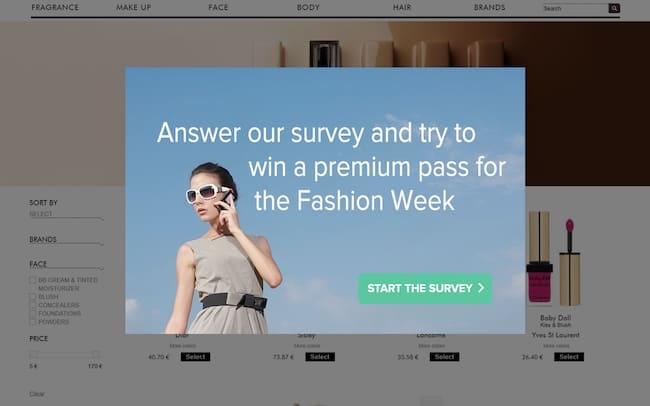 The most successful acquisition strategies are those based on a good understanding of your target customer base's characteristics, and knowledge of your potential customers' main needs, expectations and challenges.
Anything you do to develop your customer knowledge will help you improve your acquisition strategy. An acquisition strategy's success lies in properly understanding your target customer base, their characteristics, preferences and behaviour. Yet, the best way to better know your target customers, is to know your existing customers. The first two tips we detailed above can therefore also help you improve your Lead Generation campaigns and scenarios.
Conclusion: Enriching CRM data = essential for getting more out of Selligent
Selligent is a leading CRM software on the market. But there is no point in having such powerful software if it is not enriched with customer data. Data fuels your CRM. If you would like to develop new use cases in Selligent, if you are planning on improving your target marketing campaigns for example, then you need to enrich your CRM data first. This is key. We recommend focusing on satisfaction data, psychographic data, and – if you use Selligent at the customer acquisition stage – lead data. Collecting and integrating these three families of data (via surveys, for example), will help you take your Selligent use to the next level.