Ratings & Reviews
Your customers are your best ambassadors. Turn them into valuable contributors and boost your website with their reviews! Our Verified Reviews platform helps brands take control of their online reputation by collecting, analyzing and sharing customer reviews in just a few clicks.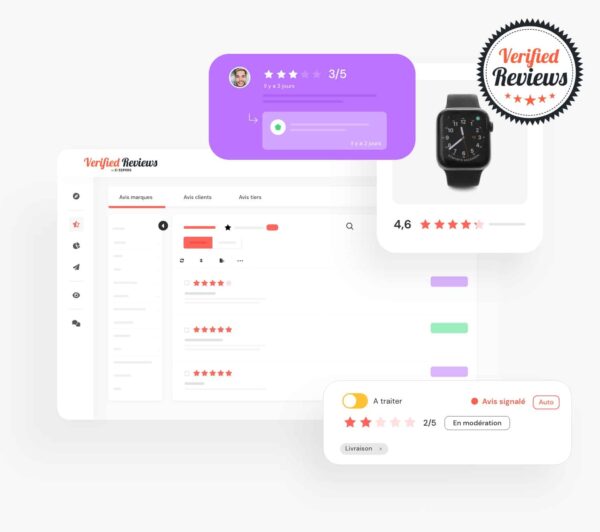 A trust mark
Verified Reviews by Skeepers is a trusted third party that has developed a platform for collecting online branded consumer reviews, certified by AFNOR Certification since March 28th 2014.
This turnkey tool simplifies the collection, management and publication of reviews to save you time. Leverage customer feedback to improve your online reputation and become a brand that consumers love!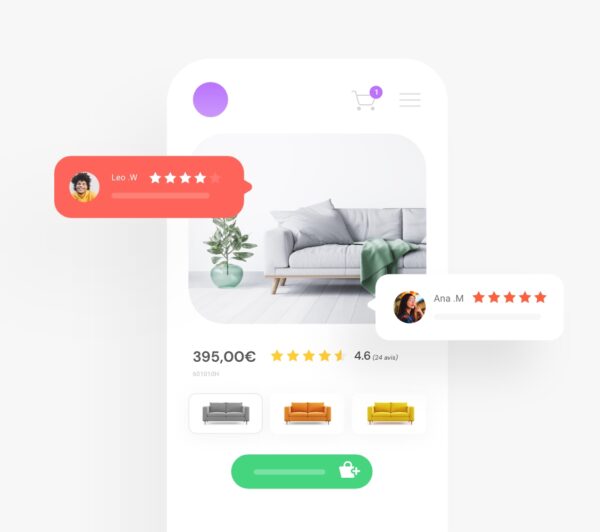 Reviews about your products, business and brand
Boost your website's visibility and conversion rates with reviews about your product range, and online and in-store shopping experience.
Reviews about your in-store shopping experience are published on your certification page, store locator and syndicated on Google My Business. Product reviews enhance your product pages with new authentic, rich content, to give customers a transparent shopping experience and improve your organic traffic.
Leverage your customer reviews
Turn customer reviews into actions: identify areas of improvement for your products and services, build customer loyalty, and offer innovative products in line with your customers' needs and expectations.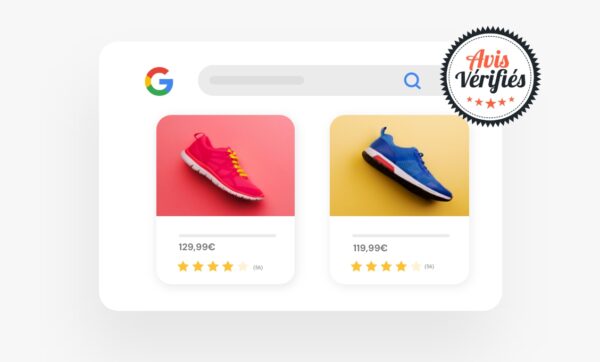 Give your community a voice
Use our review platform to collect feedback in the blink of an eye. Optimize your response rates by collecting omnichannel reviews after an online or in-store purchase.
Help your customers make informed decisions by answering all their questions with our Questions & Answers module. Create a collaborative shopping experience by letting your community answer your customers' questions and reassure them about the quality of your products.
Our solution explained in 1 minute!
The 4 benefits of our platform
An increase in organic traffic

Customer reviews are eye-catching! Visitors spend more time on pages and websites with reviews than on those without. Search engines consider customer reviews as premium content. Sharing customer reviews boosts your campaign performance and online visibility. Our solution also integrates your product reviews into rich snippets, which show up in organic search results. All of the above improves your SEO and traffic to your site (up to +179%!). Authentic and detailed customer reviews encourage consumers to use your products!

A better conversion rate

Post-purchase reviews are reassuring and boost e-commerce site conversion rates. Publishing customer reviews on a product page can triple your sales, while website reviews on our certification page help gain users' trust. Thanks to our partnership with Google, stars will also appear on your ads. This is the best way to increase your click rate (up to 50%) and reduce the cost per click (up to 23%).

Manage and improve your online reputation

What do your customers think about your online shopping experience? You can improve your brand's reputation and reassure visitors by collecting and publishing reviews. Make feedback a key part of your communication strategy and share it on social media too.

A smart way to humanize your customer journey

Consumers today want proof, not promises. Prove your authenticity by engaging your customers and publishing their reviews on your website. Reviews improve your customer relationship and bring you closer to potential consumers. Add a human touch to your marketing strategy and make it more interactive!
How does it work?
Review Management

Respond to Google or Facebook reviews through our interface and optimize your online reputation management with a single solution.

Review Balancing

Do you want to share your real customers' comments on other channels where people are talking about your brand? The voice of the customers is valuable, and we will help you deploy it and improve your brand's online reputation.

Review Syndication

Reviews improve your online presence, which is why it is so important to share them. Our platform's review syndication ensures that customer comments are available on your Google My Business page and your online store.

Smart Data

Our SmartData analysis tool enables you to easily analyze your customer reviews: Anticipate new consumer trends Optimize your online catalog Improve the customer experience Automatically create intuitive reports and compare the information you collect with your surveys. Monitor indicators such as CSAT (Customer Satisfaction) or NPS (Net Promoter Score) and rank your products and points of sale: in one click, you can get an overview of all your data. You can also use our custom dashboards to share the right information with the right people. Valuable data for strategic decision-making!
Success stories
We work with nearly 8,000 clients to create strong connections with their communities, build deep and lasting relationships and achieve their marketing goals. Here is what they have to say… 
Tiege Hanley

Learn how Tiege Hanley increased its organic revenue, improved conversion rate and enhanced its SEO strategy.

Find out more

Best Materials

Learn how Best Materials increased by 20% its conversion rate.

Find out more
Boost your sales and online reputation
Turn your customers into valuable contributors by collecting, analyzing and sharing their reviews in just a few clicks.
Other solutions
Consumer Videos

Our consumer video platform helps you engage your communities to create video content for your product pages, social media and other communication channels. Share your videos widely!

Discover the solution

Feedback Management

A platform to manage and continually optimize your customer experience. Deploy surveys at every touchpoint of your customer journey and share the responses within your company.

Discover the solution

Customer Data Activation

A one-to-one marketing solution that reconciles and adds value to your data for fast-performing and sustainable omnichannel campaigns. Boost your online and in-store sales with artificial intelligence!

Discover the solution
Check out our articles
Consumer Reviews websites: How to Manage E-Reputation

Are you looking to optimise your e-reputation? Then you need to manage customer reviews on the Internet and social media. And for good reason, customer reviews are now the main vector of a brand's digital reputation. This article will explain why and present a few customer review platforms to manage customer feedback at all levels:...

Read more

Customer Reviews are the Future of SEO Marketing

Everyone knows that customer feedback is important to gather but some business owners don't know where that information should be displayed or how it can be integrated into your marketing strategy. Customer Reviews can be posted to your website, social media and thanks to our partnership, in the most popular search engines, increasing your Search...

Read more